By: Craig Bowles
Overview
Best Buy Company, Inc. (NYSE:BBY) is slated to report 4Q 2014 earnings before the bell on Thursday, February 27. The earnings release is expected at approximately 8:00 a.m. EST coinciding with a webcast presentation available at Best Buy Investor Relations. The consumer electronics giant is widely seen as a key barometer on the health of the consumer and the economy. Its results therefore have a historic tendency to impact the broader market, including the CME index futures contracts and other broader market gauges.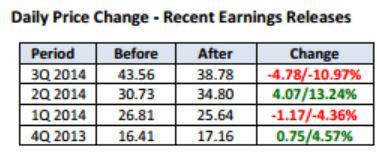 Outliers & Strategy
Key measures:
Adjusted Earnings Per Share: The Street estimate is $1.01 (range $0.89 to $1.08) (source: Yahoo! Finance). This is down from $1.61 three months ago. The company indicated in January that store closures and restructuring charges are expected to produce an Adjusted (or Non-GAAP number).
Earnings Per Share: If an Adjusted EPS figure is not available, this value would compare with forecasts.
Revenues: Revenues are seen declining 12.3% y/y to $14.66 bln (range $14.95 bln to $14.47 bln).
Comparable Store Sales: According to Zack's Investment Research, analysts are expecting 0.4%.
Earnings Per Share Guidance for FY2015: Best Buy suspended guidance and stock buybacks in August 2012 while transitioning to a new CEO, but hasn't reinstated guidance so far. The current Street estimate is $2.20 (range $1.69 to $3.07). Estimates for next year have been reduced from $2.80 three months ago. Given the wide spread of analyst estimates and company restructurings, it would seem an unlikely time to reinstate guidance.
Best Buy insiders sold 46,824 shares over the last six months.
Wal-Mart's (NYSE:WMT) weak guidance set a negative tone for retailers.
Best Buy shares have a 1-day average price change on earnings of 6.52%. Options are pricing in an implied move of 8.59% off earnings.
Recent News
02/24 Dismal holiday sales of a 2.6% decline from last year are blamed on growing competition that includes Amazon and Wal-Mart, according to a post on Forbes.com.
02/01 A shift away from traditional bricks and mortar retailers to web shopping is tough, but Best Buy's hybrid approach could lead to it remaining viable, according to a post on The Motley Fool.
01/17 Goldman Sachs downgraded to Neutral from Buy and lowered their price target to $28 from $45 citing three forward-looking factors of wireless momentum, the Vizio TV product addition being lapped, and trying to cut costs while investing in superior customer experiences, according to a post on StreetInsider.com.
Technical Review
Best Buy declined after testing the 2010 high in November. Most of the support is below $20, and the stock was at $11 early last year. There is a small balance area of support at $24.50 and no real resistance between $26 and $32, so traders will be tempted to buy for an oversold bounce on any positive news. Long-term holders are probably wishing they had gotten out when highs were retested, so will be looking to sell any oversold rallies. (Chart courtesy of StockCharts.com)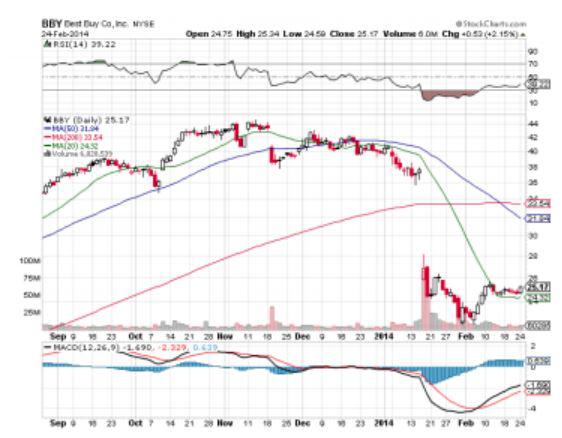 Summary
The positive is that the stock has fallen so fast on a lot of troubling news that the stock could bounce. The negative is that the stock rose just as fast from $16 and may be headed back down there again. Weak holiday sales and increased competition have dimmed expectations, so any positive news would be a surprise.
DISCLAIMER: By using this report, you acknowledge that Selerity, Inc. is in no way liable for losses or gains arising out of commentary, analysis, and or data in this report. Your investment decisions and recommendations are made entirely at your discretion. Selerity does not own securities in companies that they write about, is not an investment adviser, and the content contained herein is not an endorsement to buy or sell any securities. No content published as part of this report constitutes a recommendation that any particular investment, security, portfolio of securities, transaction or investment strategy is suitable for any specific person.
Disclosure: I have no positions in any stocks mentioned, and no plans to initiate any positions within the next 72 hours. I wrote this article myself, and it expresses my own opinions. I am not receiving compensation for it (other than from Seeking Alpha). I have no business relationship with any company whose stock is mentioned in this article.