By Carla Fried
With nearly 20% of its outstanding shares in the hands of short sellers, Joy Global (NYSE:JOY) is one of the more popular stocks in the S&P 500 to bet against.
Though a chunk of operations is in after-market sales and servicing, Joy Global is still very much a live-by-the-commodity-cycle/die-by-the-commodity-cycle business. So last year the shorts did okay as Joy Global's price fell more than 10% given that major mined commodities -- coal foremost -- were still working through a big supply overhang.
But what's interesting is that the shorts are still not retreating from Joy Global -- even though since September the stock has outperformed the S&P 500 -- while Caterpillar (NYSE:CAT) isn't feeling nearly the amount of heat.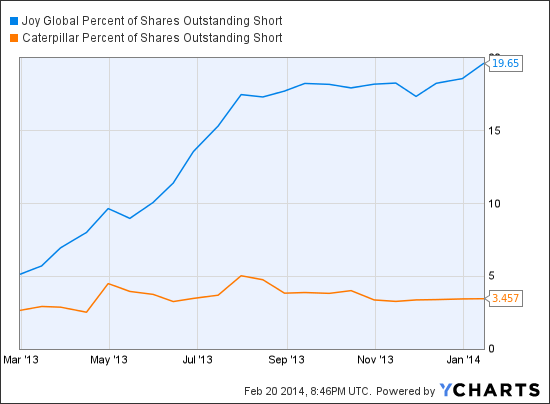 JOY Percent of Shares Outstanding Short data by YCharts
To be clear, last year was ugly. For Joy Global's fiscal 2013 (through October), total orders fell 22.6%, with original equipment orders off 36% from a year earlier and the aftermarket parts and servicing business down 12.6% year over year.
But in announcing those results, then CEO-designate Ted Doheny suggested that the worst might be over. Joy Global says it senses cap-ex spending from thermal coal miners could be "near the bottom," though it expects coking coal capital expenditures spending will moderate after strong investment over the past few years. A mixed bag to be sure. "Although we believe our markets overall will begin to improve in 2014, the timing is difficult to predict. Until a sustained demand catalyst emerges, we expect our customers will continue to be cautious and selective in deploying cap-ex," said Doheny.
Not exactly a robust outlook. And it's reflected in management's 2014 FY outlook for revenue between $3.6 billion and $3.8 billion and EPS between $3 and $3.50. That would continue the down-cycle fall that began last year. As Joy Global made clear, there's no guarantee that 2014 is the bottom for the cycle, or that there is a huge uptick in demand 'round the corner. But there are some glimmers down the line.
Coal is the big lever for Joy, especially demand from emerging markets' miners, led by China. In its most recent outlook, the International Energy Agency forecast that coal demand would grow at an average rate of 2.3% through 2018. China is expected to account for nearly 60% of demand, even as it pushes toward diversifying its energy resources, to say nothing of addressing environmental concerns.
"Like it or not, coal is here to stay for a long time to come," IEA Executive Director Maria van der Hoeven commented in releasing this year's energy outlook. "Coal is abundant and geopolitically secure, and coal-fired plants are easily integrated into existing power systems. With advantages like these, it is easy to see why coal demand continues to grow. But it is equally important to emphasize that coal in its current form is simply unsustainable."
If you're focused solely on the "coal is here to stay for a long time to come" part of that assessment, Joy Global's current valuation might merit further investment research, as it is trading not too far off the levels it sunk to during the global recession.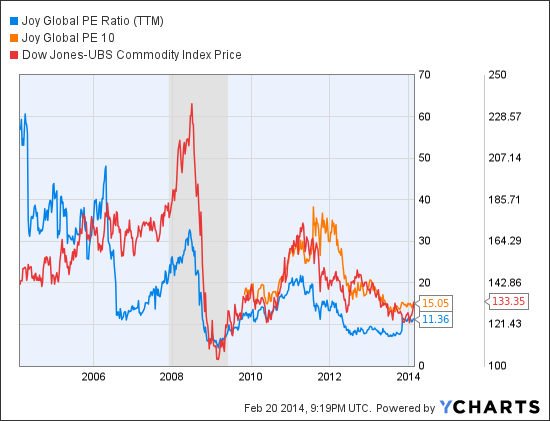 JOY PE Ratio (TTM) data by YCharts

And there seems to be some evidence that as coal prices go, so goes Joy Global. Here's the run from the March 2009 low for a coal index to its April 2011 peak: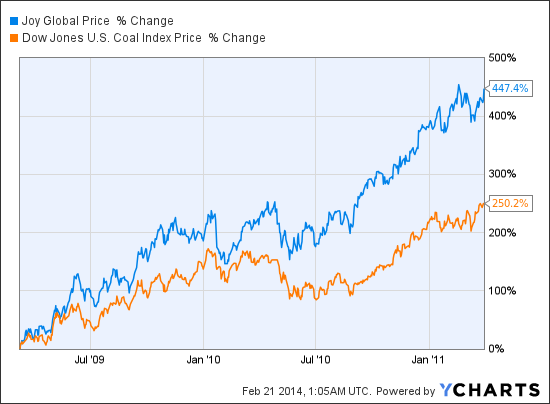 JOY data by YCharts
And yes, Joy Global's stock price has tracked the price of coal on the way down since that 2011 peak.
Given the modest growth outlook from the EIA that suggests Joy could indeed be ready to come off the mat.
That seems to be the opinion of some patient-and notable-value investment pros. The $8 billion Vanguard Selected Value fund initiated a 2% position in Joy Global last quarter. As a point of comparison, the fund's largest position at the end of the fourth quarter was Micron Technology (NASDAQ:MU), at 2.7% of assets. Micron was not added to in the fourth quarter. FPA Paramount also established a new position at 1.9% of fund assets. Artisan Midcap Value has a 1.4% stake that was added to at the margins in the fourth quarter. Other value owners nibbling on Joy Global include Tweedy Browne Value and T. Rowe Price Equity Income. For those not well versed in mutual funds, all those managers give active management a very good name. Granted, none are pounding the table on Joy Global. But it's worth noting that this beaten down cyclical is feeling some value love.
Disclosure: None