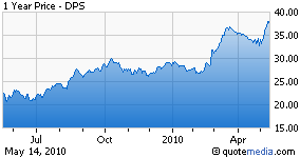 Financial Tides likes Dr Pepper Snapple Group, Inc. (NYSE:DPS), one of the largest beverage companies in the Americas. It manufactures, markets and distributes more than 50 brands of carbonated soft drinks, juices, ready to drink teas, mixers and other premium beverages across the United States, Canada, Mexico and the Caribbean.
I was raised in the south, so Yoohoo and Squirt were found in every gas station and store cooler when I was a kid. The other brands they own that I love are 7 Up, A&W, Sunkist sodas, Hawaiian Punch and now that I've grown up, I love Mr & Mrs T's Mixers.
The new marketing strategy is to play up to the new health concerns and tell you how their drinks contain added vitamins and are made from real fruits and vegetables.
Wall Street predicts good things for the stock, and has published 8 buy and 4 hold recommendations. Although sales are only predicted to go up 3.20% this year and 3.30% next year, they estimate stellar earnings projections. An increase in EPS of 22.30% this year, 13.70% next year and a compounded 5-year EPS growth rate of 7.85% are forecasted.
The technical signs are present too with a 8.92% price appreciation in the last 30 days, The stock hit 7 new highs in the last 20 trading session and 5 for 5 last week. Barchart's technical indicators have 12 of 13 buy signals for an 88% buy score. The stock trades around 37.91 with a 50 day moving average of 34.91.
Investor sentiment as measured by votes on Motley Fool shows CAPS members vote 322 to 22 that the stock will beat the market and the more savvy All Stars agree 133 to 10. Of the last 9 articles published on DPS, 8 were positive.
This stock warrants a look because it:
Has great brand recognition
Had recent price momentum with an 88% Barchart technical buy score
Positive investor sentiment
Wall Street buy recommendations with solid growth in earnings
Disclosure: No positions