Apple (NASDAQ:AAPL) is back in the news again. First, there was the blockbuster launch of the massively-hyped and positively reviewed iPad. So far, the iPad has already exceeded expectations, selling over one million units in its first month.
Then, in news that was likely less exciting to Apple than the iPad's great sales, Gizmodo.com managed to acquire a prototype of the unreleased next generation iPhone. Finally, Apple and Adobe (NASDAQ:ADBE) have been sniping at each other in the press and through their PR channels over Apple's continuing stance to not support Flash on the iPhone and iPad.
However, the most important news to Apple may have been the most recent: earlier this week a report was released indicating that phones running Google's (NASDAQ:GOOG) Android OS outsold the iPhone in Q1 2010. This major sales increase for Android devices may represent the first chink in the iPhone's previously impenetrable armor.
Using Compete's Device Demand Measurement database, we're able to see if consumer online behavior would match up with what recent sales figures have indicated. This graph represents the share of all people researching phones online at the major carrier websites (Verizon (NYSE:VZ), AT&T (NYSE:T), T-Mobile (DT) and Sprint (NYSE:S)) that researched phones running the indicated operating system. (Click to enlarge)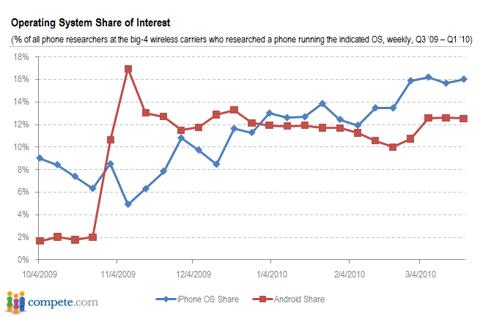 Historically, interest in phones running the iPhone OS has always greatly exceeded that of those running Android, as you can see in the first four weeks of the above chart. Nearly one year after launch, Android had yet to gain any strong momentum with consumers.
Consumer online research appears to be a leading indicator of purchase intent: in Q4, the launch of the Motorola (MOT) DROID and HTC Droid Eris at Verizon as well as the launch of the Motorola CLIQ at T-Mobile helped move interest in Android devices out of its niche and into the mainstream.
In Q1, iPhone regained interest share over Android, likely as the Q4 advertising push behind Motorola's DROID and HTC's fleet of Android phones subsided. The question is – will iPhone sales improve in Q2 to match the online interest increases seen in Q1?
The reason Apple should be concerned about Android's newfound strength is because it has been in a similar situation before, in its competition against Microsoft (NASDAQ:MSFT) for home computing. Apple, of course, is the only manufacturer and vendor of phones running the iPhone operating system, while any manufacturer is able to run Android if it wishes. This mirrors Apple's history pitting its Macintosh operating system against Microsoft Windows. Apple is the only manufacturer that builds computers that run the Mac OS, while a variety of manufacturers were able to manufacture computers running Windows, which helped Microsoft run away with the lead in the OS war back in the 1990's.
In this modern-day analogy, Google is playing the role of Microsoft, threatening to take away Apple's market share with a flood of Android devices across multiple manufacturers and carriers, while Apple and AT&T remain the sole source for iPhone. If Apple wants to avoid history repeating itself, it will need to make sure that the next, already leaked iPhone can make consumers forget about Android for a while.