The first half of 2013 was not good for Facebook (NASDAQ:FB) as the company was more focused on improving user experience and unable to capture enough growth as promised. This resulted in the stock price dropping 11.1% in the first six months of 2013. The company was also working on its growth prospects that were concealed from investors. Suddenly, the company's stock started to turn around with the news of adding videos to Instagram and later when the company posted second quarter 2013 results with an earnings surprise of 35.7%. Those earnings results surprised investors and caused the stock price to jump around 30% in a single day.
Most recently, Facebook stunned the tech world by announcing that it would buy messaging service WhatsApp for a massive price tag of $16 billion ($4 billion in cash and $12 billion worth of Facebook shares) as well as approved restricted stocks worth $3 billion that will vest over four years after the deal closes. This acquisition makes it the market leader in social networks and gives it new direction towards higher growth.
Instagram: A Growing Success
Over the past three years Instagram has grown tremendously with more than 150 million people capturing and sharing the world's moments. In just three years, the company grew its monthly active user base at a CAGR of 287% from 10 million in 2011 to 150 million in 2013 thanks to the success of smartphones and easy access for high speed internet.
As it grew, Instagram evolved not only into a community of photographers but also into a means of visual communication that created a huge opportunity for advertisers to advertise their products and services to a more defined target market without increasing costs.
Currently, Instagram is not generating any cash flow for the company as there are no ads on it. The company was planning to introduce this feature but wasn't sure how to implement it without alienating its members. The company feared that too much overt marketing could cause chaos to the service undermining one of its strongest selling points.
After a serious struggle with the situation the company finally introduced certain features that helped the company to turn this non-cash generating business into a cash flow generating business and also to help it achieve higher growth. These features include (1) video on Instagram (2) sponsored photos and videos and (3) Instagram direct.
Video on Instagram
Instagram begins its journey as a community where you capture and simply share the world's moments. It provides the opportunity for individuals to share their stories through images. Later, in 2013 the company introduced Video on Instagram and brought another way for users to express and share their stories.
The addition of video on Instagram provides users access to create videos that can range from 3 to 15 seconds in length. The app allows the user to edit together multiple clips. After the video is taken, the user can customize the footage by choosing from 13 unique video filters. Another powerful feature is "cinema" mode that helps stabilize shaky hand-held footage. These features mean users can quickly create high-quality video products.
Although Instagram is popular for personal use it also creates an opportunity for businesses as well. The addition of video is reflective of an increasing market that should not be ignored. The development reflects the dramatic increase in web-based video consumption. According to ComScore 89 million Americans watch 1.2 billion videos online every day. These significant numbers show that it is important for businesses to integrate video into their online marketing strategies. Although video on Instagram itself may not be a direct marketing solution it illustrates the growing consumer trend and can also help business to market their products to its direct target market.
Sponsored Photos and Videos
Facebook has already initiated advertisements on Instagram using its sponsored photos and videos feature. Every photo ad has the sponsored label and if you tap on it details about the advertisement can be found. Users can also hide the ad and explain why they don't like it just as on the Facebook platform. However, the main problem with this service was that many users expressed their discontent with seeing ads from brands they don't follow and products they are not interested in.
Instagram Direct
Later in 2013, the company announced another service that would help businesses to directly market their products and services to their followers. Using Instagram Direct, users can send private photos, videos and text messages to individuals or a group. The only problem with this service is that currently users can send their photos and videos to up to 15 people at once. Currently, this service is only used for individuals to share their stories directly to their friends and family. This service can be a very attractive tool for businesses to market their products and services to a more precise target market. All it needs is for Facebook to fine-tune this service to target businesses.
Now WhatsApp
The company's acquisition of WhatsApp seems to be the biggest bet in the history of the tech company. According to Facebook the acquisition will bring more connectivity by delivering core internet services efficiently and affordably. Currently, WhatsApp is processing more than 50 billion messages per day and its user base has increased to 450 million from 200 million in just four months.
How WhatsApp Adds Value to Facebook
The acquisition positions Facebook as the largest independent social network. This also strengthens its position in the mobile phone market where advertising now makes up the majority of its revenue. It also supports its foothold in the world's largest internet market, China, where Facebook is blocked - only WhatsApp and Instagram are permitted to operate there.
Is The $19 Billion Acquisition Justified?
Facebook's acquisition of WhatsApp raised serious questions regarding the equity value of the company. Facebook paid $42 per user to acquire the company and WhatsApp is currently generating nominal cash flows of $1 a user per year. However, the company did not disclose how many users are paying the $1 fee after a year.
With 450 million monthly active users let's suppose that only 60% spend $1 a year on new content. That's $270 million a year in revenue that Facebook earns from WhatsApp. Sure, at that rate Facebook won't make its money back soon but that's only assuming that WhatsApp's growth was to stop dead in its tracks at 450 million users right now. At its current growth rate it stands to have 815 million users a year from now (keeping in mind that it's adding 1 million new users each day). Facebook stands to make its money back quicker than you might think but continuous growth is a very big challenge for Facebook.

Facebook announced that it has no plans to add advertisements to WhatsApp so the only way it can generate cash flows from this business is by charging the yearly $1 fee. Therefore, I made some assumptions to calculate the payback period of WhatsApp. For that I assumed a growth rate of 112% for the first few years and a 50% ratio of paid users per year over the given period. Currently the company's growth rate is more than 125%. Based on the calculation above, it would take around 5.5 years to breakeven on this acquisition. If this is to be the case, I think it seems to be a fair investment for Facebook but it's most unlikely to sustain high growth for the long term.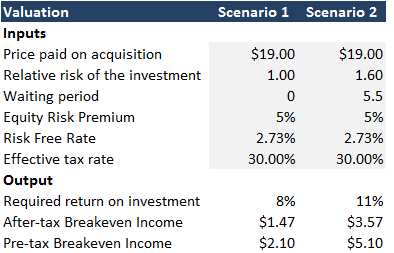 Another way the company can justify its acquisition is by generating higher revenues from advertising fees from its existing business. This can be possible by drawing WhatsApp's users into the Facebook network and advertising to them there. To justify a $19 billion value for a company in equity markets Facebook needs to generate about $1.47 billion in after-tax income. According the acquisition deal, the value of equity is $19 billion assuming the relative risk of investment is equal to the market risk, an equity market risk premium of 5%, and risk-free rate of 2.73%. Facebook already has plans to generate higher revenues from advertisements to cover the acquisition cost. Using the above assumptions, the company would need to generate at least $2.10 billion in after-tax earnings from WhatsApp users to break-even.
Similarly, in the second scenario, the longer Facebook has to wait for steady state the more risk there is in the business model. Using the 11% required return and waiting period of five years before the business generates income increases the breakeven income to $3.39 billion.
Conclusion
For Facebook its user base is the key to success - the higher the user base the more Facebook will attract advertisers. By acquiring WhatsApp Facebook will be able to add a new user base to its family mostly from emerging markets including China and India. Facebook has the right tools and talented team to help it to generate hefty cash flows from these business segments. Instagram is already in motion to generate cash flows for Facebook. This will help the company to slightly cover acquisition costs of WhatsApp in case Facebook continues to operate this business segment without any changes. I believe that this business segment is the cash cow for the company. The company will soon come up with an amazing idea to generate revenues from this business as well that will in return benefit the company through increasing profit margins.
Disclosure: I have no positions in any stocks mentioned, and no plans to initiate any positions within the next 72 hours.
Business relationship disclosure: The article has been written by APEX Financial Consultants. This article was written by one of our research analysts. APEX Financial Consultants is not receiving compensation for this article (other than from Seeking Alpha). APEX Financial Consultants has no business relationship with any company whose stock is mentioned in this article.