Is the recent Netflix (NASDAQ:NFLX) and Comcast (NASDAQ:CMCSA) deal a game changer for either company? How does this deal change the face of net neutrality. In today's Oxen Group market recap, What's Next For The Market, we will be examining the most recent Netflix deal to pay Comcast for better streaming speeds that will improve the quality of the company's Instant products especially during peak hours. In our latest update, we were bullish on Netflix moving forward, and we want to update our model based on this recent report. As always we also look at today's important news, digest key economic data, delve into company news that matters, chart the markets, and forecast what we see coming next.
In Focus - Netflix
Today, in our In Focus section, we want to investigate the latest deal between Netflix and Comcast. Sunday, Feb. 23, Netflix agreed to pay Comcast for direct access to the company's broadband system. This is a landmark deal after months of dispute between Netflix and broadband providers about who should pay for the increasing bandwidth loads. In the deal, Netflix will now be able to deliver content directly to CMCSA rather than through a third party, but Comcast has stated that Netflix's services won't get any preferential treatment. We see this deal as crucial for NFLX to continue to grow at a strong rate in what is still a young stage for the company. Quality of service is imperative to continuing to add new users to their business, and this deal appears to have been the first step towards doing that. The questions now becomes - how much did it cost? And, is this deal the beginning of multiple deals that will also impact AT&T (NYSE:T), Verizon (NYSE:VZ), Charter (NASDAQ:CHTR), and others.
As we mentioned in our previous article:
Overall, what we see with Netflix is a company that has a great deal of potential. They have revolutionized the way people watch TV, continue to grow, and are just starting to move into the international scene. The company's success in 2014 will be defined by their ability to keep margins at the levels we saw in the latest quarter, grow subscribers overseas, and see solid follow through on original programming. We will stop in throughout the year to review these factors.
Before this deal, Netflix was infringing on a serious bottleneck that was causing streaming qualities to descend rapidly. According to a report at the end of last year, Netflix took up the largest percentage of Internet traffic in the United States, garnering 31.6 percent of the market, while YouTube, the second leader, had 18.6 percent. That number for NFLX is down from last May's 32.2 percent. This drop, could have (and today's action suggests it likely was) been caused by the dissatisfaction of its customers due to streaming speeds. Customers reported seeing grainy or jittery video. According to Computerworld, "Streaming speeds from Netflix to Comcast fell 27 percent since October of last year, according to data from Netflix." The major problems flare up during peak hours when the majority of households use the NFLX Instant service to access movies and TV shows in home. This move couldn't come at a better time as Netflix will begin offering an even higher HD setting for users called ultra HD.
Thus, Netflix needed to get the nation's largest broadband provider on board. Comcast after buying out Time Warner Cable (TWC) now has over 30M users in the USA, making it an extremely important partner for NFLX. Thus, this is a landmark deal between the #1 downstream app in North America and #1 internet provider. As the most direct consequence, as Bloomberg notes, "by connecting Netflix content directly to Comcast's network, the new delivery method removes a middle layer, speeding the video to the end-user." This announcement also gives Netflix a greater potential to add new subscribers. As the quality improves, users will be less likely to rent other movies, visit the movies, and be more comfortable streaming at-home.
This deal is also good for Comcast. As Forbes reports:
Carlos Kirjner, a senior analyst at Bernstein Research, believes that the Netflix deal is part of Comcast's plan to mollify regulators even before hearings begin. By showing regulators how friendly it can be to Netflix, by letting the company transmit to Comcast customers directly over Comcast wires instead of through third parties, Comcast could be hoping that regulators will take the issue of IP connectivity off of the table. From Kirjner's report:

While the FCC's ability to regulate IP interconnection, e.g., preventing discrimination, is limited, as the DC Circuit Court reminded us when it overturned most of the Commission's Open Internet (a.k.a. Net Neutrality) rules, during a merger review the Commission's ability to extract concessions is much greater, under its broad mandate to ensure the transaction serves the public interest. In this context, it could certainly seek to impose IP-interconnection requirements from Comcast. Note, for example, that Comcast is subject to net neutrality rules, a concession it agreed to as a condition to its merger with NBCU.

In other words, even as regulation is generally becoming laxer for giant media companies, regulators could impose stricter provisions on Comcast as part of the merger agreement. The Netflix deal could ease their concerns a bit. (Kirjner also suggests that part of the deal was that Netflix would not lobby against the merger.)
The FCC can take concessions from Comcast to ensure that the public is not taken advantage of as Netflix now owns NBCU. Net neutrality means that the company can't show preference to any company - NBCU would be the obvious problem. Thus, the deal with NFLX allows them to show that they are going to be net neutral and can solve this issue on their own. CMCSA appears a bigger winner in reality, but we do not cover CMCSA.
For Netflix, our key to success is that while it may be overvalued, growth stocks will remain quite strong until they are seeing some type of slowdown. Netflix is in a growth mode with both domestic and international markets soaring, and deals like this ensure that the product quality is enhanced and maintained. We believe that is crucial to the company being able to maintain high valuations, and it was concerning that the quality was starting to diminish.
Overall, though, this deal does not change our overall forecasts as it is more a necessary maintenance of current levels practice, and we are still confident in our $490 2014 price target.
Market Overview
The market has continued its recent flatness as we begin the "great consolidation" period. Data has not justified a rally over key resistance lines, yet the market also has eliminated a lot of bears/shorts that seemed choreographed at the beginning of the year to bring about lower market prices. We are going to be stuck until either the bears take another major stab (although with the weak data we have had as of recent...they look to have little footing) or the market gets something to catalyze it to move higher. Either way, we are going to be seeing a market that is fairly flat moving forward for the next several sessions.
Today, the big news was the January report for New Home Sales. Housing has really weakened to start the year as the industry saw a lot of problems due to weather collapsing starts along with a lack of demand for people to come and buy/see new homes. The annualized rate was expected to drop from 414K to 400K, but the actual number came in at 468K, throwing a wrench in recent weakness. It was a surprising report as we have seen starts, permits, and other housing data points point to weakness. Even Toll Brothers commented yesterday that they would have to drop the upper forecast for total housing deliveries for the year since they could not work for much of January in the mid-Atlantic, mid-West, and northeast.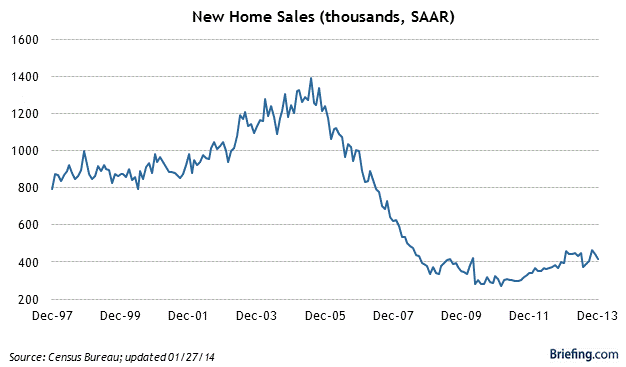 New sales, though, came in strong with strength in the Northeast and Southeast regions even despite bitter cold and weather. The data is seasonally adjusted, but so are other reports that show tough conditions for starts/permits/etc. Yet, this data may show that while actually building and breaking ground was tough, home buyers still are interested in getting into new homes despite the weather. To us, that is a definite bullish sign. Yet, amongst a lot of weak recent reports, it is not enough to see a breakout in the market.
At the close, the Dow Jones (NYSEARCA:DIA) is up 19 points. The Nasdaq (NASDAQ:QQQ) is up four points, and the S&P 500 (NYSEARCA:SPY) is 0 points.
Charting the Markets
In this section, we examine the current market setups in the S&P 500, Dow Jones, Nasdaq, and Russell 2000 (NYSEARCA:IWM).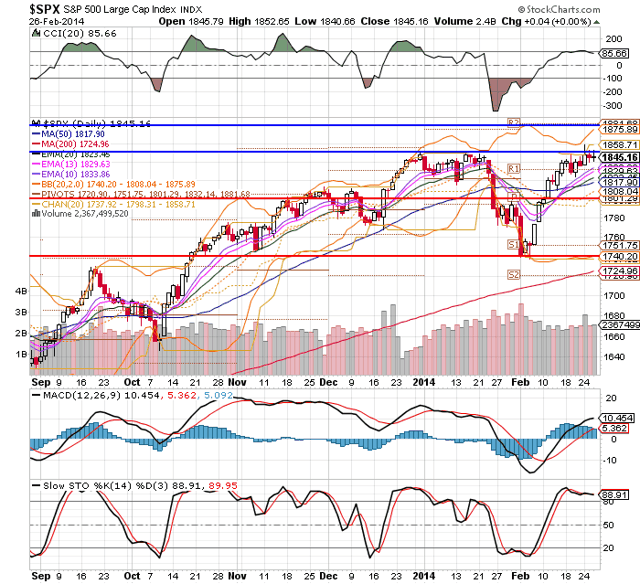 S&P 500
Resistance lines to watch:
1st - 1850 2nd - 1880
Support lines to watch:
1st - 1800 2nd - 1730
Current Sentiment:
Rangebound at Inflection Point
Analysis:
The S&P retook 1800 and is nearing key resistance at 1850. A test of that line this week will be key to see if we are chugging higher or staying range bound. 1800 is now support with another key line now until 1730.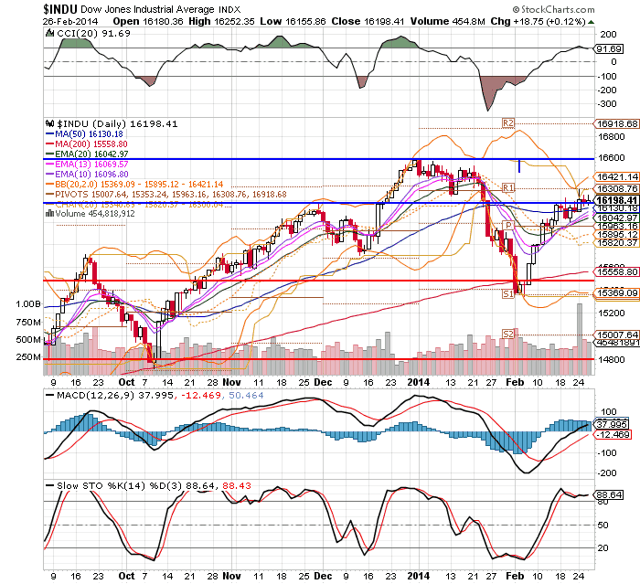 Dow Jones Industrial
Resistance lines to watch:
1st - 16150 2nd - 16500
Support lines to watch:
1st - 15470 2nd - 14800
Current Sentiment:
Bottoming of Correction
Analysis:
The Dow Jones retook its 200-day MA at 15470, and it has formed some support at the 15400 area. From there, the 148-line is the next major support line. 16150 is the key resistance area right now before 16500. Dow is not as strong as the S&P.
Nasdaq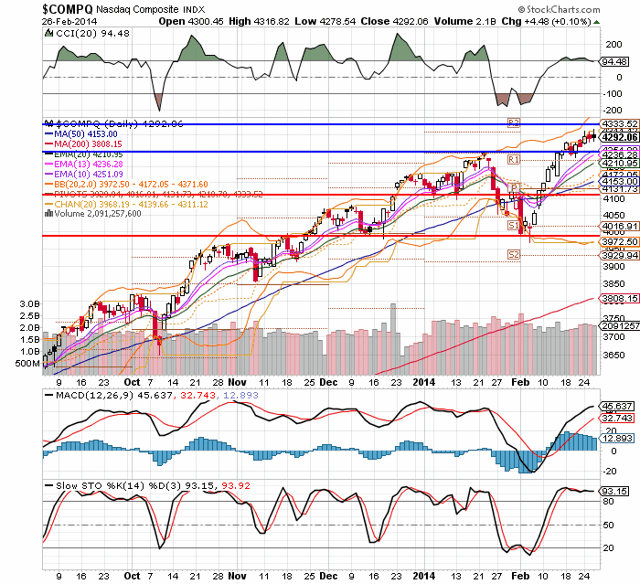 Resistance lines to watch:
1st - 4250 2nd - 4300
Support lines to watch:
1st - 4120 2nd - 4000
Current Sentiment:
Bullish
Analysis:
The QQQ is the most bullish as it broke key resistance on Tuesday at 4250, which was the high of the year. That breakout is strong and now has resistance at 4300 next. Support now sits at 4120. If we see follow through tomorrow, it will signal another cycle higher.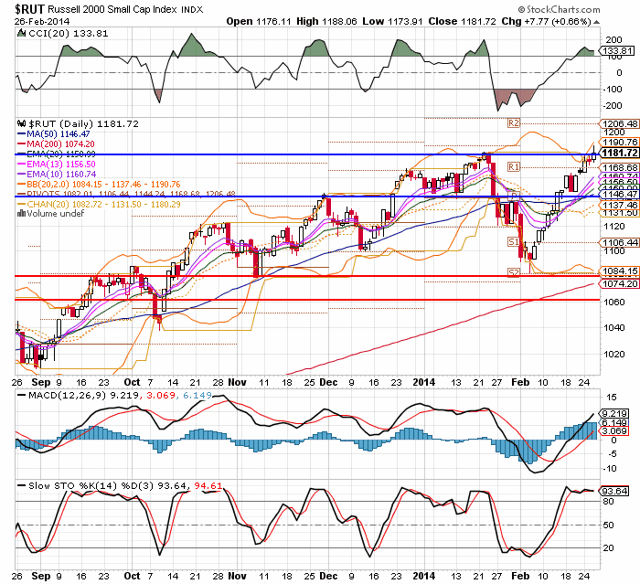 Russell 2000
Resistance lines to watch:
1st - 1145 2nd - 1180
Support lines to watch:
1st - 1080 2nd - 1060
Current Sentiment:
Bullish, Inflection Point
Analysis:
The small-cap index finally broke out from the 1145 area but still has a ways to go before the 1180 resistance area. The "V" recovery looks strong, and the CCI, MACD both have room to grow.
Thursday's Outlook
The market has been solid without much to really give weight to a major rise in the indices, and that is a big win for the bulls. Yet, as we can see from the charts above, we are at key resistance and some technicals suggests that the market is looking toppy. Therefore, we need a series of data points to show that recent weakness was a weather blip and that the economy is on the right track. Otherwise, we are going to see a tightening of the markets for some time.
On the docket, tomorrow, we have jobless claims as well as durable goods orders. From Europe, we get German unemployment figures as well as Euro-Zone Consumer Confidence. Reports from Europe have been bullish especially in Germany as of late, so they could play a key role tomorrow as well.
On the earnings front, we get some important reports from J.C. Penney (NYSE:JCP), Baidu (NASDAQ:BIDU), Hilton Worldwide (NYSE:HLT) in their first report, and Kohl's (NYSE:KSS). JCP is a definite market mover with its key recovery and turnaround as we have followed closely. Overall, though, its a quieter day that will bring focus on the limited news we have so pay attention!
Disclosure: I have no positions in any stocks mentioned, and no plans to initiate any positions within the next 72 hours.
Business relationship disclosure: I have no business relationship with any company whose stock is mentioned in this article. The Oxen Group is a team of analysts. This article was written by David Ristau, one of our writers. We did not receive compensation for this article (other than from Seeking Alpha), and we have no business relationship with any company whose stock is mentioned in this article.