Hewlett-Packard Company (NYSE:HPQ) released its first fiscal quarter earnings report on Thursday. The company managed to beat analysts' expectations as it reported non GAAP EPS of 90 cents on revenues of $28.2 billion whereas analysts were expecting EPS of 84 cents on revenues of $27.19 billion. Despite flat revenues the company's focus on cost cutting enabled it to translate the savings into earnings growth. The operating margin expanded 100 basis points year over year and remained flat compared to last quarter. Diluted EPS grew by 17% partially driven by a 1% decline in share count. Some key metrics are illustrated in the table below.

Source: HPQ Earnings Table
Segment Performance
Hewlett-Packard generates its total revenue from six segments. Two of the segments, personal systems and enterprise group, delivered positive revenue and earnings results this quarter. On the other hand the rest of the segments delivered disappointing results but thanks to personal systems the company remained positive.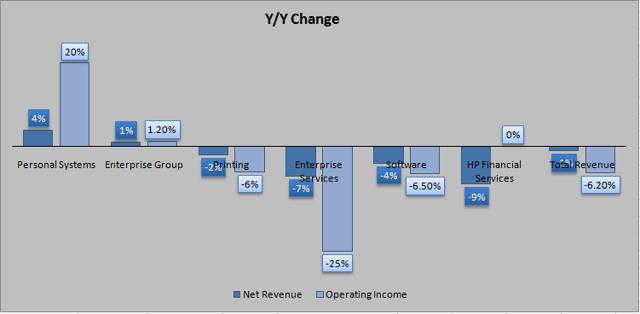 Click to enlarge
Source: HPQ Earnings tables
The company was expecting sales in the personal PC segment to decline in 2014 but with its 4% rise in revenues this segment experienced an earnings surprise and the credit goes to the sales to businesses where individuals' demand for PCs remained soft. This is reflected by the 8% rise in commercial revenue and 3% decline in consumer revenue. Within the personal systems segment, notebook sales increased by 5% and desktop sales declined by 1% y-o-y. This shows that the product mix has shifted from desktop PCs to notebooks.
Enterprise group sells computer servers and other hardware and managed to report 1% revenue growth marking this quarter the second consecutive quarter of growth. This result is a turnaround after two years of decline. However, margin growth is missing and needs to be worked on in the coming quarters. This 1% rise in revenues was brought by a 6% growth in servers and 4% growth in network sales. This growth may be driven by the fact that International Business Machines Corp. (NYSE:IBM) is partially exiting the market by selling a unit to Lenovo Group Ltd. This would allow Hewlett-Packard to pick up more market share in terms of servers. Storage revenue remained flat despite a 42% rise in converged storage revenue. This was offset by a 17% decline in traditional storage revenues.
Since the company generates 54% of its revenues from personal systems and enterprise group they are the core businesses and offset a major part of the declining sales trend in other segments of the business. However the other segments of the company continued to struggle and showed declining results. Revenue from the printing segment fell by 2% while sales in the enterprise services segment declined 7% and software sales declined by 4%. Therefore, the company needs to work hard to rejuvenate the rest of its segments that contribute 46% of revenues and enable them to grow. The following graph depicts the percentage-wise revenue contribution by each segment of the company.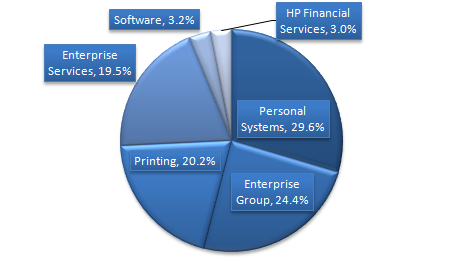 Source: HP Presentation
Financial Condition
As far as the financial condition of the company is concerned it managed to end the quarter with $16 million in cash. The company generated $3 billion cash from its operations reflecting a 17% uptake and paid $843 million for dividends and share repurchases during the quarter. The company's net cash position has improved by $1.6 billion after its net cash clocked in at the level of $1.7 billion. The company's cash conversion ratio has remained above 1 indicating that the company's earnings are high quality. The cash conversion ratio showed a sharp decline in Q3 of 2013 but now the trend is gaining momentum and gradually rising to its previously high level of above 3.
Apart from cash returns to shareholders, the company's R&D has increased by 2% y-o-y and 11% with respect to the last quarter of 2013. R&D as a percentage of revenue has increased again to 2.9% after its sharp decline to 2.5% during the 4th quarter of 2013. This is a positive thing since the innovation developed by R&D will enable the company to add more to its top line. Both trends are depicted in the graphs below.

Click to enlarge
Source: Yahoo finance
Shareholders' Return
Hewlett-Packard generously rewarded investors as it paid dividends of $278 million ($0.1452/share). Moreover the company repurchased around 20.4 million shares worth $565 million. This share buyback will reinsure shareholders and revitalize their confidence in the stock since it is indicative of the fact that the management has a firm belief in the company and under the command of CEO Whitman the company will head towards a brighter future. Over the first fiscal quarter the company's share price secured an upward appreciation of 11.88%. The stock reached a new 52 week high price of $30.28 on Thursday and closed at $30.19 reflecting a 2.51% increase after the company released its first quarter results. This price hike shows that the market welcomed the company's good news. Over the past 12 months the company's stock shot up by 81% and outperformed the Standard & Poor's 500 index 22% gain.

Click to enlarge
Source: Y-charts
2014 Outlook Seems Bright
The company also revealed its guidance for the second quarter of this fiscal year and according to the company's forecasts EPS will lie in the range of $0.85-$0.89. This seems meager compared to the 1st quarter EPS of 90 cents and therefore falls short of analysts' estimates. For the full year 2014 the company raised the lower end of its previous forecast and now expects EPS in the range of $3.60-$3.75. These estimates exclude after tax costs relating to amortization of intangible assets and restructuring charges.
The Road Ahead
Improvements in PC sales to enterprises and businesses are expected to benefit the company on other platforms such as its server business. The company expects it to work like a "halo effect" influencing the server and storage business since companies buying systems from HP will be forced to rely on its server, storage, and networking services. The server business contributes about a quarter of the company's revenues and 40% of its operating income and thus lies at the heart of the company. The desktop personal computer market is shrinking but notebook sales can act as a catalyst. However, the company still has to struggle with the trend shifting towards mobile phones and portable devices instead of computers. The company has shifted its focus towards converging servers, network, and storage technology in one machine because it is highly in demand from the consumer's perspective. Consumers are moving towards high volume and big data platforms because of the cost benefits. It allows them significant business insight without incurring costs for physical infrastructure. Therefore the company aims to invest in new servers, software technology, and networking gear in order to create products with affordable prices to outperform its rivals.
Hewlett-Packard is bolstering its computing hardware business in an arena where companies like IBM are exiting the market out of lower margins and intense pricing pressure. HP's rival in personal computers Lenovo is buying IBM's server business for $2.3 billion and thus can portend a serious threat in terms of powerful competition. By the time the deal closes between the two, Hewlett-Packard aims to be set up so well to compete aggressively. However the exit of IBM will pave the way for Hewlett-Packard to grow in the servers business and gain more market share. In the first quarter the company secured a top notch position of 28.10% market share overtaking IBM's 23.40% share in this regard due to its top-selling ProLiant brand. The company will have to come up with more products that can sustain the intense pricing atmosphere and attract customers with high quality and affordable prices.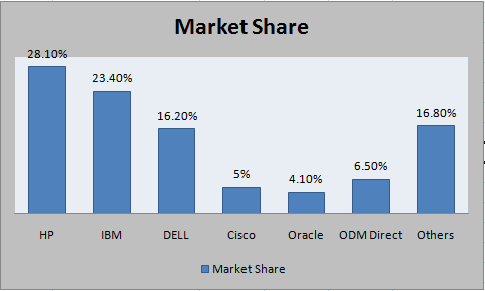 Source: IDC
Conclusion
Hewlett-Packard is one of Silicon Valley's oldest companies offering a wide range of products to its customers. Although many of the company's products have lost traction due to mobile computing some segments still offer growth potential. CEO Whitman is trying hard to make the company successful once again along with dealing with the $8.8 billion write down of its 2011 acquisition of Autonomy Corp which was led by accounting irregularities on the part of the software maker.
I believe in these circumstances a hold position will benefit the investor. Therefore in my opinion investors should hold on to the stock and not buy it unless the company successfully exhibits better performance in terms of revenues.
Disclosure: I have no positions in any stocks mentioned, and no plans to initiate any positions within the next 72 hours.
Business relationship disclosure: The article has been written by a Blackstone Equity Research research analyst. Blackstone Equity Research is not receiving compensation for it (other than from Seeking Alpha). Blackstone Equity Research has no business relationship with any company whose stock is mentioned in this article