Renewable oils and bioproducts producer, Solazyme (SZYM), rose after the market close on Wednesday, February 26. At one point in the after-hours session the company traded at $13/share, representing a 10% increase to the closing price of $11.81.
While the company missed analyst expectations by $0.01 on estimates of a $0.39 loss, investors appeared to shrug off the latest earnings results for a company just beginning to initiate its commercial production. Up until a month ago, the company was largely viewed as a development company still waiting to bring online the first of its two large-scale production plants now underway. On January 30, this changed as the company announced its commercial start at the smaller facility based in Clinton, Iowa.
The positive sentiment that followed the earnings release came down to one particular fact: Solazyme could hit its target prices. The company demonstrated with its initial sales at Clinton that it could sell product for an average sales price of $2600 per metric ton [MT]. For some time now, the company has stated that it was aiming to sell its oils for more than $2000/MT. With roughly 7.3 barrels of US crude oil per metric ton, this would suggest that Solazyme would be selling its oils for more than $272 per barrel.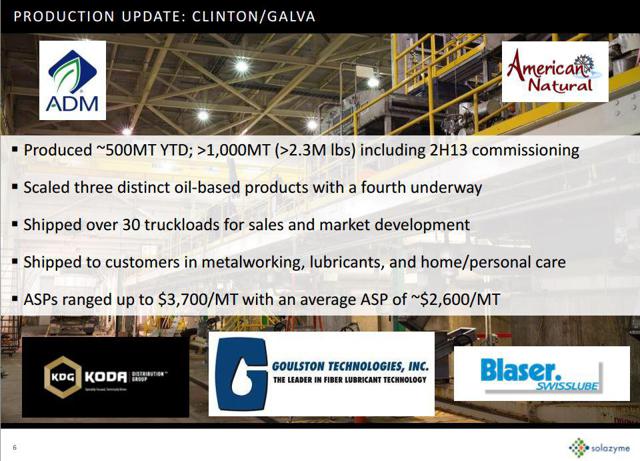 At the high-end of the initial spectrum came the rather surprising fact that the company could sell its oils for $3700/MT. In comparison to US crude, this would suggest the company was selling for roughly $504 per barrel. To complete this comparison, it is worth noting that West Texas Intermediate oil futures ended today at a price of $102.59.
Based on the company's oils chart, it remains most likely that Solazyme was utilizing its oleic platform for at least two of the oil types sold. It remains promising that the company was able to meet its target price range, and remains hopeful that the company can see similar results in its more lucrative profiles.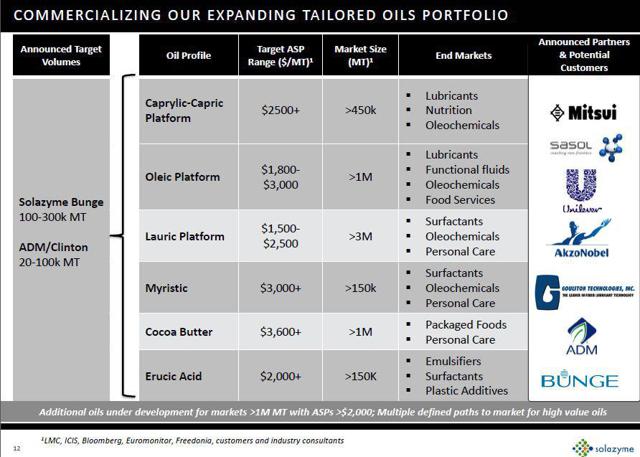 While average selling prices remain just one part of the total equation needed to determine the company's margins, the initial figures provide an important proof-of-concept for investors. For some time now, skepticism has abounded over whether the company would be able to sell its oils at the prices targeted. Today's announcement of the initial figures help to further de-risk the company profile as it continues to develop down this path of commercializing its novel sugars-to-tailored-oils technology. Management also confirmed its expectation to eventually hit its target margins.
Ramp Comparison
With approximately 500 MT produced year-to-date at Clinton, the company also provided a sense of where they were in the initial ramping phase of the first facility. Accounting for 2 months of production, this suggests that Solazyme is producing at a capacity level of 3,000 MT of oil per year at its present rate. This remains a rather impressive feat considering the limited time Clinton has been ramping. A look at how the company will ramp can be seen in the graphic below.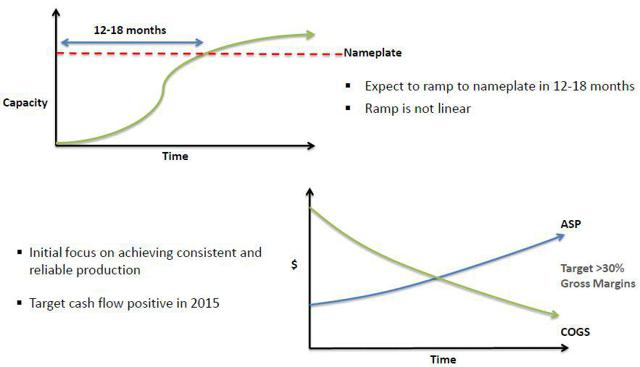 A quick comparison with a renewable chemical company like Amyris (AMRS) is useful when we consider that Amyris is simultaneously scaling its first large-scale biorefinery. The company is now running at approximately 1 million liters per month and has produced roughly 3.5 million liters of farnesene to date. Taking into consideration the density of farnesene, we see that Amyris is now has now produced about 2,954 metric tons of total product. Its current rate is approximately 844 MT of farnesene a month.
Yet there is a key difference here in the fact that Amyris has been open for commercial operations at its Brotas facility for more than a year. Additionally, the company's first production facility carries a nameplate capacity of 33,760 MT per year, a 69% increase over Clinton's nameplate capacity of only 20,000 MT per year. While Amyris is at approximately 30% of its nameplate capacity after a year, Solazyme is already at 15% of its nameplate capacity after two months. When we combine these facts together, it remains likely that Solazyme is scaling faster than its fermentation-based "peer".
A Look At The Latest Short Interest
One final thought lies in a figure that was just updated per the NASDAQ website found here. As of the settlement date of February 14, there was now a total of 9.79 million shares short for Solazyme. Why this is important is that it represents a mere 281,000 shares less than the 10.07 million shares shorted as of January 31. On January 31, Solazyme's stock rose more than 33% due to a high short interest as I wrote about here.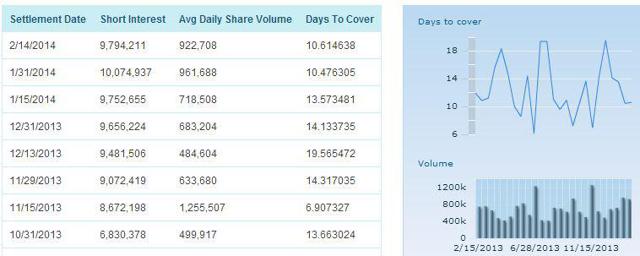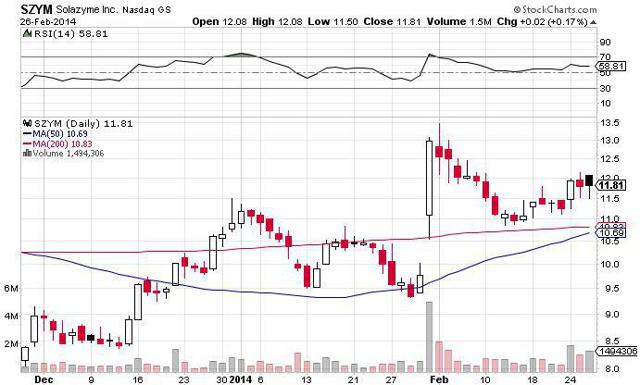 Considering the limited number of shares that have since been covered, the current after-hours price, and the revealing of another de-risking factor, Solazyme may once again be affected by imminent volatility. On January 31, the company's share price soared on the announcement of its Clinton facility opening. Nearing the end of April, it is possible that Solazyme will once again announce the opening of an even large facility found in Moema. The Moema facility will carry a nameplate capacity of 100,000 MT, a shared capacity more than five times that of Clinton.
Final Thoughts.
With an after-hours share price of $12.50, Solazyme now trades with a market capitalization of $851 million as of February 26. The company's revenue growth has already begun to ramp up as shown in the latest earnings conference call. In the first two months of production, Solazyme has added roughly $1.3 million of additional revenue. Continued progress on this front will help to break the company out of the $30-$40 million annual revenue range which it has seen over the last 4 years.
The key takeaway for today remains the de-risking factor revealed in the company's average selling prices. Solazyme is able to charge a premium for its tailored oils. Management also continues to reaffirm its expected target product margins. While it will take some time for the company's plants to ramp up to their nameplate capacity, the current progress remains promising in light of the initial production thus far seen.
Disclosure: I am long SZYM. I wrote this article myself, and it expresses my own opinions. I am not receiving compensation for it (other than from Seeking Alpha). I have no business relationship with any company whose stock is mentioned in this article.