There are many things to like about cardiac rhythm (pacemaker, ICD) and restorative therapy (spinal stabilization devices) giant Medtronic (NYSE:MDT), which reported fiscal third-quarter results February 18. Medtronic has #1 share positions in almost every product category it operates in and has a leading pipeline with some of the most compelling medical technology programs and innovative therapies. The firm's solutions span the care continuum, and the company is a leader in some of the largest chronic disease areas, including cardiology, neuro/ortho, and diabetes.
Medtronic is poised to capture a nice piece of the massive opportunity for existing therapies in emerging markets, an incremental $5 billion by our estimate. Emerging-market exposure is only about 12%-13% of the company's revenue mix, and performance in developing regions should grow at a nice mid-teens annual pace in coming years (see image below). Coupled with therapy innovation and growth in services and solutions, investors should expect a mid-single-digit pace of overall top-line expansion at the company.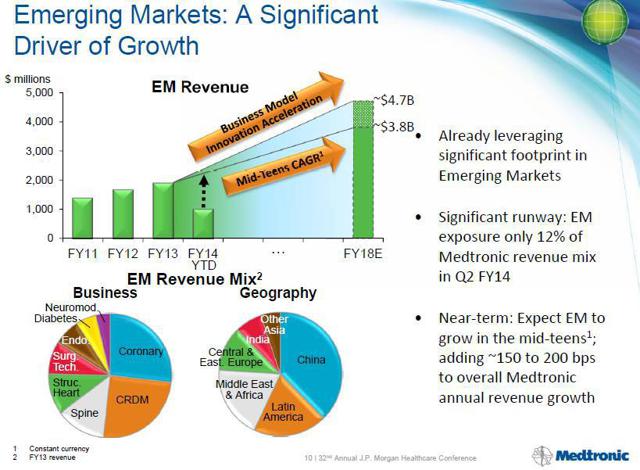 Image Source: Medtronic
A strong credit rating and balance sheet coupled with the willingness to enter risk-sharing models reveals a level of financial strength that will pave the way for future dividend increases. Medtronic's free cash flow generating capacity is undeniable (see images below) and represents the primary reason why the company has such a high score on the Valuentum Dividend Cushion methodology. The Valuentum Dividend Cushion adds the firm's net cash position on the balance sheet (cash less debt) to its future expected free cash flow (cash from operations less capital spending) over the next five years. The measure then takes that sum and divides it by expected future cash dividend payments in the next five years to arrive at a free-cash-flow based dividend coverage measure that also considers the strength of the balance sheet. The methodology has performed very well (see here). Medtronic's score on the Valuentum Dividend Cushion is 2.5 at the time of this writing. Future dividend increases should be expected.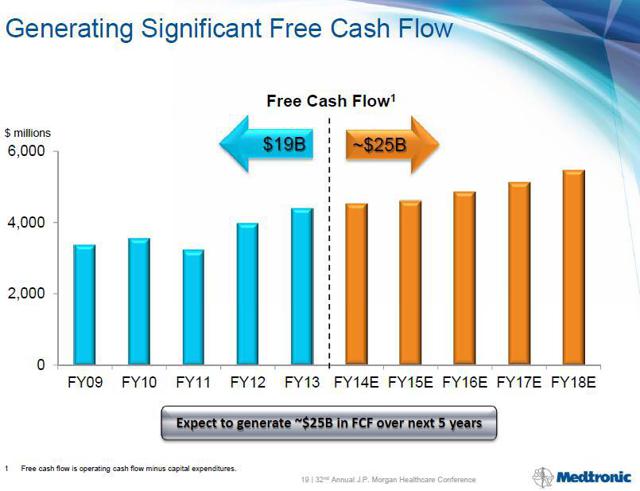 Image Source: Medtronic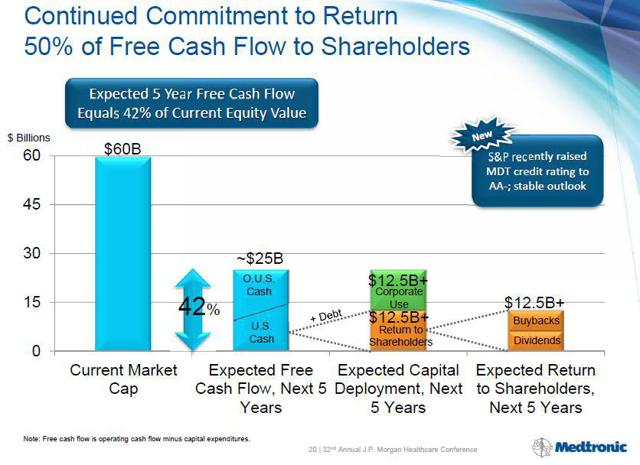 Image Source: Medtronic
Medtronic's fiscal third-quarter results were as expected, with worldwide third-quarter revenue jumping 4% on a constant-currency basis. Non-GAAP earnings faced some modest pressure as a result of a difficult comparison due to the US R&D tax credit in the year-ago period and a charge related to the HTN-3 trial not meeting its primary efficacy endpoint. Emerging market revenue advanced 12% on a constant-currency basis during the quarter. Management's outlook for 2014 was encouraging, however:
"The company today reiterated its revenue outlook and tightened its diluted earnings per share (EPS) guidance for fiscal year 2014. In fiscal year 2014, the company continues to expect revenue growth in the range of 3 to 4 percent on a constant currency basis, both for the full fiscal year and Q4. The company now expects fiscal year 2014 diluted EPS in the range of $3.81 to $3.83, which implies annual diluted non-GAAP EPS growth of approximately 6 percent after adjusting for certain tax benefits the company received in fiscal year 2013, as well as higher levels of interest expense and U.S. medical device excise tax in fiscal year 2014."
Valuentum's Take
We think Medtronic will be one of the great dividend growth stories of the next few decades. The company is already a Dividend Aristocrat, posting 35 years of consecutive dividend increases. With a payout ratio of 30% and one of the best Valuentum Dividend Cushion scores (given the size of its annual yield: ~2%), the company could double its dividend again and still have excess capacity. Shares are not terribly cheap at this juncture, but we won't be looking to trim our position in Medtronic in the Dividend Growth portfolio until it registers a 1 or a 2 on the Valuentum Buying Index.

Image Source: Medtronic
Disclosure: I have no positions in any stocks mentioned, and no plans to initiate any positions within the next 72 hours. I wrote this article myself, and it expresses my own opinions. I am not receiving compensation for it (other than from Seeking Alpha). I have no business relationship with any company whose stock is mentioned in this article.
Additional disclosure: MDT is included in the portfolio of our Dividend Growth newsletter.