Royal Bank of Canada (NYSE:RY), Canada's largest bank by market capitalization and total assets, reported another solid quarter Wednesday. Its strong earnings power allowed the bank to raise its quarterly dividend by 6% from $0.67/share to $0.71/share, which is in line with the dividend forecasts I provided in my prior article on the company. The bank, commonly known as RBC, reported adjusted EPS of $1.44 in Q1/14 vs. $1.34 in Q1/13. Readers should note that Canadian banks' fiscal quarter end on October 31 vs. December 31 for most US banks.
"We delivered first quarter earnings of over $2 billion, reflecting solid client volume growth across most businesses as we continue to extend our leadership position in Canada while growing our businesses globally. We believe our focus on developing innovative products and services, and our ongoing discipline in managing costs, remain clear competitive advantages in today's environment. This morning we also announced a 6% increase to our quarterly dividend" Gord Nixon, RBC's CEO
Investment Thesis:
RBC is a great pick for the conservative and income investors because it has a strong track record of delivering consistent cash flows and earnings for its investors. RBC's success is mainly due to its strong Canadian P&C banking business. The bank has the largest market share in various areas including business lending (25.0%), consumer lending (23.6%) and long-term mutual funds (14.0%). RBC's Canadian P&C division has the lowest efficient ratio (non-interest expense divided by total revenue) among the big 5 Canadian banks. Being a leader in an oligopolistic industry has huge advantages and RBC has benefited tremendously from its economies of scale and market power. RBC's capital position remains robust and stable earnings growth will lead to higher dividends and share buybacks in the future.
Despite some one-time items that negatively impacted the quarter, underlying earnings growth remains strong. The latest fiscal quarter, which ended on January, was negatively impacted by a $60 million charge ($0.04/share) related to the closure of its Jamaica P&C operations and a pension related accounting charge of $32 million ($0.02/share). The closure of its unprofitable P&C operation in Jamaica is positive given its Caribbean P&C division needed restructuring after experiencing poor performance in the last few quarters.
The bank's wealth management and capital market divisions can deliver double-digit earnings growth if the global economy improves. RBC's ROE, currently at 19%, is one the highest among North American banks and has delivered exceptional earnings growth in the past decade despite the 2008 financial crisis. There is no question that the bank will continue to deliver strong earnings and dividend growth in the upcoming quarters and years.
The following list provides the earnings contribution from each operating segment, based on the trailing 12 month data:
P&C Banking: 55%
Wealth Management: 7%
Insurance: 11%
Capital Markets: 22%
Investor & Treasury Services: 5%
Graph 1: Quarterly Results Summary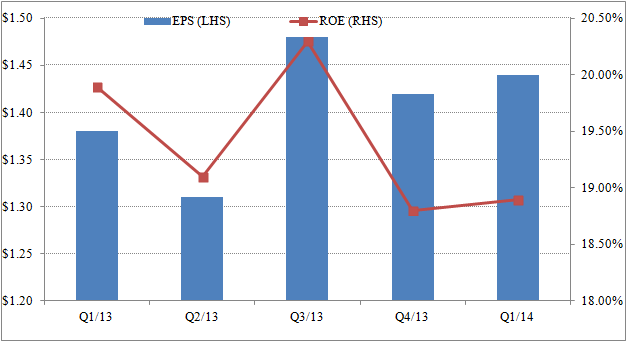 Source: RBC Supplementary Financial Information
Dividend Outlook:
Dividends are a key consideration for Canadian bank investors. RBC rewarded investors by hiking its quarterly dividend by 6% to $0.71/share. Since 2007, many global banks were forced to cut their dividends. However, RBC's quarterly dividend is 42% higher than its quarterly dividend in 2007. The bank did not cut its dividend during the financial crisis. As shown in graph 2 below, RBC's payout ratio remains within its targeted 40-50% range.
RBC's management targets medium term earnings growth of 7-10%. Therefore, investors should expect the quarterly dividend to increase 7-10% on average in the next 3-5 years. Please see graph 2 for RBC's historical dividends per share vs. EPS. In that graph, I also show my projected 2014 EPS ($5.93) and my projected dividends per share ($2.84) for fiscal year 2014. I expect another dividend hike (from $0.71 to $0.75) when the bank reports Q3/14 results in August, which is consistent with the bank's pattern of hiking dividends after the Q1 and Q3 earnings announcements. Canadian banks may be boring but they deliver stable dividend growth for long-term investors. Investors who owned RBC 20 years ago would have experienced dividend growth of 9.2% (CAGR).
Using my projected dividend per share, RBC's shares yield approximately 3.9%, which is attractive compared to other income stocks. RBC possesses a competitive yield compared to utilities or telecom stocks, yet it also possesses a higher earnings growth rate.
RBC also has an active share repurchasing program, formally called a normal course issuer bid (NCIB) in Canada. The NCIB permits the bank to cancel up to 30 million shares (worth $2.2 billion using the current share price). The company has not bought any shares under the program, but I anticipate management to utilize this share repurchase option to purchase shares if the stock price declines from current levels.
Graph 2: RBC's EPS, Dividends per Share and Payout Ratio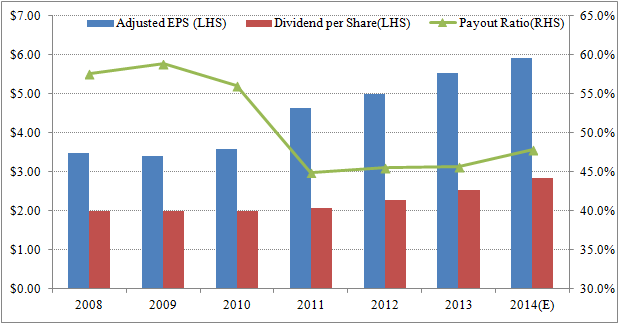 Source: RBC Investor Relations. 2014's numbers are estimated based on author's own forecast
Canadian Banking:
Canadian banking is a major profit contributor and cash cow for the company. In Q1/14, Canadian P&C banking made $1.14 billion, up 4.3% year-over-year (YoY) and 4.6% quarter-over-quarter (QoQ). It was the 7th consecutive quarter that the bank was able to make more than $1 billion in this segment and it demonstrates the robust earnings power of this division. RBC continued to grow its Canadian P&C banking division despite facing a challenging operating environment. As shown in table 1 below, one key success factor is prudent expense management. The efficiency ratio fell to 43.7% in Q1/14, down 130 bps QoQ and 20 bps YoY. Another driver was solid volume growth: loan growth increased 6.5% YoY and 0.6% QoQ, demonstrating RBC's ability to continue to grow its loan book. Net Interest Margin or NIM stabilized at 2.73%, which is unchanged from Q1/13 but was 3 bps higher than Q4/13.
Management did not provide specific numerical guidance. However, judging from the tone on the conference call, management is more optimistic regarding future growth. One major item of note is regarding the outlook on NIM. On previous conference calls, management expected NIM to decline by a few bps each quarter due to the low interest rate environment. However, it did not reiterate that qualitative forecast on today's conference call. The CFO expressed optimism that the bank can stabilize NIM around the current level and can mitigate the impact of the low interest rate environment in Canada through a better product mix. Furthermore, management expressed confidence in growing the loan book in the mid-single digits range. The efficient ratio is expected to be in the "low forties", which I interpret as staying low in the 43-44% range. In summary, I still see earnings growth of 5-7% for the Canadian P&C division. Although the earnings growth rate is not high, the high ROE in this business (36.7% in the latest quarter) can generate solid returns for RBC's shareholders.
Table 1: Canadian Banking Segment Data

Source: RBC's Supplementary Financial Information
Graph 3: Canadian Loan Portfolio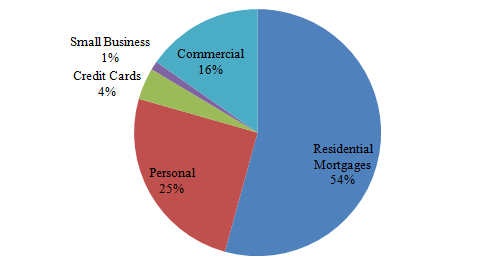 Source: RBC's Supplementary Financial Information
Wealth Management:
Wealth management is a key growth segment for RBC. In Q1/14, net income of $235 million is up 2.6% YoY and 16.3% QoQ. The 2.6% YoY growth may not appear attractive, but there were various short-term factors that lowered net income. First, there was an abnormal $19 million provision relating to a few accounts. Management doesn't see any additional provisions in the future. Second, the higher stock price resulted in a larger than expected stock based compensation expense. Management indicated on the conference call that underlying growth is positive and adjusting for these noise items, core earnings growth would have been in the mid-teens, in line with the high growth rate in Assets Under Management (AUM) and Assets under Administration (AUA). Operating leverage would have been 2% instead of the -2.6% based on the unadjusted numbers.
Regarding the outlook, there was no guidance given by management. However, based on past remarks, I believe RBC is still on track to deliver $2 billion in earnings (an average run rate of $500 million per quarter) by 2019. RBC's management originally planned to reach the $2 billion target by 2015. Despite only earning about $900 million in fiscal 2013, the higher growth in AUM and AUA will eventually flow down to the bottom line and boost earnings. In addition, the path to the $2 billion target is not purely based on organic growth. Management has looked at hundreds of potential acquisition targets in the past year and is extremely interested in buying high-quality wealth companies in order to boost its current capabilities of serving high net worth and ultra high net worth clients. The high and stable fee income is the main attractive feature of the wealth management business. RBC has the right strategy of expanding in this area.
Table 2: Wealth Management Segment Data

Source: RBC's Supplementary Financial Information
Insurance:
The insurance division bounced back in Q1/14, achieving net income of $157 million, up 47% QoQ but down 4.3% YoY. The large QoQ increase was due to a $118 million charge in the prior quarter regarding legislation changes on insurance contracts. Expenses went down slightly from the prior quarter, although there is still considerable negative operating leverage in this division.
Looking ahead, the insurance division's performance should be positive. Net income should normalize around the $160 million level per quarter.
Table 3: Insurance Segment Data

Source: RBC's Supplementary Financial Information
Investor & Treasury Services:
Investor & Treasury services - a specialist provider of asset financing custody, payments and treasury services - is another important area of growth, although its earnings contribution is less than the wealth management or the capital markets division. Net income of $106 million represents a 34.2% YoY increase and 16.5% increase QoQ. Lower restructuring expense related to RBC's acquisition of the 50% stake in RBC Dexia also contributed to higher earnings. Given RBC has now fully integrated RBC Dexia in the Investor & Treasury services segment, non-interest expense will be much lower in the future because previous quarters included restructuring charges related to the integration. AUA has grown by double digits in the past 5 quarters, which will eventually lead to higher fee income in the future.
The outlook is bright for this division. Due to higher client activities, revenues are much higher than the previous quarters. Liquidity and funding revenue is likely to increase due to the decrease in credit spreads. Also, if interest rates rise in the future, the net interest income in this division would increase dramatically. AUA should continue to grow due to the favorable economic environment.
Table 4: Investor & Treasury Services Segment Data

Source: RBC's Supplementary Financial Information
Capital Markets:
The Capital Markets division, commonly known as RBC Capital Markets, is another growth driver for the bank going forward. Although revenue was down slightly YoY, net income increased 9.3% due to lower taxes and favorable foreign exchange translation. Because a majority of RBC's capital markets business is in US and Europe, the weakening of the Canadian Dollar benefited this division. Higher earnings growth also resulted in higher compensation expense, which increased the efficiency ratio and reduced operating leverage. Unlike its global peers, RBC's Fixed Income, Currencies and Commodities (FICC) business did not experience a large drop in revenue.
Looking ahead, this division should generate solid earnings growth. RBC's management made the right decision two years ago by repositioning its investment bank towards lending and origination activities. The repositioning also re-aligned its trading operations towards client related activities and eliminated risky trading. Higher M&A activities will be beneficial for future revenue growth due to higher demand for lending, advisory and other capital market related services.
Table 5: Capital Markets Segment Data

Source: RBC's Supplementary Financial Information. CIB represents the corporate and investment banking division within RBC Capital Markets.
Credit & Capital:
A big driver in earnings has been the favorable credit environment. Credit quality has improved and provisions in the latest quarter were much lower than previous quarters. PCL was $292 million, down 16.3% YoY and 12.8% QoQ. The PCL Ratio (PCL as a percentage of total loans) was 28 bps, down 4 bps QoQ and 8 bps YoY, mainly due to a lower PCL Ratio in the Capital Markets division. The PCL Ratio for Canadian P&C banking remains stable at 30 bps, virtually unchanged from the previous 5 quarters. Gross impaired loans decreased 1.2% YoY to $2.1 billion and the impaired loans to total loans ratio remained stable at around 50 bps. Gross impaired loans increased 9% YoY but that was in line with loan growth. In the upcoming quarters, credit conditions will continue to improve although a large decrease in PCL is unlikely. Future PCL Ratios should be stable around 0.27%-0.30%.
Table 6: Credit Related Data

Source: RBC's Supplementary Financial Information
RBC is well capitalized. Its Tier 1 Common Equity Ratio (CET1) is 9.7% under Basel III's "All in" methodology. Canadian banks, including RBC, have been reporting under Basel III since last year. Investors should note that internal capital generation increased CET1 by 33 bps, but the implementation of the new credit valuation (CVA) rule decreased CET1 by 32 bps. Therefore, CET1 would have been higher if the one-time impact of the CVA was excluded.
Table 7: Capital Related Data

Source: RBC's Supplementary Financial Information
Valuation:
RBC is trading at 2.35X book, which is a 17% premium (see graph 4 below) compared to its Canadian peers. The premium is warranted due to RBC's superior Canadian P&C business and high growth potential in its wealth management and capital markets businesses. Although many US banks are trading at book value, many of them have ROEs below 10%, which is the estimated cost of equity for banks. Because RBC's high ROE is significantly higher than 10%, it should trade above book value. According to graph 5, RBC traded between 1.6X book and 3.4X book in the past 10 years and the 10-year average was 2.5X book.
My 12 month price target is US$71.23 (for RBC's NYSE listed shares) or C$79.10 (for RBC's TSX listed shares), which assumes a price to book (PB) multiple of 2.3X and earnings growth rate of 7%. The US$71.23 (C$79.10) price target is calculated by multiplying 2.3 by my estimated Q1/15 ending book value of US$30.97 (C$34.38). The US$71.23 price target is 10% higher than the current price of US$64.81. Table 8 provides a sensitivity analysis. If one assumes RBC's multiple expands to 2.5X book, then the stock can rise up to US$77.43 (C$86.00). I don't believe RBC's multiple can expand further. In fact, I assumed a small multiple contraction in my valuation. Because the current share price is US$64.81 (C$72.09), I believe investors may want to wait for a more attractive entry point, i.e. US$60.00 (C$67.00).
Table 8: Sensitive Analysis EPS Growth vs. PB Multiple

Source: Author's Calculations. Readers should note that the light blue highlighted cases are lower than the current share price of US$64.81 and the light green cases are higher than the current share price. All prices presented are for RBC's NYSE listed shares.
Graph 4: Multiples RBC's PB Multiple vs. Peers (10-years)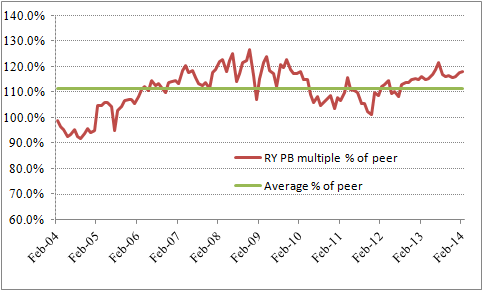 Source: Bloomberg Data. Peers include TD Bank (NYSE:TD), Scotiabank (NYSE:BNS), CIBC (NYSE:CM) and Bank of Montreal (NYSE:BMO).
Graph 5: RBC's Historical PB (10-years)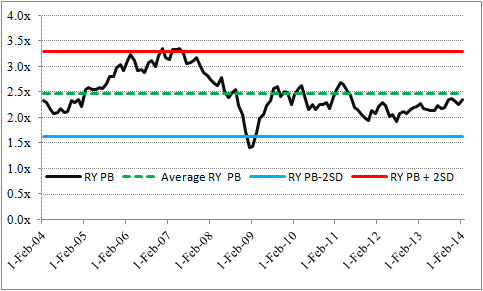 Source: Bloomberg Data
The Bottom Line:
RBC is a strong company to own for conservative investors who are looking for a company that possesses an attractive yield and stable earnings and dividend growth. RBC investors should expect another dividend hike in August due to strong earnings growth. New investors can wait for a pullback before purchasing the shares.
Disclosure: I have no positions in any stocks mentioned, and no plans to initiate any positions within the next 72 hours. I wrote this article myself, and it expresses my own opinions. I am not receiving compensation for it (other than from Seeking Alpha). I have no business relationship with any company whose stock is mentioned in this article.
Additional disclosure: This article is for informational purposes only and does not constitute an offer to buy or sell any securities discussed in the article. The stock mentioned in this article does not represent financial advice. The target price presented in this article is based on current information and are subject to change without further notice. Investors are recommended to conduct further due diligence before committing capital to any investment.