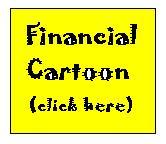 Outlook: Weekend talk shows, the popular press and out-of-work bloggers will light up the airways this weekend with talk of the potential disintegration of the eurozone.
This conversation has gained legitimacy with recent comments by the president's special advisor Paul Volcker and Deutsche Bank CEO, Josef Ackerman. Both men expressed concern over the viability of the union. (Follow cartoon link to right.[1])
Effectively, investors are taking a "run" at the Euro Zone countries like they did with U.S. financial institutions: Bear Stearns, Lehman and Merrill—with Morgan Stanley and Goldman on deck.
Given that the trillion dollar financial package provided for Greece failed to gain "traction" among investors, the Euro Zone should take a page out of the U.S. financial crisis playbook: Germany should acquire Greece.
Considering that Germany has experience in assimilating other less developed countries into its own, e.g., East Germany, this would be an ideal solution—subject to how quickly the Greeks can learn the German language. It would be much like the investment banking business where you merge your mistakes out of existence.
However, I must caution Germany with an admonition attributed to Mark Twain about helping your fellow Eurolander, "If you pick up a starving dog and make him prosperous, he will not bite you. This is the principal difference between a dog and a man."
CEF Weekly Review: The 13 closed-end fund ((NYSEMKT:CEF)) types on average posted a 3.1% increase for the week ending 5/14/10. The high-low spread was 3.5% vs. 9.1% the previous week. On an aggregate, unweighted basis the weekly average price change for the 500 plus CEFs was up 2.3%.
The PowerShares CEF Income Composite (NYSEARCA:PCEF), an ETF that invests in taxable income CEFs, increased 2.8% for the week. The S&P 500 advanced 2.2% for the week registering a 1.8% gains YTD.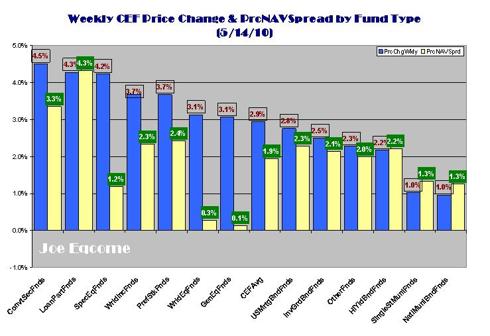 (Click here [2] for YTD CEF performance. The table is based on a smaller CEF sample size as all the data fields are not available for the CEF universe.)
The Eqcome CEF Fear Index eased considerably as retail investors didn't want to miss out on the week's early rally. The average price increased 2.3% versus a 0.7% increase in the NAV. The CBOE Volatility Index (VIX), which typically moves inversely with the stock market—but is more a measurement of volatility based on stock options' premiums, eased 23.7% to 31.24 after having closed last week over 40—the first time since April of last year.
The S&P 500 average daily trading volume was off 24.6% to 5.8 billion shares compared to the previous week that featured Thursday's "Flash Crash" when 11 billion shares were traded. The 9.5 billion shares traded on Monday represented a buying spree as investors interpreted the EU loan package as salvation for the Euro. Volume trailed off the rest of the week and accelerated on Friday's market decline as Euro concerns again resurfaced.
CEF Weekly Fund Type Performance: As one would expect, most equity fund types advanced with the recovery in the equity markets from the previous week's drubbing. National and single state muni bond funds, winners the previous week, were this week's losers. California's budget woes resulting in likely deep cuts in social services are making national head-lines. ConvtSecFnds went from worst to first this week. The only fund type that seemed somewhat out of place was LoanPartFnds which occupied second slot on the left.
The PrcNAVSprds[*] which typically move in the direction of stock prices again for the second week in a row strictly adhered to the rule. The average price of all fund types advanced greater than their NAV's. The fund types with the least spreads were WrldEqFnds and GenEqFnds implying a tandem movement in price and NAV.
LoanPartFnds generated a significant price appreciation with no advance in the NAV. This group could be benefiting as a hedge against inflation due to the floating rate nature of the loans.
CEF Winners and Losers: Flaherty & Crumrine Preferred Income Opportunity Fund (NYSE:PFO) was one of the CEFs with the greatest positive PrcNAVSprd. PFO's share price advanced 10.5% while its NAV advanced a more modest 0.9%. This generated a positive PrcNAVSprd of 9.6%. On Thursday, PFO announced a 14.8% increase to its new monthly distribution of $.0660 per share for an annualized distribution of $0.972. Currently, PFO is yielding 6.6% and trading at a premium of 18.8%. I'd wait for this to come back closer to par prior to purchase.
The CEF having one of greatest negative PrcNAVSprd for the week was Central Fund of Canada Limited (CEF). CEF share price was off 0.7% while its NAV was up 6.1%. This generated a negative PrcNAVSprd of 6.8%. (Traded on the Toronto Stock Exchange)
Earlier this week, CEF issued an additional 25.3 million shares raising an additional $376 million in the value of Class A shares. CEF claims the offering is anti-dilutive for existing shareholders.
Prior to the offering, average daily volume was approximately 1,346,960 shares. Volume spiked to 10.9 million shares on the pricing of the issue. It remained on average approximately 4 million shares for the balance of the week.
Economic & Earnings Outlook: (Click here [3] for next week's economic calendar; click here [4] for earnings announcements and estimates.)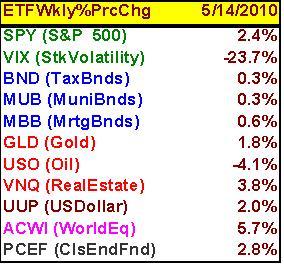 ETFs: For a more detailed EFT performance by sectors, click here [5].
Insider Trading: For the second week in a row, the Horejsi Group (Horejsi) was not involved in any insider trading activity.
There were only a couple of CEFs where new insider activity was initiated. The biggest transaction appears to be related to a Pimco CEF rights offering. Bill Gross acquired 190,362 shares at an average cost per share of $8.83 for a total expenditure of $1,685,414 in Pimco Income Strategy Fund II (NYSE:PFN). As reported here last week, Mr. Gross acquired 200,000 shares ($2,114,200) of Pimco Income Strategy Fund (NYSE:PFL), a CEF that was also subject to a rights offering.
There was insider buying activity in two business development companies (NYSE:BDC) during May. Typically, BDC's share price performance appreciated in the later stages of a stock market cycle as they're dependent on the capital markets to facilitate the 'exit" of their private investments.
Patrick Conroy, CFO of TICC Capital Corp (NASDAQ:TICC), had been accumulating shares of TICC during the earlier part of the year. During May, Mr. Conroy purchased an additional 10,000 shares at an average cost of $7.98 per share for an expenditure of $79,800. This brings his holding to 41,605 shares.
Additionally, Kim D. Kelly, director of MCG Capital Corp (NASDAQ:MCGC), added to 2,000 shares at an average cost of $5.74 to boost his stake in the company to 85,081 shares.
(Click here for a hyperlink to the Joe Eqcome's CEF Weekly Insider Report.)
CEF Distribution Announcements This Week: The following is a link to a table of CEF distribution announcements this week as well as the previous week's with yet expired ex-dividend dates. The list is not intended to be inclusive. (Click here for Joe Eqcome's Weekly CEF Distribution Announcements.)
Significant CEF Corporate Events: Kayne Anderson MLP Investment (KYN) has recently completed a private placement with institutional investors of $110 million of senior unsecured notes and $110 million of mandatory redeemable preferred stock. Net proceeds from the offerings will be used to repay short-term borrowings, to redeem all of the Company's Series D Auction Rate Preferred Stock ($75 million outstanding), to make new portfolio investments and for general corporate purposes.
CEF Focus for the Week: The focus CEF of the week is Cornerstone Total Return Fund (NYSEMKT:CRF). I find this stock's appeal particularly baffling.
Here is a stock that has consistently traded at a premium of 13.7% since 1994 and is currently trading at a premium of 56.5%. If CRF is such an outstanding investment justifying a 56.5% premium, then CRF's management should take advantage of this persistently high premium and sell additional stock to new investors either through a "follow-on" or "rights" offering.
Not only does this enhance the return-on-equity for the existing shareholders, it increases the assets under management and the fee for the advisor. This is a "win/win" situation.
The Problem: The reason CRF may not be able to raise additional capital is either a function of: 1) CRF not being able to pass an investment bank's "sniff test"; or, 2) CRF's management is derelict in its duties to enhance its shareholders' value.
Consider the following:
1. CRF is selling at a premium to its NAV primarily as a result of its managed distribution program. CRF's level monthly distribution to its shareholders is not based on profitability but on a set annual percentage of its NAV (currently set at 21% of NAV for 2010). If sources of investment performance such as net investment income and capital gains are insufficient to fund the monthly distribution, then such monthly distribution is supplemented by dipping into capital to fund it. As a result, CRF is in the process of self-liquidation. Since 1994, CRF's NAV per share has dropped from $35.92 to $7.24 per share at the end of 2009.
2. Shadow Portfolio: CRF is essentially operating a "shadow portfolio" of the SPDR S&P 500 (NYSEARCA:SPY) which tracks the S&P 500 Index. Of SPY's top 10 stock holdings, CRF owns 7 of them in its top 10 holdings. There is also a high correlation of those stocks as a percentage of their respective portfolios.
3. Nebulous Investment Returns: Since CRF distributes a significant portion of its NAV in the form of distributions to shareholders, the best metric for return on investment is the internal-rate-of return (NYSE:IRR). Since the end of 1994 to the end of 2009, CRF's IRR is a negative 2.6% versus a positive 2.7% for SPY. (This calculation is highly sensitive to entry and exit values.)
4. Premium Risk: CRF's investors are assuming a significant risk that CRF's current premium of 56.5% will be maintained over time relative to its NAV. This is a substantial bet. Since 1994, CRF's average monthly premium has averaged only 13.7%. It has traded at a discount from time-to-time.
5. Size Matters: CRF offers investors inferior size, liquidity and expense ratio versus SPY.
a. CRF's net assets are a meager $21 million including its 10% debt borrowing; it trades on average 18,000 per day; its expense ratio is a hearty 2.8%; management holds an aggregate of 4,474 shares.
b. SPY can be purchased at its NAV—not at a 56.5% premium like CRF. SPY's net assets are $13.7 billion, trades on average 207,833,000 shares daily, has related tradable options, and a very low net expense ratio of 0.09%.
So, the fact that CRF's management doesn't or can't raise additional capital either bolsters the argument that this is a sub-par investment or stands as an indictment that the management of CRF is derelict in its duty to its shareholders.
Even Semi-Sophisticated Investors are Confused: An IRR calculation may inflate the returns of CRF over an extended period of time as it assumes that the large cash distributions are being reinvested at the cost of capital which is the distribution yield and not the true return on investment.
CRF's earnings are a function generating capital gains and not based on net investment income. As with other volatile earnings' companies, such as investment bank's or tech companies, the preferred method of valuation is price-to-book. In the case of CRF its price to book is 1.56 in CEF market segment where the price-to-book is less than 1.
Secondly, some investors will argue that given CRF's capital loss carry-forward, it is able to distribute capital gains tax-free. This argument would make more sense if there was no premium and if the net loss carry forwards were more significant. According to CRF's 2009 annual report, net capital loss carry-forward only amounts to $1.38 per share or approximately one year's annual distribution.
Recommendation: Given the fact that CRF's premium will eventually collapse because of its inability to raise significant amounts of new equity capital, long term investors should probably sell their shares and purchase shares of SPDR S&P 500 (SPY) and periodically sell shares to supplement its 1.8% current yield.
For traders, the fact that it pays a significant distribution on a monthly basis may allow for gaming of the stock price.

---
[*] All things being equal, price and NAV should move in tandem. A price movement greater than the NAV generates a positive PrcNAVSprd and may be interpreted as negative on a near-term basis and indicate that the stock is overvalued relative to its NAV which in theory is the stock's intrinsic value. The opposite would be true for a negative PrcNAVSprd.
---
[1] here

[2] here

[3] here

[4] here

[5] here

Disclosure: Author owns a diverse portfolio of CEFs and is neither currently long nor short CRF