Colgate-Palmolive Company's (NYSE:CL) share value has picked up momentum and is growing after the company announced its last quarter results a few weeks ago. Failing investor confidence was the cause behind the company's share value decline that began during the second half of January. Although the price has picked back up, its momentum is still not where it should be. Thanks to the Venezuelan currency impact that will bring a one-time loss of nearly $200 million in the next quarter the share price will take even longer to reach its desired target.
In this article, I will take you through the company's recent performance and then we will shift our focus to how the company is generating top and bottom line growth.
The Quarter
Emerging Market Leads Organic Growth for the Company
Ending its year, Colgate reported its last quarter sales of $4.3 billion up 2% from a year ago. Volumes grew by 6.5% in line with organic growth and were affected by a currency impact of negative 4.5%. Strong 6.5% organic sales growth was mainly driven by the emerging markets that experienced a 10.5% organic sales increase. Organic growth is the most important measure to determine sales growth and since it was positive the final result could be deemed insignificant.
The gross margin came in at 59.1% up 50 bps versus last year. Cost savings from the company's funding-the-growth initiatives more than offset higher raw and packaging material costs that included the impact of foreign exchange transactions. The company has almost reached its goal of maintaining a 60% gross ratio. This is a good sign for investors as it increases their confidence in the company's ability to achieve its goals.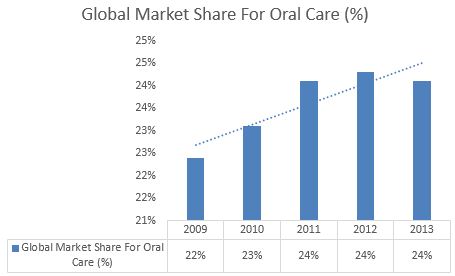 Source: Trefis
A similar impact was brought down to SGA expenses that declined 10 bps as lower overhead expenses more than offset the higher advertising costs of the company. The higher advertising costs in many quarters seem fruitful as year to date the company managed to improve its global toothbrush market share by 40 basis points to nearly 33% and global mouthwash share by 130 basis points to 17%. This has not only been happening for the year but for the past several years as well (see graph above). The stable nature at least for the medium term will allow the overheads to stay where they are once reduced. Therefore, those efficiencies are likely to continue in the next quarter as well.
Short Term Results are Affected Through Ongoing Restructuring
The company is also involved in a four-year global growth and efficiency program that it started in 2012. A charge associated with an existing European competition law matter and some costs brought forward with the sale of land in Mexico distorted net income results. Excluding those, Colgate reported a 4% increase in diluted EPS to $0.75.
All in all, the quarter went ahead well with organic volumetric growth supporting the top line and restructuring impacting bottom line.
The Future
Marketing is Key to Top Line Growth
The company's ability to generate returns in the future is more dependent upon sustaining its market share if not growing it. Colgate already holds a dominant position in the market and it is undertaking several top line initiatives to maintain its value. Beginning with marketing, the company spent nearly $2 billion ($1892 million) in advertising during 2013. It is impressive how Colgate is addressing the cultural beliefs in different geographic regions.
For example, charcoal has long been believed to have powerful antibacterial properties within China. Accordingly, the company launched a charcoal toothbrush last quarter that was well-received by consumers. Extending the campaign, the company will launch toothpaste and another toothbrush variant this year. The toothpaste will address the consumers concern that dirt is left in between teeth even after brushing. This promotion will cover the Chinese region for at least the next period.
This is just one example. Another aspect is satisfying niches within the category Colgate already serves. The company will launch Colgate Plaque Jasmine Tea next quarter which it is developing for consumer who wants to use mouthwash to help keep their breath fresh without the strong and burning sensation. The mouthwash will contain jasmine tea extracts that will provide fresh breath without the burning sensation. This product can turn out to be a bestseller because many find the discomfort associated with alcohol based mouthwash unpleasant.
Through similar product innovations and targeted marketing the company is generating value that is evident through the growing organic sales.
Restructuring Program will also Continue Providing Future Profitability
Colgate is pursuing a funding-the-growth initiative that is helping it to generate savings on indirect purchases by negotiating better lease terms with its current suppliers in several countries. It is also generating significant cost savings in a number of ways that include raw material substitution, the reduction of packaging material, and the increase in manufacturing efficiency through reductions in the number of stock keeping units (SKUs). All of these cost savings initiatives are and will continue helping the company offset commodity headwinds and reinvest cash flows in building its products particularly through increased advertising discussed above.
As far as the restructuring program is concerned it will not begin delivering its real value until next year. The substantial savings will increase future cash flows by 2015 when the process is completed and will range between $365 to $435 million pre-tax ($275 to $325 million after-tax) per annum. These savings will provide bottom line growth helping investors realize greater returns.
Key Points to Remember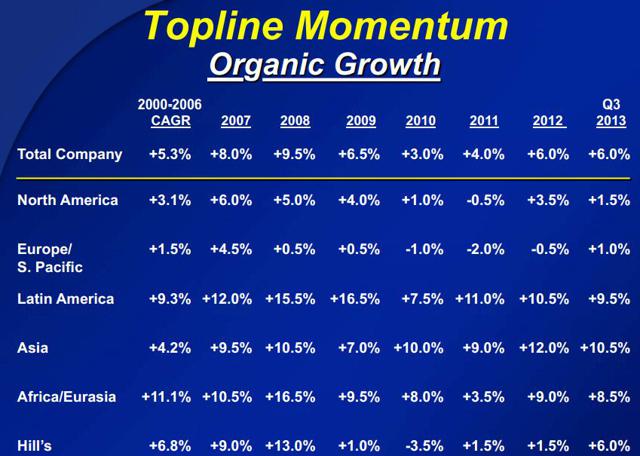 Click to enlarge
Source: Presentation
Emerging markets currently provide the best return opportunity. Regions such as Latin America and Asia are growing as seen in their volumetric organic growth (see graph above). With higher advertising, the company will be able to extract higher shares from the regions. Add to that future cost savings and we have a profit generating formula that will deliver premium value to investors. Based upon these views, I recommend buying Colgate's stock.
Disclosure: I have no positions in any stocks mentioned, and no plans to initiate any positions within the next 72 hours. I wrote this article myself, and it expresses my own opinions. I am not receiving compensation for it (other than from Seeking Alpha). I have no business relationship with any company whose stock is mentioned in this article.