J.C. Penney JCP released its fourth quarter and full year 2013 financial results on Wed, Feb. 26th at 4pm, just after the markets closed. The live conference call followed afterwards at 4:30pm ET. The results and the outlook were surprisingly positive. There were several takeaways from the call; here are some of the most momentous highlights:
Big Earnings Beat, Expenses Controlled
The company scored a surprising and substantial earnings beat, $0.11 per share as compared to the latest consensus estimate of negative -$0.79 per share. The company surpassed even the bullish high EPS estimates of -$0.49 per share.
The non-GAAP adjusted EPS, after adding back restructuring costs, pension expenses, and then subtracting off the gain from non-core assets as well as the tax benefit, leaves -$.68 per share, a dramatic improvement year over year, and better than expectations.
With top-line revenue coming in close to expectations at $3782MM, and gross margins turning out to be just 28.4%, the primary reason for the beat was the substantially lower SG&A expense, $1074MM, which was a whopping 17% lower than the prior year. While management guided that the SG&A for the rest of 2014 should not differ substantially from 2013, this shows that management has remarkable control of the most fundamental cost structure putting pressure on JCP at this size. In a turnaround of this size, reducing SG&A gracefully is no easy feat. Some would have regarded JCP as a lean machine before the lower SG&A announcement which would have indicated that further cuts were very difficult, making the accomplishment all the more notable.
Liquidity Reaffirmed and Guided Through 2014
Total available liquidity (TAL), at fiscal year end 2013, was over $2B (exactly $2.024B), as expected from the announcement in a press release on 2/4. This is made up of the company's cash and cash equivalents equaling $1515MM plus the available room on their credit line, $509MM.
Management guided that TAL is expected to be in excess of $2 billion at year-end (1/31/2015).
We have visibility of positive free cash flow results under our existing strategy and we have access to the resources we need under our existing agreements to complete our turnaround.
Most importantly, management stated they have visibility of positive free cash flow in 2014, as long as the turnaround stayed on course. They further stated that they have access to the resources they need under *existing* agreements to complete the turnaround.
This guidance largely removes the threat of bankruptcy and dilution in 2014, which eviscerates the recent bearish outlooks on JCP.
By 'existing agreements', management is referring to the built-in credit line increases they can tap as needed if cash runs low in 2014. Additionally, management estimated that changes in working capital will add to liquidity in 2014 - a nod to the higher than expected inventory, that is favorably devoid of leftover clearance items, at the end of Q4.
The trough or low-point of TAL was guided to be $1B, which would leave about $500MM in cash - a level at or above the necessary amount to sustain operations and keep creditors happy during the run up to the holiday sales period of 2014.
Healthy Inventory, Better Margins Ahead
The retailer finished Q4 with inventory at $2935MM, $85MM more than expected, due to purchasing activity at the end of Jan.
Management reported that the inventory in Q4 has been cleared of RJ-era items, and there remains little or no clearance items in the mix. Large line discontinuations were made and sold off via clearance, causing the lower than hoped for margins, but leaving the inventory chock-full of the good stuff that customers and investors appreciate.
With the good inventory remaining and the return of JCP's most profitable items, the company expects gross margins to improve in Q1 2014 versus the prior year, which was 30.8% at that time.
JCP.com up 45% in January
The company's most prized asset and its beacon of modernity, JCP.com, grew a staggering 45% in January. The dot com was crushed in 2012 and early 2013 due to prior management's foray into items that didn't resonate with core JCP customers. The e-commerce site is thumping again and is firmly in the billion-dollar-club at $1.08B sales for FY 2013. Valuated separately, based solely on average e-commerce price/sales multiples, JCP.com alone, a top internet retailer, could be worth as much as $3B or more, nearly 1.5x the current market cap of JCP, even after the recent after hours run up.
Other Notables
Watch for the "Home Collection at JCPenney" debuting soon
New store opening in Brooklyn this fall
New JCP commercials airing during the Academy Awards
What's Next
The JCP stock has been extremely volatile recently due to the lack of prior guidance and heavy speculation. With a substantial improvement booked, and more information provided than usual, I expect the volatility to lessen after the market digests the new information. If the company can continue to track with guidance, the stock price will likely improve faster than the company's finances. If you have the stomach for ups and downs, JCP may be a good recovery pick to hold long, especially now, before the narrative turns even more positive.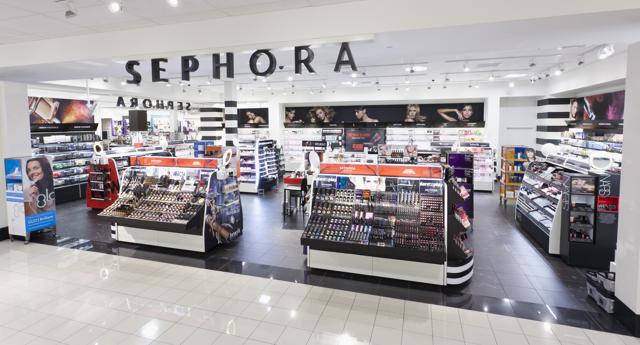 (Sephora inside J.C. Penney - stock photo showcasing one of the most popular lines in the department store.)

Previous Coverage of JCP:
J.C. Penney: Q4 Consensus Earnings Beat Is Reasonable
Sources:
JCPenney Press Release, 2/26/2013
JCPenney Q4 Earnings Call, 2/26/2013, (888) 286-8010, code: 36233292
Disclosure: I am long JCP. I wrote this article myself, and it expresses my own opinions. I am not receiving compensation for it (other than from Seeking Alpha). I have no business relationship with any company whose stock is mentioned in this article.