The Shanghai SE Composite Index is down 17.71% Year-To-Date (YTD) and is flirting with bear market territory. While many of the Chinese investors are afraid of the market now, some see this plunge as a good time to enter the market. The optimists reason that it is not worth keeping money in banks due to the low interest rates and investments in real estate are not wise either since prices have skyrocketed. So they figure that the only alternative is the equity market and are also convinced that stock prices have now become cheap.
One of the reasons for the crash of the Chinese equity market is the fear that The People's Bank of China will raise interest rates soon to cool down rising consumer and property prices. Speculation is still rampant in the equity and property markets and authorities may be forced to take strong actions to arrest this trend.
The Shanghai SE Composite Index 5-year Chart: [click to enlarge]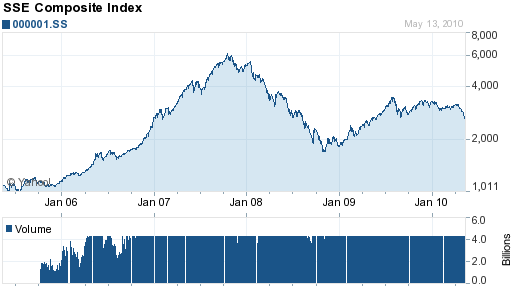 Reflecting the performance in the domestic market, many Chinese ADRs have also fallen heavily this year. Out of the 80 Chinese ADRs that trade on the organized exchanges, just 24 are in the positive column YTD.
The Five Best Performing Chinese ADRs YTD:
1. Baidu (BIDU)
Current Price: $74.80
YTD Change :79.91%
2. Spreadtrum Communications (SPRD)
Current Price: $8.40
YTD Change: 51.65%
3. China Southern Airlines (ZNH)
Current Price: $22.83
YTD Change: 46.69%
4. ReneSola (SOL)
Current Price: $6.65
YTD Change: 36.13%
5. CNInsure (CISG)
Current Price: $27.47
YTD Change: 34.61%
The Five Worst Performing Chinese ADRs YTD:
1. Agria Corporation (GRO)
Current Price: $1.79
YTD Change: -42.81%
2. Duoyuan Global Water (DGW)
Current Price: $20.24
YTD Change: -43.43%
3. KongZhong (KONG)
Current Price: $6.74
YTD Change: -45.60%
4. Xinhua Sports & Entertainment (XSEL)
Current Price: $0.40
YTD Change: -52.94%
5. VisionChina Media (VISN)
Current Price: $3.43
YTD Change: -68.59%
Note: Data shown is as of market close May 14, 2010.
It must be noted that IFM Investments (CTC) and China Hydroelectric (CHC) may be the two worst performing Chinese stocks YTD but data is not unavailable.