One item I have tracked extensively in writing for Seeking Alpha is short interest. Every now and then, I do an update on notable short interest changes. Often, I'll discuss short interest in an article for an individual name, but during peak market times like earnings season I'll do a short interest update that covers a group of names. Today, I'll discuss five names that had notable recent short interest moves.
Apple (NASDAQ:AAPL):
During the final two-thirds of 2013, Apple was a name that saw continued short covering. Those that were short did not want to gamble on the tech giant as Apple launched new products and set new quarterly revenue records. At the end of 2013, Apple's short interest was at a 16-month low. But as you can see in the chart below, 2014 has seen a significant rise in short interest.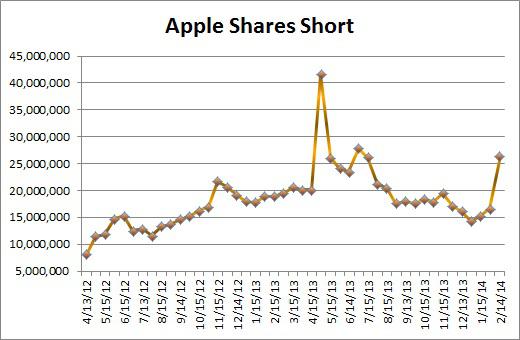 Apple's short interest rose by about 2.4 million shares in January, a 17% rise. But in the first few weeks of February, short interest spiked by nearly 9.9 million shares. That's rather significant, as you can see in the chart above. This is the highest short interest point for Apple since June 28, 2013. Don't forget that Apple's buyback is reducing the share count each quarter, so 26 million shares short now is a larger percentage of Apple's share count than it was the last time this point was hit.
Why has short interest increased so much? Well, Apple's latest round of guidance was poor, leading many to believe that Apple needs to launch new products sooner rather than later. With many other tech names showing extremely high growth, Apple has lost favor because quarterly revenues are expected to be flat or down. Perhaps short interest will come back down when Apple shows it has something fairly new on the horizon, and not just the next iteration of the same iPad or iPhone.
Cisco Systems (NASDAQ:CSCO):
This is the first time I've really covered Cisco on this list in quite a while, as short interest for the tech giant had been in a tight range for about a year. However, Cisco saw an early-February spike just as Apple did, as you can see in the chart below.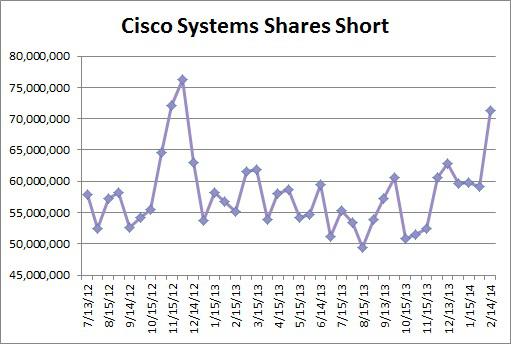 The more than 12 million share rise in short interest was an increase of over 20%. With more than 71 million shares short at the mid-February update, Cisco's short interest is at its highest point since November of 2012. Short interest is up 45% for Cisco in the past six months.
Cisco issued a large warning a couple of months ago which sent analyst estimates falling. At the latest report, results were mostly as expected, but Cisco announced a dividend raise and also announced it had spent $4 billion on buybacks in the quarter. Since earnings were very close to the latest short interest update, the more important one will be the end of February update. That will give investors a couple of weeks to digest earnings, so let's see how short interest fares then.
Dendreon (DNDN):
I always like to include a name or two that has a sizable change in short interest over time, not just one or two updates. The biotech name that brings you the prostate cancer treatment Provenge fits the bill. As you can see from the chart below, Dendreon short interest has been decreasing for a couple of months now.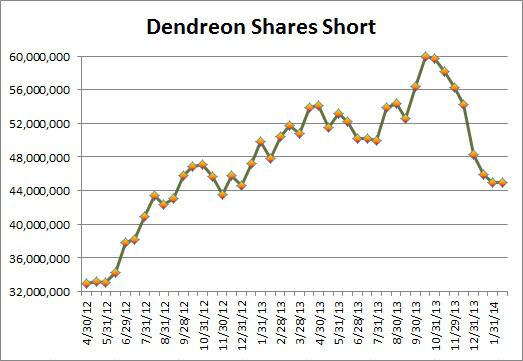 Dendreon has seen eight straight short interest declines. With the latest small decline, short interest is down 25% over the past four months. This is the first time since the end of 2012 that Dendreon had less than 45 million shares short. Dendreon is the second most shorted name I'll cover today, with about 30% of the company's float shorted, and that's after the recent drop.
As I detailed in my latest article on the name, 2014 will probably be a make or break year for the company. Dendreon reports earnings next week, and has to address concerns over its weakening balance sheet and debt due in June. The company also needs to detail how its restructuring plans are working, and when Provenge may launch in Europe. Next week's earnings report should have a significant impact on short interest going forward.
Green Mountain Coffee Roasters (NASDAQ:GMCR):
The company behind the Keurig that allows consumers to brew single cup coffee makes the list for a single update and a longer-term trend. I'll get to the big reason why in a minute, but as you can see from the chart below, short interest in Green Mountain took a dive in early February.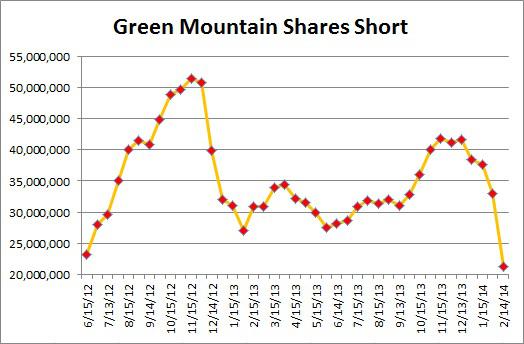 Short interest dropped by more than 35% in the latest update, and is down by more than half in recent months. With 21.3 million shares short, this is the lowest number I've seen since I started tracking this name's short interest in June 2012. Like Dendreon, Green Mountain used to be a name with extremely high short interest, but the recent drop has changed that story a bit.
So why the big drop? Well, Green Mountain agreed to a deal with Coca-Cola (NYSE:KO), in a bit of desperation. With revenue growth plunging into the low single digits, Green Mountain is partnering up with the beverage giant to produce cold beverages for the Keurig. These new products should launch in the next year or two. Coca-Cola also bought 10% of Green Mountain just under $75, which is looking pretty good with shares at $116 now and off their recent highs. The Coca-Cola deal chased away many shorts from Green Mountain, but also had a sizable impact on the next name I'll cover.
SodaStream (NASDAQ:SODA):
With Green Mountain partnering up with Coca-Cola, the obvious task will be to take on SodaStream. SodaStream is a much smaller name, and also is the name most shorted on today's list. Obviously, the number of shorts rose in early February for SodaStream, as some will start to question the company's growth potential. A chart of SodaStream short interest is below.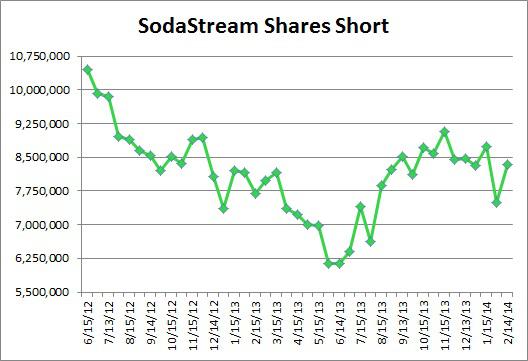 SodaStream short interest rose by more than 11% in early February, bouncing off a 6-month plus low. With an estimated float of just 19.54 million shares, more than 42.6% of the company's float is shorted. SodaStream has been a very heavily shorted name in recent years as many believe the company's product is a fad. Concerns have probably increased thanks to the Green Mountain deal with Coca-Cola.
On Wednesday, SodaStream announced fourth quarter results. The company beat on both the top and bottom lines, but this was after estimates dropped thanks to a January warning from the company. Guidance for 2014 also disappointed. SodaStream shares have rallied sharply off their lows from when the Green Mountain deal was announced. Investors believe SodaStream now has to make a move, perhaps with Pepsico (NYSE:PEP). The weak 2014 forecast may speed up that process, so we'll see how short interest fares over the next month.
Final thoughts:
All five of these names have seen notable short interest moves, whether over one update or during recent months. Apple saw the largest rise with a 60% rise in short interest during early February after a jump during January. Apple investors are worried about sluggish revenue growth at the moment. Cisco is another name with growth concerns at the moment, although the dividend was raised and buyback was strong in the most recent quarter. Cisco's short interest spiked as well. Dendreon has seen a large drop in short interest in recent months, but the company has a lot to prove in 2014, starting with next week's earnings report. Green Mountain's short interest plunged after a recent deal with Coca-Cola, which sent shares rocketing higher. On a related note, SodaStream short interest jumped as Green Mountain will be entering the single serve cold products business. I will continue to track short interest in these names and others as 2014 progresses.
Source data: All short interest data collected from NASDAQ.
Disclosure: I have no positions in any stocks mentioned, and no plans to initiate any positions within the next 72 hours. I wrote this article myself, and it expresses my own opinions. I am not receiving compensation for it (other than from Seeking Alpha). I have no business relationship with any company whose stock is mentioned in this article.
Additional disclosure: Investors are always reminded that before making any investment, you should do your own proper due diligence on any name directly or indirectly mentioned in this article. Investors should also consider seeking advice from a broker or financial adviser before making any investment decisions. Any material in this article should be considered general information, and not relied on as a formal investment recommendation.