AngloGold Ashanti Limited (NYSE:AU) is a South African company operating in 11 countries worldwide. The company is engaged in the exploration, mining and marketing of gold, and is also involved in the production of by-products like uranium, silver and sulfuric acid. 2013 was not a good year for any gold miner, as the entire mining industry suffered during anticipation of tapering, which discouraged investors to hang on to physical gold. The selling of gold in the market increased due to a fear of increasing interest rates and lowered prices (due to strengthening of the dollar), while the demand was not sufficient to consume the excess supply. Due to this development, many gold miners had to cut down their costs. AngloGold suspended its mining at Yatela Project in Mali from Sep 2013 due to safety factors and low profit margins because of a decrease in spot gold price. However, with the increase in gold prices from the start of 2014, the stocks have picked up pace; as can be seen from the graph below.

Click to enlarge
Source: YCharts
Location of Mines
Nowadays, the location of gold mines is crucial, as most countries have become risky for foreign investment. AngloGold's mines are located in 11 countries, 4 of which have been rated as very risky for investment.
Argentina
AngloGold has a 92.5% interest in Cerro Vanguardia (Fomicruz owns the remaining 7.5% stake). This mine has an attributable gold production of 219,000 oz, and is the company's sole project in Argentina; a region considered to be a high-risk area for miners. One of the reasons is that last year Argentina passed a law to impose a 1% tax levied on the value of mine reserves annually. This law will certainly be taken to court by the mining companies as soon as it is enacted by the Executive Branch, because it contradicts with the tax stability certificates granted in accordance with the mining investment law of Argentina. Furthermore, Argentina has been given the same risk rating as Afghanistan, Iraq and North Korea by OECD (with respect to economic, political and other risks) because the country presented fabricated inflation and GDP figures to the IMF; creating concerns regarding the accuracy and authenticity of previous disclosures made by the government.
Mali
AngloGold has 3 mines in Mali. Morila, in which the company has a 40% interest, Sadiola, with a 41% interest and Yatela, with a 40% interest. Mining from the Yatela mine has been suspended since Sep 2013 due to low gold prices, which narrowed profit margins and lowered the safety of miners. However, the processing of heap leach pads and ores which have already been extracted will continue till 2016. AngloGold also faced a 5-day strike by 2,000 workers in Mali due to differences between the company's management and labor unions regarding incentives the labor force will receive after being laid off. Furthermore, if we look at Mali's recent past, we can see that there has been a significant presence of al-Qaeda-linked rebels. The country should still be seen with a cautious eye before investing, as even though the mining operation might not be threatened at present, there is a presence of militants and armed groups. Guinea and Tanzania have also been given a maximum risk rating by OECD, but are not of the same concern as Mali and Argentina because the latter two suffer from instability caused either from militants or from the government body itself.
AngloGold has a total of 6 mines in these four countries (Argentina, Guinea, Mali and Tanzania). These mines possess 31% of the company's total attributable gold (excluding the Navachab mine). This means that the investors should be cautious about investing in the company, as it has a significant asset value in high-risk regions.
Performance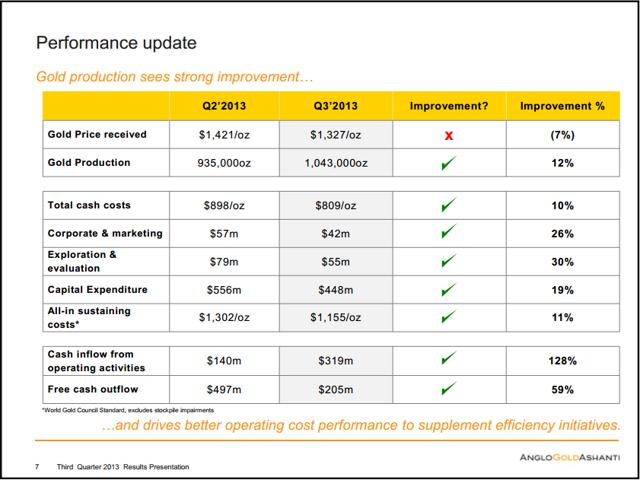 Click to enlarge
Source: Third Quarter Company Presentation
AngloGold has improved its performance as compared to the last quarter. The most important thing to look at is the all-in sustaining cost, which is the total cost spent on mining that maintains the production level for the future. The company managed to reduce its all-in sustaining cost to $1,155 per ounce at the end of 2013, which should be considered a positive sign, as at that time the price of gold was dropping and trapped many gold miners in a corner with respect to profit margins. Although $1,155 per ounce might not show good profits for the company in the fourth quarter of 2013, it is low enough to avoid losses, as during the last 2 months of 2013, the gold price stayed below $1,300 per ounce, which was the all-in sustaining cost for the second quarter of the year.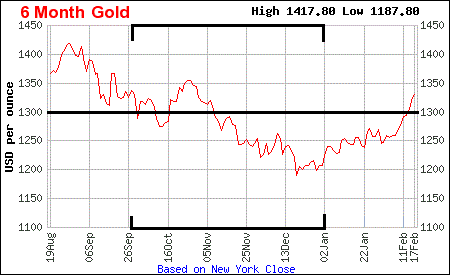 Source: Kitco.org
Navachab Sale
AngloGold Ashanti has a wholly-owned mining operation in Namibia at the Navachab gold mine, regarding which the company is in talks with the QKR Corporation for a $110 million sale based on the enterprise value of the mine. This mine has an attributable production of 74,000 ounces gold. QKR will be paying the amount in cash, which means that this deal helps AngloGold with an injection of cash flow, which it can use for future projects. Along with this cash payment, Anglo will also be receiving a Net Smelter Return (NSR) based on 2% of gold ounces sold from the Navachab mine during the relevant quarter at an average price of $1,350 per ounce, capped at 18,750 ounces sold per quarter. This amount will be paid by QKR for seven years on a quarterly basis. NSR is the net revenue that a mine operator receives from the sale of the mine's production, excluding transportation, production and refining costs. Total cash cost per ounce from this mine was $929 during 2012, and this cost will also be eliminated with the sale. The elimination of this cost may contribute in decreasing the all-in sustaining costs from Continental Africa, as this region has the second-highest cost after Australia.
Kibali Mine
Kibali Mine is located in the Democratic Republic of Congo (DRC), and is a joint venture between AngloGold and Randgold Resources, with both having a 45% stake each. It has estimated reserves of 11 million ounces of gold and an annual production of 600,000 ounces. AngloGold announced in Sep 2013 that the two companies have managed to start production from the Kibali Mine within budget and at lower costs compared to its third quarter average. This would enable the company to increase its reserves and production levels, while keeping the production costs low, which is currently the most important factor affecting many gold miners' performance due to high volatility in gold prices.
Valuation
| | |
| --- | --- |
| | Amounts in $ (Billion) |
| Market Capitalization | 6.82 |
| LT Debt | 3.58 |
| Cash and Cash equivalent | (0.82) |
| Enterprise Value | 9.6 |
Source: Data from Yahoo Finance
Using data from the most recent quarter, we have estimated that the enterprise value of AngloGold is close to $9.6 billion, while the outstanding shares are 390 million. From this, we can estimate that EV/share is close to $24.62 per share, and currently, the stock is being sold at a discount value of around $17 per share. This discount shows that the stock has growth potential.
Conclusion
Looking at the changing market conditions, we can see that gold prices have started to show an upward trend, as the spot gold price is sitting at $1,315 per ounce after an increment of $111 per ounce year-to-date. This has been a huge appreciation after rebounding from $1,185 per ounce during Dec 2013. We believe that gold prices will rise in the long term after showing stability in the short run, because inflation rates are still very low in the US, while the dollar is strengthening. In the long run, inflation rates will rise and might prove difficult for even the Fed to control, this rise in inflation will push gold prices upwards. Anglo can greatly benefit from the change in spot gold price, as during the last few months, the company has been trying to cut its costs by downsizing its labor force (it announced a plan to cut 40% of the employee force in Ghana in Oct 2013). Furthermore, the company has sold its asset in Namibia, while starting a new project in DRC that has lower expected production costs. All these cost reductions will help the company with increased profit margins as the spot price of gold starts to increase. This indicates that investing in AngloGold can be a good decision at the current low stock price, but investors should be cautious due to the high risk involved due to the mines' location.
Disclosure: I have no positions in any stocks mentioned, and no plans to initiate any positions within the next 72 hours. I wrote this article myself, and it expresses my own opinions. I am not receiving compensation for it (other than from Seeking Alpha). I have no business relationship with any company whose stock is mentioned in this article.
Additional disclosure: Equity Flux is a team of analysts. This article was written by our Basic Material analyst. We did not receive compensation for this article (other than from Seeking Alpha), and we have no business relationship with any company whose stock is mentioned in this article.