Over the last couple of years, I've been very fair and objective when it comes to chip giant Intel (NASDAQ:INTC). The company has struggled as its PC-heavy business has been left behind by the start of the mobile revolution. There is the hope that Intel will eventually figure things out when it comes to smartphones and tablets just because Intel is a giant and PC leader. The past two years have seen plenty of guidance cuts from the company with revenues declining and earnings falling off a cliff. But don't worry, 2014 is supposed to be the year! Well, we also heard that about 2013, and that didn't happen, and let's not forget how Intel guided to high single digit revenue growth originally for 2012 and actually saw revenues decline for the year. Don't worry though, because Intel will eventually figure it all out. That's what we continue to hear.
So when I see the StockTalk below from fellow SA contributor Ashraf Eassa on Intel, I really start to worry. Ashraf is probably Intel's biggest fan on Seeking Alpha, and he does an excellent job of covering the technology side of this company. However, his thoughts about Intel have certainly changed in recent months.

When someone that covers Intel as much as Ashraf does starts to worry, my negative thoughts start to build again in relation to Intel. Has the company completely missed the boat again? Will the company again be lowering guidance as it has failed to gain a necessary product win? Will investors have to sit through a range bound stock for another year, without a dividend raise and with a paltry buyback? Today, I'll explain the worst-case scenario for Intel in 2014.
Ashraf's follow-up article:
As you can probably guess, Ashraf wasn't going to just send out the StockTalk without a follow up article, which I recommend all Intel investors or prospective investors read. I want to show some key pieces from the article, because they detail the ever-losing path that Intel seems to be on right now.
At Mobile World Congress, Intel launched Merrifield and Moorefield (which I've detailed here). These are actually pretty solid smartphone SoCs with enough features, performance, and efficiency for mainstream (but not bleeding edge "hero") phones. Unfortunately, while Intel showed off some impressive benchmark numbers, Intel apparently couldn't get a single one of its partners to show off a Merrifield-based design. Qualcomm's (NASDAQ:QCOM) partners had no problems launching smartphone after smartphone with Snapdragon inside.
Personally, I thought Intel's smartphone offerings would be about a year behind its competitive tablet offerings. I thought Intel would get some serious tablet offerings out during 2014, and 2015 would be when Intel made a serious push for smartphones. But maybe the tablet picture isn't going as well as hoped, according to Ashraf:
Shifting gears to tablets, while Intel touted ">87 tablet wins", Intel's partners didn't have a single one based on Android and the latest "Bay Trail" (that Intel's CEO promised would be on the shelves during the 2013 Holiday season) to show. In Prof. Dr. Eul's keynote, the only Android devices highlighted were Clover Trail+ based - i.e. the ancient Atom that Intel's architects spent a lot of time last year telling us was a really bad design.

It's near the end of February and consumers still can't buy an Android-based Bay Trail product. Qualcomm continues to rake in the cash from all of the designs that its various Snapdragon products won. No contra-revenue needed. Investors need to understand exactly what's going on here and why we should have confidence that next year with Broxton things should be a lot better.
So is Bay Trail a flop then? When I discussed how reality had set in for Intel in 2014, I detailed one analyst who talked about these supposed "contra-revenues" or subsidies as some people call them. The analyst believed that Intel's subsidy was basically two and a half times what Intel was guiding to. If Intel can't get a serious product win here with its offerings, does that mean that the subsidies will have to increase? Intel has already guided to flat revenues in 2014 and only slight gross margin growth (after a big down year in 2013 for GM). Intel can't fall further behind in this race.
How bad could 2014 get - the revenue side:
After Intel's poor showing in 2012 and 2013, hopes were that 2014 would be the year. Intel initially dashed those hopes in November 2013 with a poor initial 2014 forecast, but most brushed it off as the company being conservative. When Intel basically reiterated that forecast at the Q4 2013 report, eyes started to open up a bit. Intel guided to flat revenues for 2014, while analysts were expecting a small amount of growth.
There is a two-sided story when it comes to current analyst estimates. On the top line, the analyst average calls for 0.8% growth in 2014, or an increase of about $420 million from 2013's $52.71 billion. The range also appears to be optimistic, with a low of $52.08 billion and a high of $55.35 billion. Yes, there is at least one analyst out there currently who believes Intel will show 5% revenue growth this year. That is probably wishful thinking. In less than two months, Intel will report first quarter earnings and hand in guidance again. Should Intel stick with the forecast for flat revenues again, it would seem logical that the analyst average would come down some more, getting closer to zero.
The biggest problem here would be if Intel guided to a small decline in 2014 revenues. If the PC market isn't what Intel originally thought it would be, or the tablet/smartphone campaign really isn't working, this could be a distinct possibility. I would think that Intel wants to avoid guiding to a small decline this early in the year, unless the company is 100% sure that a decline will happen. A lowering of the no-growth forecast right now would be disastrous, and I think you would really see investors start to bail. This would be a clear signal that Intel just isn't where it needs to be. As I'll show in a bit, Intel is getting a valuation dependent on the hope that 2014 will be okay or decent. That won't stick if the company disappoints again.
How bad could 2014 get - earnings per share:
On the earnings per share front, analysts are currently expecting a 4 cent decline to $1.85 in 2014. That would follow a 50 cent decline in the past two years. Don't forget that the 50 cent fall (20.92%) was aided a bit by the buyback. As you can see on page 50 (how ironic) of the 10-K filing, net income has fallen even more, 25.67% percent. Had the buyback been a net zero over the past two years, earnings per share would have been about 11 cents lower. Intel slowed down the buyback tremendously in 2013, and that was evident by the Q4 rise in the diluted share count (used to determine EPS) that I detailed in my Q4 report, linked above. If Intel does not increase its buyback over 2013 levels this year, it's possible that the diluted share count will rise, which will hurt already declining EPS.
When it comes to the bottom line, I think there are three numbers to watch in Intel's guidance at the next report (and the Q2 one as well). I don't think Intel will change its gross margin forecast at the Q1 report, unless something has dramatically changed, so let's ignore that for now. The first key number is Intel's operating expense guidance, primarily R&D plus MG&A spending. Intel is spending a lot on the operating side, and any reductions to the forecast would certainly help on the bottom line. The second key number is any restructuring and asset impairment charges. Intel guided to $200 million in these expenses for Q1, but did not give a full year number. These numbers may go quarter to quarter, but the more these charges build up, the harder it will be for the bottom line to grow. Finally, the tax rate will be interesting. Intel guided to a 27% tax rate for 2014 (after 23.72% in 2013 and 26.01% in 2012). Every full percentage point swing in the tax rate (100 basis points) basically equaled 2.5 cents of EPS in 2013. So it is not out of the question that where the tax rate lies could impact 2014 EPS by a nickel or even a dime.
I made the case in my Q4 report that Intel could produce $1.79 in 2014 EPS if the original guidance held. That's six cents below where estimates stand currently, but within the analyst range of $1.70 to $2.12 (the high number is really high - perhaps the same analyst who thinks 5% revenue growth?). Intel has actually missed by a penny in three of the past four quarters. If Intel can't get revenues going or keep expenses in check, EPS will head towards $1.75 for the year. That will probably mean a three-year decline in net income of more than 30%. Ouch.
A frustrating capital return plan:
Investors know by now that Intel did not raise its dividend during calendar 2013, and those hoping for a raise at the beginning of this year were also disappointed. Intel has a payout target for the dividend that is 40% of free cash flow. Now that we have the 10-K out (linked above) and all numbers are in, we can look at how the dividend has really fared in recent years. Dollar values in millions.

Over the past three years, Intel paid out 46.07% of free cash flow to shareholders, about 15% above its target. With Intel being way above the target in 2012, you probably can understand now why there was no raise in 2013. But Intel is still a bit above its target, so does that mean no raise in 2014?
Let's assume Intel pays out the exact same dollar amount of dividends in 2014, $4.479 billion as per the cash flow statement. This number will be different, depending on the share count, but hold it steady for now. For Intel to be at its 40% payout, it needs free cash flow of approximately $11.2 billion. That's an increase of $1.13 billion or so from current levels. Intel guided to an additional $300 million or so in capital expenditures this year, so that means operating cash flow needs to be up by about $1.4 billion. That might be tough if items like inventories and accounts receivable swing back to cash flow negatives. Those two items helped Intel's operating cash flow by $834 million in 2013 after hurting by more than $1.72 billion in 2011 and 2012. Net income looks to be flat to down this year, but Intel did guide to more depreciation, a cash flow add-back. Still, $1.4 billion in extra operating cash flow will be difficult to achieve based on current numbers.
On the buyback front, Intel's cash flow statement shows $2.44 billion in share repurchases during 2013. That was down from $5.11 billion in 2012 and $14.34 billion in 2011. Obviously, 2011 was a one-off year, and investors probably shouldn't expect that kind of buyback again. I'm not even calling for Intel to rush in now and buy shares like Apple (NASDAQ:AAPL) did with $14 billion of its cash. But for Intel to slash the buyback by more than half in 2013 doesn't lend confidence. Is Intel saying its shares are overvalued, or does the company not have the financial flexibility to buy back these shares? Neither is a very appetizing thought.
I would like to see $3 billion to $4 billion in buybacks from Intel during 2014. First, Intel needs to keep its share count from rising during the year, and this level of buyback should provide for that. If the share count rises, EPS will suffer. Every penny adds up. Remember, in three of the past four quarters, Intel missed by a penny. A stronger buyback in 2013 could have eliminated one or all of those EPS misses. But the other reason for a solid buyback is so that shares can be supported when they are falling. Just think about an extra $2.5 billion in buybacks, which represents about 100 million shares right now. That's about 2% of Intel's market cap, and it certainly makes a difference over time.
Intel investors would certainly like a stronger capital return plan. Intel has poured tens of billions into capital expenditures in recent years, and it hasn't exactly helped in terms of revenues or profits. Intel's continued push for capex with no benefits will not sit well with shareholders, especially if it comes at the expense of the dividend and buyback. At the moment, investors should not expect a dividend raise in the next few months, unless Intel decides to raise its payout target. Investors should not expect much from the buyback either.
Why some growth is needed:
When it comes to the US large cap technology space, Intel and others that are more established names don't have sky-high valuations, and that makes sense. Intel, Apple, Microsoft (NASDAQ:MSFT), and Cisco Systems (NASDAQ:CSCO) are all considered low-growth names with decent capital return plans. The thing that separates them is the perception of their future growth. The table below shows some key comparisons between these names and chip giant Qualcomm. Estimates are from Yahoo! Finance, a page linked to above.

*EPS growth and P/E values are non-GAAP.
Qualcomm has the most projected growth, so it receives the highest valuation. Microsoft is perceived to have a solid level of growth going forward, so Microsoft gets a decent valuation. Apple, although projected for decent fiscal year growth, guided to flat or declining revenues for its current quarter. There are a lot of investors who don't see Apple's future potential outside of new iPhones and iPads, so Apple isn't being rewarded with a decent valuation currently. Cisco's valuation when converted to GAAP is close to or slightly above that of Apple. Although Cisco is in the midst of a bad year, investors are looking for a turnaround (like Intel), and Cisco has the second highest dividend yield.
Because of Intel's "potential," the stock currently fetches a nearly 11% premium to Apple. Given Apple's profile, stronger past growth, more growth expected this fiscal year, and larger buyback, that seems to defy logic. That's where the market is currently. But if Intel doesn't deliver, and revenues disappoint, the valuation won't hold. Go back to that $1.75 in EPS I described before and give it a 12.5 times valuation, and that basically gives you a $22 stock. That $22 price point is basically Intel's bottom over the past 10 months, as you can see in the chart below.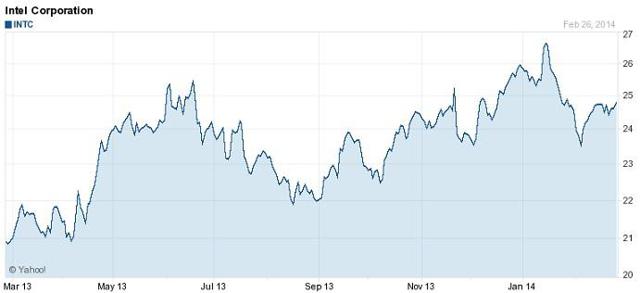 Click to enlarge
(Source: Yahoo! Finance)
Short interest has finally increased:
Throughout much of 2013, I had been detailing how short interest in Intel was soaring higher. While only about 5% of Intel shares were short at the peak that was still well above the less than 2% of shares short most other large tech names had. In late October 2013, short interest finally turned lower, as you can see in the chart below. You can view all of Intel's latest short interest data here.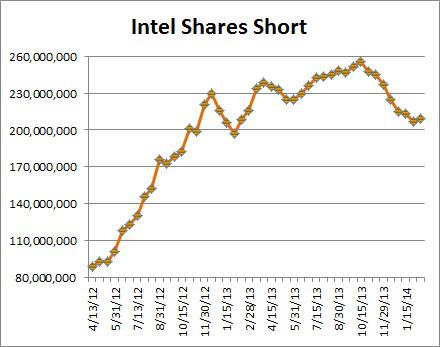 I brought short interest up because the latest update was important. This was the first rise in short interest since the peak, eliminating a streak of seven consecutive declines. Yes, it was only a small rise, but it was an increase. Short interest was looking to go under 200 million shares for the first time in a little over a year, and it didn't happen. It will be interesting to see how short interest continues to move going forward if investors perceive Intel's strategy is crumbling.
Final thoughts:
Intel may be having trouble with its smartphone and tablet offerings, and that could put the 2014 turnaround story in jeopardy. Analysts are still expecting some level of revenue growth, and Intel must deliver after two bad years. The company must also keep its costs in check, or EPS will fall for the third straight year. For investors looking for a short candidate, Intel fits the bill if you believe the company will disappoint. The best time to short this name is on extended rallies, like the one above $27 before earnings that was an absolute gift to shorts. Those that believe in the future of Intel over the next couple of years better hope the company can get its tablet and smartphone offerings to market. Recent events might not leave much faith in that.
Disclosure: I have no positions in any stocks mentioned, and no plans to initiate any positions within the next 72 hours. I wrote this article myself, and it expresses my own opinions. I am not receiving compensation for it (other than from Seeking Alpha). I have no business relationship with any company whose stock is mentioned in this article. Investors are always reminded that before making any investment, you should do your own proper due diligence on any name directly or indirectly mentioned in this article. Investors should also consider seeking advice from a broker or financial adviser before making any investment decisions. Any material in this article should be considered general information, and not relied on as a formal investment recommendation.