I first discovered Skullcandy (NASDAQ:SKUL) in late August last year and immediately became interested in the potential turnaround. I released a bullish article on September 1, Skullcandy Turnaround Story Is Music To My Ears, at which time, the stock was priced at $5.32 per share. Shares have appreciated 56% since, and yet the buying opportunity now still seems rather compelling. The company reports its Q4 2013 results soon on March 6th, so I wanted to take a quick glance back at the stock, both to consider buying into earnings as well as to prepare myself to evaluate the Q4 results quickly and efficiently.
Hoby Darling
The SKUL turnaround begins and ends with CEO Hoby Darling who took the reins less than a year ago. I normally don't rave over managers, but Darling really is a special talent. He is not a financial manager, but a brand specialist. Though, as I'll discuss later on, SKUL's financials have stabilized and improvements are clearly visible, the real strides have been made in repairing the brand. Since taking over, Darling has defined the Skullcandy brand as being 'fun, young, and irreverent' and made the tough decisions to re-connect consumers with Skullcandy.
Most significant has been his decision to cut off sales to retail partners that have not respected the company's pricing policies. While a retail partner discounting a product does not have a direct financial impact on SKUL, it is very damaging to the brand. As consumers, we often don't realize this, but it's very, very true. In the US audio space, there is a great opportunity for SKUL in the $15-100 price range. Below that, commoditized headphones are found and above that, SKUL would be competing directly with dominant high-end players like Beats by Dre and Bose. I'm confident that with Darling's new price controls in place quicker than even he initially thought he'd be able to roll them out, the company can work towards dominating that $15-100 price range.
I could go on and on about Darling, but I want to keep this article brief. I would suggest however, that anyone interested in SKUL, should just listen to the conference call webcasts from the last few quarters or watch his recent interview. I think you'll agree that he's just the kind of energetic, in-touch, competent executive to repair a youth brand like Skullcandy.
Health of the Business

Revenue dropped significantly beginning in Q1, but the company has since made slight improvements in both Q2 and Q3. In Q3, the company could have generated about $1.5M in revenue if it had not strategically chosen to accelerate the off-price channel reductions from -50% YOY to -75%. The guidance for Q4 is as follows:
Based on our current sell-through rates and order patterns, combined with our aggressive actions to reduce sales through the off-price channel, which we expect to be down at least 50% versus last year, as well as our decision to further limit sales to certain brand-dilutive accounts where we aren't able to enforce online map pricing, we expect Q4 revenue to be down in the high 20% compared to a year ago, consistent with the decline we experienced in the third quarter.

It feels like this is where we're finding the bottom once we take into account shifting our distribution to clean up the brand.
Darling calling a bottom in revenues is meaningful. The tone of the call and the stabilization in revenues in the last few quarters makes me confident that 2014 will bring at least slight revenue growth (to the tune of 5-10%).
Gross margin also improved meaningfully in Q3, and the Q4 guidance (excluding one-time allowances) suggests even more improvement. Operating margin has improved substantially since tanking in Q1 with the shock of the revenue decline. My understanding is that margin improvements could have been greater, but the company strategically chose to be promotional during the holidays. This reinforces the idea that a more obvious turnaround has been masked by heavy lifting by Darling that was necessary to the long-term health of the brand and company.
Cash from operations has improved markedly, but as a commenter on my last article pointed out, the improvement is entirely artificial and due to a $45M swing in receivables.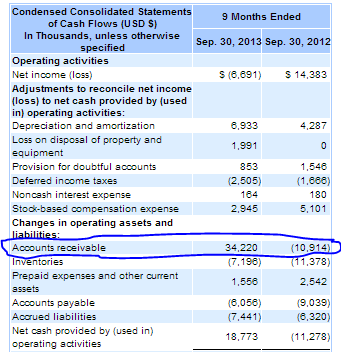 Source: SEC.gov
There is no hiding the fact that the company has had a very rough 2013, but it's at least good to see that they're cash flow positive, even if I average out the last two years. In addition to that, the $34M in cash on the balance sheet, no debt, and an undrawn $50M revolver, make me unconcerned about liquidity.
In general, I can certainly identify clear improvements in SKUL's business, and that makes me confident enough to buy shares, pending they are at a reasonable price.
Valuation
I am confident in the SKUL turnaround; it is an extremely well-managed company, and there is a lot of growth potential, so I'm willing to assign a somewhat generous multiple of 14x to shares, marking what I believe to be 'fair' value. The screenshot below shows my rough EV/FCF valuation, in which I found shares decently below my price target.

I'm not a buyer at this price though. I generally demand at least a 30-35% discount to my target, and right now shares are only at a 13% discount. The graphic below illustrates that I'd buy shares ahead of earnings only if there was a pretty substantial pullback to $7.34 (wishful thinking).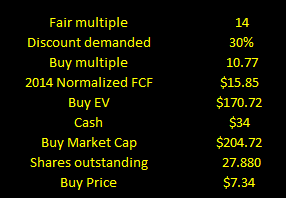 It looks highly unlikely that I'll be buying shares before March 6th, but if there is a pullback, the results are better than I expect, and if the company's cash position materially improves, I could make an entrance after the year-end results.
I look forward to observing what happens in the weeks to come and sincerely hope a buying opportunity presents itself, as Skullcandy is a company I'd love to own.
Disclosure: I have no positions in any stocks mentioned, but may initiate a long position in SKUL over the next 72 hours. I wrote this article myself, and it expresses my own opinions. I am not receiving compensation for it (other than from Seeking Alpha). I have no business relationship with any company whose stock is mentioned in this article.