At this time last year, few investors knew about NQ Mobile (NYSE:NQ) and the huge potential the company possessed. After some partnerships and acquisitions, investors finally started to take notice as shares doubled in July alone.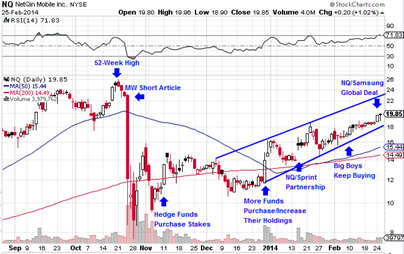 As a result, NQ Mobile became the darling on Wall Street and was a must have for portfolio managers and institutions across the globe. Over the next few months, shares continued to climb reaching a peak of $25.90 in October, or an increase of more than 300% on the year.
However, amidst all of the attention and glamour the company was receiving, NQ Mobile became subject of relentless short seller attacks over the next couple of months. Leading the cause was short seller Carson Block who published a report calling for the demise of NQ Mobile.
Through all of the drama that has unfolded over the last couple of months, NQ Mobile has greatly benefited from all of the publicity that has surrounded the company, as well as investors who were able to scoop up shares at ridiculously low and very oversold levels.
Today I would like to talk about why NQ Mobile is a must have for investors, as well as why the company is well-positioned to capture what every investor should be looking for. I've broken down the categories and will explain in greater detail why NQ Mobile is so special.
- Global mobile growth is growing by leaps and bounds
- Online security is a must have these days
- Internet growth continues to explode
- Institutions continue to load up
- Potential takeover target
- Insiders are buying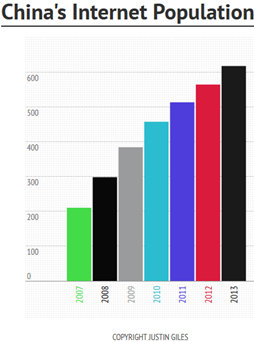 China's Internet Boom
Mark Zuckerberg, Facebook's (NASDAQ:FB) CEO has made it clear that he wants to help connect the world. In just the last eight years significant strides have been made for this to happen.
The Internet has exploded across the globe as Internet users jumped from just over one billion users in 2005, to close to three billion users in 2013. That's more than a third of the world population and rising.
According to a report published by the China Internet Network Information Center (CNNIC), China's Internet population has more than doubled in the last five years. China ended last year with 618 million Internet users with 500 million users connecting via mobile.
This means that China added more than 50M users from 2012, while the Internet penetration rate climbed from 42.1 percent in 2012, to 45.8 percent in 2013. What's so staggering is that half of China's population still hasn't been tapped yet, bringing companies such as NQ Mobile the ability to capitalize on the huge growth that is still to come.
Mobile Is Key
A couple of years ago, high-tech gadgets such as iPhones, tablets among many other things were nowhere to be found. Desktop computers, laptops and gaming devices were all the rage as the industry hadn't figured out a way to combine many of these things into one component.
When companies finally figured it all out, they were able to tap into a trillion-dollar industry. Now virtually everywhere you go, phones and tablets are the norm to see. Consumers take them everywhere they go as these devices help them stay connected to their friends, family and the rest of the world.
In case you haven't already noticed by know, companies who have struggled to find out the best way to monetize this new industry are getting left behind. Those who have figured it out, or have a very large user base have been a hot commodity as of late.
Facebook Buys WhatsApp
One of those companies just so happened to be WhatsApp, which is an international voice and text messaging platform service. Just last week, Facebook announced that it will buy the company for $19 billion and will use cash and stock to fund its purchase.
Facebook says it's buying WhatsApp because the startup has over 450 million active users and growing. Some of the main reasons why Zuckerberg likes the addition of WhatsApp because both companies have similar missions of connecting the world. It didn't hurt either that WhatsApp is the most engaging app that Zuckerberg has ever come across on mobile by far.
Another reason why Zuckerberg purchased the company was because Facebook was late to the party and WhatsApp was just too far ahead in the international mobile messaging race. While most people will tell you this move was crazy and not worth the cost, it seems Facebook made this move just to survive the global shift to the mobile world.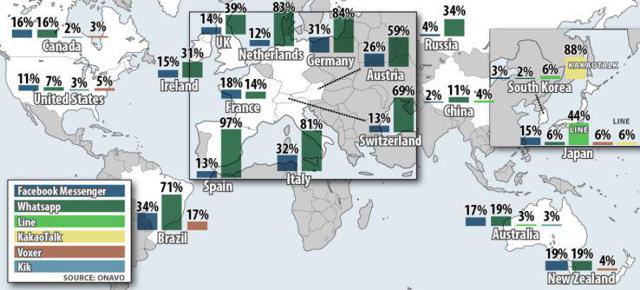 Click to enlarge
Clearly the mobile space has become a huge component for companies across the globe as they follow the consumers and transition into the mobile world.
Also last week it was announced that King Digital Entertainment, the maker of the popular game Candy Crush Saga, has filed its paperwork with the Securities and Exchange Commission to go public.
One of the most startling things that jumps out to me is that close to 80% of the company's value can be explained by its most popular game, Candy Crush Saga. Some analysts have started to mention that they believe the IPO could value the company around $5B-$6B. This is $3B less then what struggling game maker Zynga (NASDAQ:ZNGA) went for on its IPO day. Don't forget either that just a couple of months ago, Snapchat with its 30M active users turned down a $3B offer from Facebook.
So what does this have to do with NQ Mobile? On November 12, 2012, NQ Mobile acquired Beijing Feiliu Jiutian Technology Co. The company was founded in 2009 and is based in Beijing, China. As of November 30, 2012, the company officially became a subsidiary of NQ Mobile.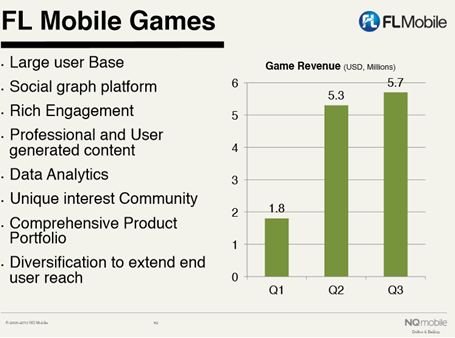 NQ Mobile later changed the name to FL Mobile. The company develops many mobile applications such as, entertainment, books, games, among other things.
Gaming has certainly taken off (+200%) for NQ Mobile as the company continues to chip away into the billion-dollar industry. Not only is the company looking to take a bigger presence in the gaming market, but looks to be taking advantage of the continued growth in the Internet and mobile industry.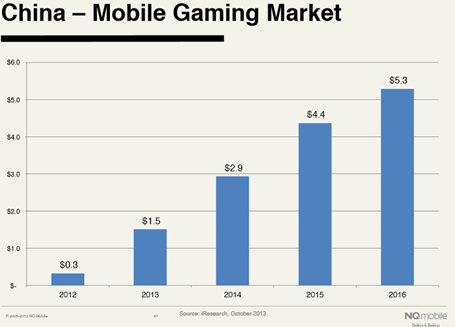 In case you weren't aware, mobile gaming is huge in China, thanks to being home to the largest number of smartphone users in the world. Just last year, mobile gaming revenue accounted for more than $1.5 billion, or 13.5% of the overall Chinese video gaming market. As the market continues to grow and with competition increasing, consolidation will take place and NQ Mobile stands to greatly benefit from it all. After all, the mobile gaming market is expected to double this year from last.
With companies such as Zynga and King being awarded billion-dollar valuations for their mobile gaming platforms, it's hard to fathom that NQ Mobile as an entire company is valued at just over one billion. Clearly these mobile game makers are way overvalued, or NQ Mobile is severely undervalued. It's opinion that it's the latter of the two.
Security Is A Must These Days
When you think about all of the information that you store on your phone, protecting it has never been more important, especially in light of all the recent security breaches that have taken place lately.
Today's high-tech gadgets such as smartphones and tablets store a lot of personal information on them which in turn makes them a special target for hackers and Cybercriminals.
NQ Mobile's security software gives users the protection needed to make sure that all of their personal data is protected and safe. With smartphones and tablets continuing to grow at double-digit rates for the foreseeable future, NQ Mobile has positioned itself nicely to not only protect users but monetize a rapidly growing industry.
Insiders/Institutions Keep Buying Shares
As an investor in NQ Mobile, it's come as no surprise to see many SC 13G filings pop up every week. In fact many investors including myself have become so used to it that it comes a surprise if there isn't one filed within the week.
Bank of America was the latest to disclose that it had purchased a large stake in NQ Mobile as the firm disclosed buying 1.8M shares, or roughly 5.83% of the company.
I know I've said this already before, but every week I'm adding funds to this list or increasing the number of shares that they own. Clearly, big money likes what they are seeing and are betting big on NQ Mobile. You don't have to take my word for it though, just take a look at the table below.
| | |
| --- | --- |
| Name | Percentage Of Shares |
| Susquehanna International Group | 2.15% |
| DNB Asset Management | 2.73% |
| SC China Holdings | 3.90% |
| ChinaRock Capital Management | 4.44% |
| Bank Of America | 5.83% |
| Kylin Management | 6.2% |
| Capital Ventures International | 6.3% |
| Morgan Stanley | 6.3% |
| Oberweis Asset Management | 6.6% |
| Toro Investment Partners | 7.34%* |
| Altimeter Capital Management | 17.3%** |
*5.72% shares and the right to acquire an additional 1.62%
**9.9% shares with the rights to acquire an additional 7.4%
Of course this isn't the complete list but I think you get the idea here. According to my calculations, more than 71% of shares are controlled by big money. This is impressive seeing as how 47% of the float is short according to the latest short interest data provided by the NASDAQ.
What's also interesting to me is that this doesn't even take into account how many shares insiders are currently holding and buying, not to mention the company's current share buyback program that is still underway. Clearly shorts seem to be on the wrong side of the trade here and there isn't much room to get out without sending shares soaring.
Investors should know that most of this buying has occurred after the "fraud report" came out by Muddy Waters in October. Now, investors are starting to see the fruits of Muddy Waters' labor, as NQ Mobile continues to break a record for most institutional support since going public in 2011.
A couple of weeks ago, I caught up with Matt Mathison, vice president of NQ Mobile, and talked with him about this matter. Here is what he had to say:
"A number of major investors have validated NQ Mobile by taking significant positions in the company. As important as this validation from investors is, it is the validation of customers and partners that prove the value of NQ Mobile.
Over the last couple of months, the company has signed agreements with some of the biggest companies [China Mobile (NYSE:CHL), China Unicom (NYSE:CHU), Telkomsel, Sprint (NYSE:S), etc.) in the world.
Mergers & Acquisitions
Over the last couple of years, M&A activity has been heating up in China. Two years ago, Youku (NYSE:YOKU), China's number one online video company, purchased the second largest video company in Tudou to become China's online video giant. Then just last month, Baidu (NASDAQ:BIDU) purchased its remaining stake in Nuomi, Renren's (NYSE:RENN) group-buying e-commerce website. We can't forget either the newly formed partnership that Sina (NASDAQ:SINA) signed with Alibaba.
I believe consolidation will further take place as the battle to stay ahead of the mobile curve is well underway. Just yesterday there was talk that Tencent (OTCPK:TCEHY) was looking to buy NQ Mobile. Neither company has come out and denied the rumors, so there could be actually be some legs to this story. On top of that, according to an Marbridge Daily, an industry insider believes that Tencent will announce an M&A deal in the first half of 2014.
I also believe that NQ Mobile is well-positioned to be a major mobile player in the market thanks to its many platforms and services. In the last earnings report in November, NQ Mobile announced that it had over 525M total registered user accounts. If we keep the growth rates going over the next couple of quarters, the company could hit close to 600M total registered users in its upcoming earnings report in March and over 800M users by the end of 2014.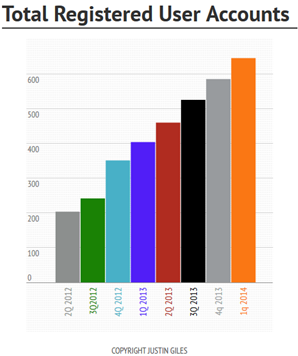 * 4Q 2013 - 1Q 2014 projections are based on current growth rates
In The Spotlight
The attention NQ Mobile has received from all the recent drama has brought with it many advantages. One of the biggest advantages from being in the spotlight is the free advertising and brand awareness that comes with it. Of course, being in the spotlight for the wrong reasons (being accused of fraud) won't improve your brand image for the time being, it does improve your brand awareness.
Like I've said in previous articles, I'm a believer in bad publicity is still good publicity as NQ is now visible to an even broader range of investors. We are seeing this take place as new investors are coming into the picture on a regular basis. In just the last couple of months, Hedge Funds and institutions have disclosed big stakes in the company.
Some investors who have contacted me told me that the attention that NQ Mobile has received is what brought them to the company. Many of them are thankful for the MW attack as they now are able to purchase shares at a very steep discount.
Conclusion
As you can see, NQ Mobile has many things going for itself and at current levels, offers investors a great opportunity to earn some nice returns.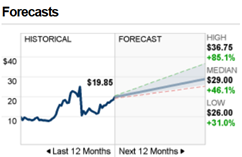 Analysts have an average price target of $29. With shares currently trading just below $20, this gives investors upside of more than 45%. With all that has taken place and with earnings coming up, I wouldn't be surprised to see analysts move their price targets up again like they've been doing for some time now.
Investors who are looking for an undervalued company that is well-positioned in the market with great growth prospects to go along with insider and institutions buying, not to mention the company's own share buyback program currently underway, they have come to the right spot. Look no further then NQ Mobile which has the potential to give investors some huge returns in 2014.
As always, I'm providing you with my track record and other particular stocks that I recommend. The link provided will show you all of my picks, how they have fared, and where I think they will be going in the near future. I think you will find my track record to be very impressive as well as useful.
Disclaimer: Investors are always reminded that before making any investment, you should do your own proper diligence on any stock mentioned in this article. Have a great day and as always, I look forward to hearing your thoughts or questions that you might have. Unless otherwise noted, all photos in this article came from CNNMoney, StockCharts, my personal infographics and NQ's Mobile Investor Presentation slides.
Disclosure: I am long NQ. I wrote this article myself, and it expresses my own opinions. I am not receiving compensation for it (other than from Seeking Alpha). I have no business relationship with any company whose stock is mentioned in this article.