Aegean Marine Petroleum Fourth Quarter 2013 and Full Year Results
Summary of the results:
4th Quarter
Weak volume sold, down 14% year-over year
Average Gross spread of $26.90
Higher proportion of net revenue from non-core business activities
Expense reduction strategy still a myth
No income taxes paid (again)
Full Year 2013
Volume sold decreased 6%
Gross spread was flat
EBITDA decreased 11.6%
Operating expenses decreased 3%
Long-Term Debt increased 36%
On February 26th, Aegean Marine Petroleum (NYSE:ANW) reported 4th quarter results as well as full year 2013 results. As expected, the quarter was very weak even though management continues to paint a rosy picture of the business. 4th quarter volumes were down 14% over 2012 Q4 and full year 2013 volumes were down 10.6M in 2012 to 9.94M or 6%. To make the quarter even more upsetting is a larger portion of net revenues came from non-core sources like voyage revenues and brokerage fees or "other revenue".

Click to enlarge
The only bright spot for the quarter was the increase in gross spread, which increased 15% year over year but was essentially flat for the year.
As for profitability, adjusted EBITDA came in at $22.9M for the quarter and $83.4M for 2013, which is down 11.6% from 2012 and a far cry from the $100 EBITDA management guided to on earnings conference calls. The company matched analysts' earnings estimates of $.16 for the quarter but just like the most recent quarters, the company did not pay income taxes. As I have mentioned in prior articles, I find it very strange the company does not pay income taxes even though it likes to pat itself on the back boasting the long track record of profitability.

Click to enlarge
Expenses Not Decreasing
Quarter after quarter management tells investors about selling older vessels and cutting operating costs. Management has been pointing to operating expenses and acknowledging the decreasing level of expenses. Operating expenses are both fixed (i.e. salaries and storage costs) as well as variable (i.e. vessel operating expenses and bunker consumption). Below you can see that expenses are going down but it is because volumes are decreasing. Expenses per ton of fuel sold is not going down but actually increasing.

Click to enlarge
Enterprise Value calculation
In the last few months Aegean's Enterprise Value has changed dramatically. First, in September the company announced it had closed the long awaited global credit debt facility. Part of the facility is a $115M 2 year secured credit line. Then in October, the company issued $86M convertible notes (assuming underwriters additional amount) due in 2018. Until now, the company praised itself by only having $198M in fixed asset debt and rest of the debt was to fund short-term purchases of working capital. Even sell-side analysts used a "creative" working-capital adjusted Enterprise Value/EBITDA ratio to make the stock appear much cheaper than it is. Now, with the new debt being classified as long-term, below I show the working capital adjusted calculation of Enterprise Value has increased significantly, nearly 49% over night.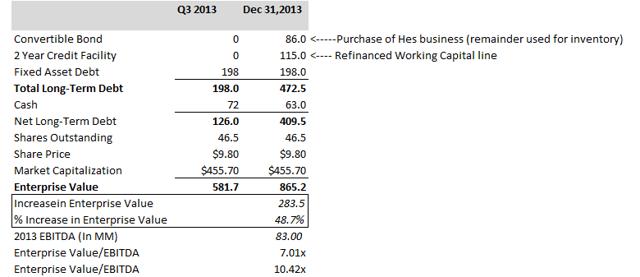 Click to enlarge
Valuation
Using 2013 financials, the stock is trading for 10.5x EBITDA using the working capital adjusted Enterprise Value. Using all the debt, the ratio jumps to 14x. This is a much different story than the 6x some Analysts are computing. Using earnings per share, the stock is trading for 17.5x trailing "overstated" earnings and 22x my normalized earnings adjusting for income taxes
When considering the company is not growing, management can't be trusted and the business is a highly levered, asset heavy trading business, this is an extremely overvalued stock.
Disclosure: I am short ANW. I wrote this article myself, and it expresses my own opinions. I am not receiving compensation for it (other than from Seeking Alpha). I have no business relationship with any company whose stock is mentioned in this article.