Hewlett-Packard Co. (NYSE: HPQ):
Earnings Release Date: Tuesday May 18th after the close.
EPS Estimate (H/M/L): $1.09/$1.053/$1.04.
Revenue Estimate: $29.86 billion.
"Despite the inventory issues, we believe demand for H-P's printers was strong throughout the quarter, with healthy laser printer unit growth," remarked one analyst.
Comment: HPQ's earnings are expected to reflect a general rebound in the PC market founded on strong consumer demand and a drive towards the replacement of aging corporate equipment. Still, HPQ's own PC division is expected to show a mild market-share loss. Shares are down more than 13% since April 24th so there is definitely some room to the upside if HPQ can report a better-than-expected quarter. You can also expect some movement in shares based on any clues the company gives investors about its plan for the recent acquisition of Palm. Consensus EPS estimates call for a 22% YOY increase for the company's fiscal Q2.
Click all images to enlarge
Wal-Mart Stores, Inc. (NYSE: WMT):
Earnings Release Date: Tuesday May 18th prior to the open.
EPS Estimate: $0.87/$0.845/$0.82.
Revenue Estimate: $98.45 billion.
Comment: WMT, the world's largest retailer, has beaten estimates the past 10 consecutive quarters, but never by more than about 5%. Last quarter, shares fell slightly following a 4% earnings beat but quickly stabilized. Consensus estimates expect an EPS increase of nearly 16% YOY albeit on a 0.4% decline in same-store sales. Shares closed last week at $52.12, down 7.4% over the last month.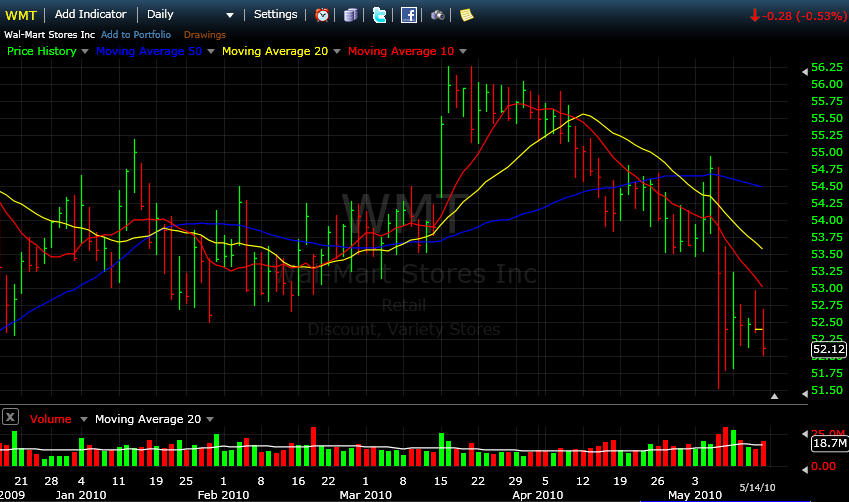 Dell Inc. (NASDAQ: DELL):
Earnings Release Date: Thursday May 20th after the close.
EPS Estimate: $0.29/$0.264/$0.21.
Revenue Estimate: $14.25 billion.
"We believe the biggest questions for Dell this quarter will be around the impact of component prices in the quarter, cost cutting progress, the status of Dell's volatile consumer strategy, Perot-related synergies, tone around enterprise demand and Dell's appetite for additional acquisitions," remarked a Barclays analyst.
Comment: Like HPQ, analysts are expecting Dell to benefit from growth in PC demand. Dell has struggled over the past few years and has become somewhat of an industry laggard, but as a result a good quarterly report is likely to lead to an even larger move to the upside. Shares are off 13.5% since April 23rd and analysts are expecting 60% YOY EPS growth.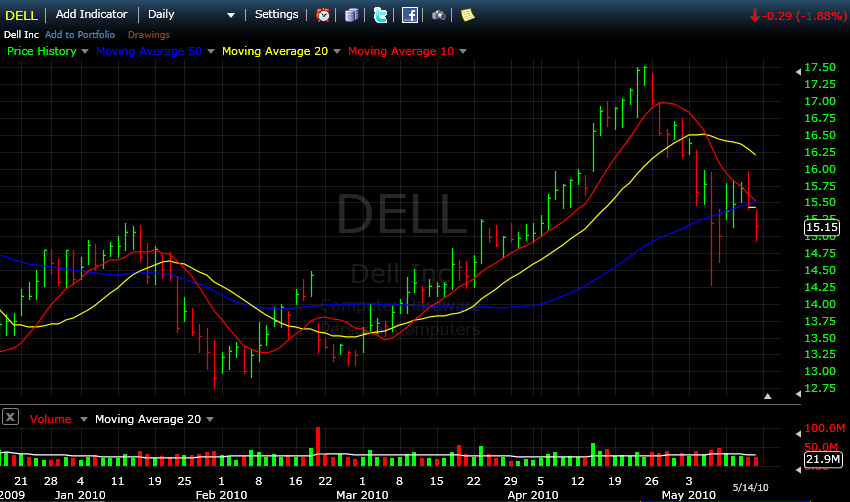 Disclosure: No holdings in HPQ, WMT, DELL.