April retail sales were released by the US Census Bureau on Friday. The next four tables summarize the numbers and put them into context by comparing with pre-recession data.
A realistic analysis of the numbers requires real dollar comparisons to previous years. Real dollar numbers are in January 2005 dollars. Note that since the CPI for April has not yet been released the April real dollar data has not been corrected, i.e. April inflation of zero percent was used.
click to enlarge images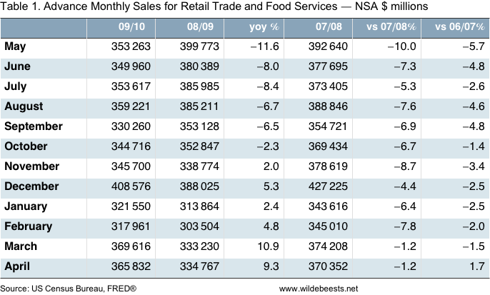 Click to enlarge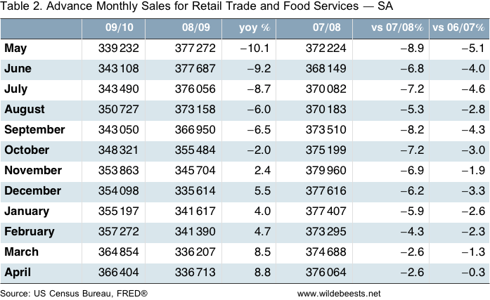 Click to enlarge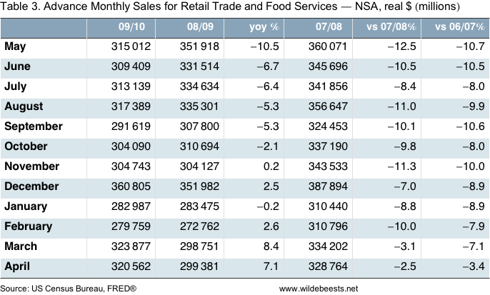 Click to enlarge

Click to enlarge
There has certainly been some improvement in sales numbers in March and April. We need a couple of months more of data, but it is possible that retail sales might resume the trajectory they had been on for many years prior to this recession — retail sales barely missed a beat during the 2001 recession.
The chart below puts the current retail sales trajectory into context. A significant source of GDP growth has been lost in this recession, and this recovery, such as it is, shows no signs of being strong enough to recapture that lost GDP in the near future.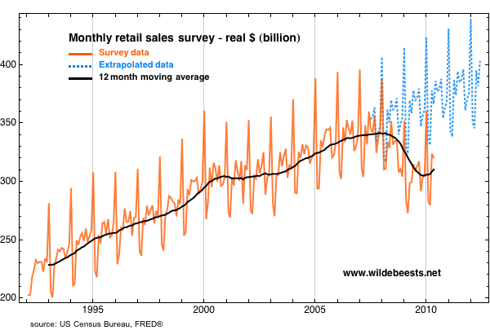 Click to enlarge
Disclosure: No positions