"The only trouble with resisting temptation is that you may not get another chance" - Anonymous
Nearly two years ago I penned an article on a small vaccine maker named Novavax (NASDAQ:NVAX). I highlighted the reasons I thought it was a solid but speculative $1.30 Biotech Lottery Ticket. Since then, the shares have soared more than 400%. It is these types of gains that keep me interested in the biotech space despite its notorious volatility which is also why I employ a "Shotgun Investing" strategy in the sector.
Ironically, two years later I have another biotech company I purchased yesterday at exactly $1.30 a share that I also consider a good if speculative lottery ticket. It has many of core features I look for before making an investment in this sector:
Company Overview:
Rexahn Pharmaceuticals (NYSEMKT:RNN) is a clinical stage biopharmaceutical company dedicated to the discovery, development and commercialization of innovative treatments for cancer, central nervous system disorders and other unmet medical needs.
Solid Pipeline:
Although none of its current compounds are in Phase III trials, it has several that are in or about to begin Phase I trials. I like some diversification in the pipeline as an investor is not dependent on one success or failure making it through the arduous approval process.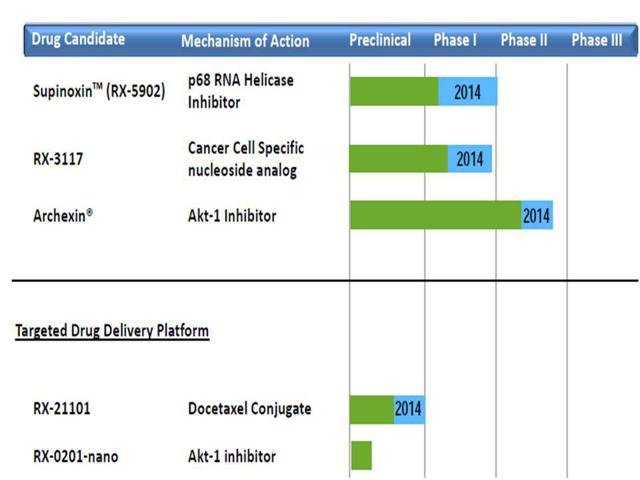 Source: Investor Presentation on Company's website
Rexahn's lead product right now is Archexin which is a first-in-class signal inhibitor that directly impresses the production of Akt. This is a protein kinase associated with tumor cell survival, proliferation, and invasiveness that plays a key role in cancer progression.
An orphan drug designation from the FDA has been received for this compound for renal cancer as well as four other cancers. Archexin is just starting Phase II trials for use against renal cancer.
The appendix at the end of article provides a description of the company's other compounds in development.
Insiders & Balance Sheet:
Insiders hold a ~10% stake in the company and have held onto their shares even as the shares have more than tripled in the last few months. I take this as a strong vote of confidence in the company's long term prospects.
In addition, the company's balance sheet is strong after recently doing a secondary offering. The company should have more than $30mm on its balance sheet after the offering which is several years of funding at its current burn rate.
Coverage:
As one would expect from the company with less than a $200mm balance sheet, Rexahn gets little analyst coverage. Roth Capital did recently initiate the shares as a "Buy" with a $3 price target. Roth's analyst cited Rexahn's transition to an oncology focus and a rapidly advancing pipeline as some of the reasons for the upgrade.
Only two other firms cover the shares currently that I could find. The median price target of those three analysts currently is $2.50 a share. Coverage on shares is very sparse as why I provided a few slides from the company's last investor presentation in this article to provide additional color.
Summary:
Rexahn is purely a speculative play, but one with numerous attractive attributes. It has a solid pipeline, committed insiders and a good balance sheet. There is always a possibility it could be an acquisition target at some point in the future as well. If it delivers half the gains as my investment in Novavax has over the next two years; I will have no complaints. SPECULATIVE BUY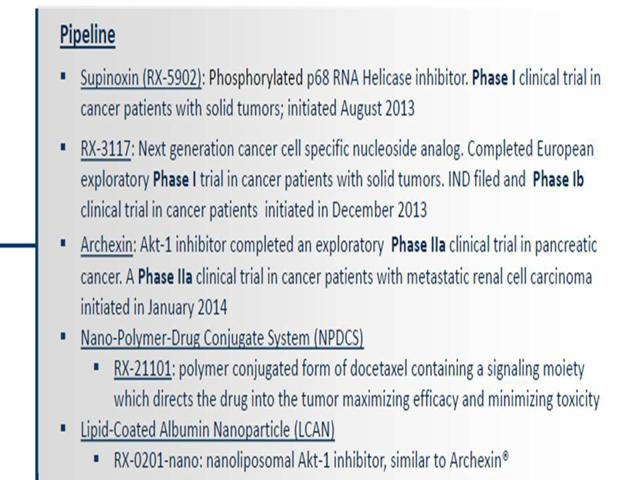 Source: Investor Presentation on Company's website
Disclosure: I am long NVAX, RNN. I wrote this article myself, and it expresses my own opinions. I am not receiving compensation for it (other than from Seeking Alpha). I have no business relationship with any company whose stock is mentioned in this article.