"You really can't make this one up."

-Whitney Tilson, Dec 2013, regarding his Questcor short.
For a while, my thesis on Questcor (QCOR) has been that if it seems too good to be true, it likely is. And, according to Questcor longs on Twitter and in my comments, I'm the biggest moron in the history of humanity. So, one lot of us is definitely really wrong. Today, it's looking less and less like that party is me.
If you want a full mash up of everything that just seems a little out of whack with the company, check out my article "The Idiot's Guide to Why Questcor is Suspicious". Questcor is a company that has built a nearly $4 billion enterprise off of a drug that they purchased from an old pharma company that couldn't find a use for it for $100,000.
Questcor then raised the drug's price by over 700 times, charging nearly $30,000 a vial for its coveted Acthar Gel, which has specialized uses in infantile spasms and other indications that QCOR is looking to push it into. No FDA approval was necessary for the drug, and Questcor went to work pushing it hard.
And thus, the Questcor empire was born.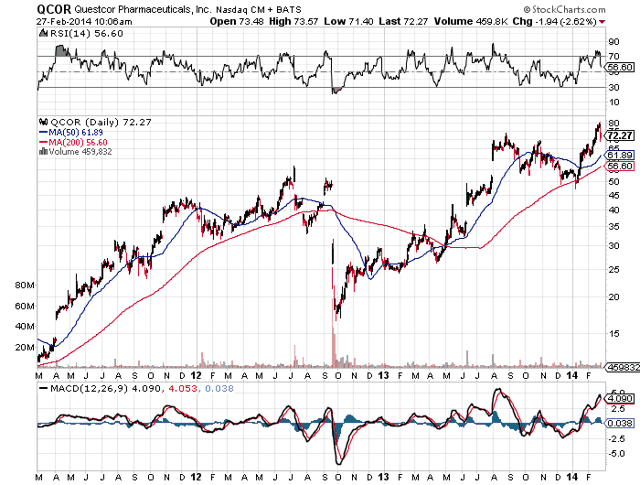 For the last three years QCOR has been a major success story, growing its sales of its sole product quarter over quarter and pushing its stock price from about $10 all the way towards $80 this past week.
I contend that Acthar was likely worthless when it was sold to QCOR and is still around due to being grandfathered in through numerous FDA channels (it's been around for 50+ years) and it likely remains mostly worthless. At best, it's definitely not worth building a $4 billion enterprise around.
Also worth noting is the controversy surrounding QCOR and the Chronic Disease Fund, which is a fund that helps patients pay exorbitant prices to get medicine they need. Click here to read about this farce that QCOR has faced scrutiny over.
All the while QCOR insiders have been furiously cashing in stock, netting themselves millions, and QCOR has been praised by everyone from major bank analysts to Jim Cramer.
So, was I surprised today when Citron Research came out and published a study on Acthar, claiming the company's "active ingredient" of corticotropin is barely detectable in Acthar? Absolutely not. Common sense had dictated to many people, including one Whitney Tilson, that something was rotten in the state of Denmark here a while ago.
Citron's report in its entirety can be read here, and will be sourced several times in this article going forward.
As a matter of fact, Questcor doesn't really even seem to know what's in their flagship product:

Mmm...that's some good ole' fashioned muck polishing! The open end to that statement literally covers the company in the event that the active ingredient in Acthar turns out to be Fritos and salsa con queso dip!
And apparently, according to Citron's research and from two different labs, Questcor's patients may not know what the "active ingredient" is either.

And it gets better! According to Citron, the "appalling" results of its testing has been delivered to the FDA in December 2013 by a "highly credentialed attorney at one of Washington D.C.'s five top firms, who formerly served as a top legal enforcement official at the FDA himself."
Citron's results are showing that the Acthar vials contain a "derivative of corticotropin that is known to lack the same potency has corticotropin."
Based on all of this, Citron is claiming that the drug is misrepresented, may not have the efficacy that some claim, and at the least needs to be looked at again by the FDA. If any of these three hold water, the Questcor empire is at risk of massive problems. And, I assure you, when the headline for this makes its rounds, the FDA is going to be pressured a bit more to look into this, if they aren't already.
Hell, I might even drop them a line today.
And of course, that would make the FDA yet another pesky government agency looking into Questcor, along with the U.S. Attorney General and the SEC.
The cherry on the cake is that David Mederios, an 11 year veteran of the company and arguably the most informed about the process of making Acthar, was moved to a non-executive advisory role at the company recently. Not saying it means anything specifically, but definitely makes for interesting reading.
All the while, CEO Don Bailey claims there's a "secret" in Acthar that no one knows about. That is looking more and more like a fallacy as the days go by. And, if it happens to be true, it's exactly the thing that the FDA needs to weed out for the benefit of consumers.
With the pressure now on the FDA, Questcor is a stock that there's really no excuse for being in. While I've always been bearish on the story and have gone in and out of short positions on the company, I remain short the company, as I've been since its recent run up near $80. If Questcor isn't going to zero, I think it's going damn close to it.
I urge all investors to take serious caution, there is a legitimate risk of total loss here. Best of luck.
Disclosure: I am short QCOR. I wrote this article myself, and it expresses my own opinions. I am not receiving compensation for it (other than from Seeking Alpha). I have no business relationship with any company whose stock is mentioned in this article.
Additional disclosure: May add to my short at any time.