Times such as these are when everyone realizes how important the past decade has been in the oil and natural gas business. Over that time the industry has stopped the decline in US crude production and actually started to show gains thanks to areas such as North Dakota, Oklahoma and Texas. The latest geopolitical flare up in Ukraine, literally in Russia's backyard, would have lit a fire under energy prices in years past. This time it is different though because of the added production in the US.
We do have some concerns for the commodities markets right now as Russia has ordered a reported 150,000 troops and 900 tanks to an area near Ukraine to test their battle preparedness. In Crimea, a region in Ukraine which is pro-Russia and Russian speaking, armed men have taken over local government buildings and emboldened the region's politicians to openly discuss the possibility to form their own country. It certainly appears that Russia is flexing its muscles and providing cover for this new revolt in Ukraine, but it is safe to say at this time that neither Russian nor US armed forces shall enter Ukraine. Instead it appears that Russia is positioning its armed forces in a manner to put in motion the events required to create two separate countries, one pro-EU and the other pro-Russia. In this bad situation that would not be the worst outcome, but neither is it necessarily the best.
We are watching the energy markets closely right now, mostly in Europe and also the base metals for any pullback we deem excessive.
Chart of the Day:
This map of Ukraine outlining political allegiances and results highlights how a break-up could occur and along what lines.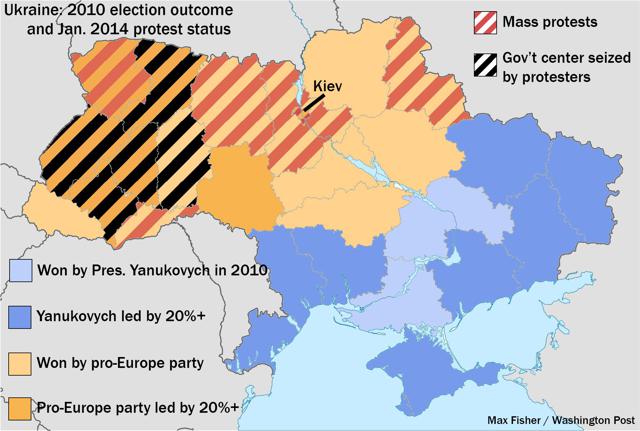 Click to enlarge
Source: Washington Post
Commodity prices this morning are as follows:
Gold: $1,333.40/ounce, up by $5.40/ounce
Silver: $21.33/ounce, up by $0.076/ounce
Oil: $102.16/barrel, down by $0.43/barrel
RBOB Gas: $2.7679/gallon, down by $0.0313/gallon
Natural Gas: $4.532/MMbtu, down by $0.009/MMbtu
Copper: $3.204/pound, down by $0.0115/pound
Platinum: $1,448.80/ounce, up by $19.70/ounce
Natural Gas And Politics
With Russia wanting to rebuild its standing on the world stage, we think that many of the Western European allies of the US will want to continue to balance out the sources of their energy in the years ahead. It is in their interests to do this and in the United States' interest as well. As unpopular as it might be to export energy supplies produced here at home, natural gas has appeared to be gaining support in political circles for export facilities. Cheniere Energy (NYSEMKT:LNG) will soon be a large exporter through their facilities and their main markets will be in Europe. These markets could see demand for US LNG rise exponentially in the decade ahead as key allies seek energy supplies that would offset their dependence upon Russian natural gas. Even if the US was not a dedicated supplier of these nations, just building added capacity that could serve their needs in time of difficulty could prove a tool that would neutralize certain moves that Russia could take.
If the events in Ukraine continue, Western Europe might look unfavorably at paying Russia for natural gas when that money will then just be used to undermine their goals, either through the EU or NATO. This is why we think that some of the LNG names might be beneficial to look at right now, with Cheniere Energy being one of the top names. The idea does not really translate over into the natural gas producer names such as Exxon Mobil (NYSE:XOM) or Chesapeake Energy (NYSE:CHK) due to the fact that any exported natural gas via LNG terminals would only be a drop in the bucket, which is why we think long-term the way to play this potential shift in US policy is via the terminal owners themselves.
Cheniere Energy has seen its stock rise once again with the risk-on trade returning to the energy sector, and if shares can break through $50/share and hold it might have further room to run.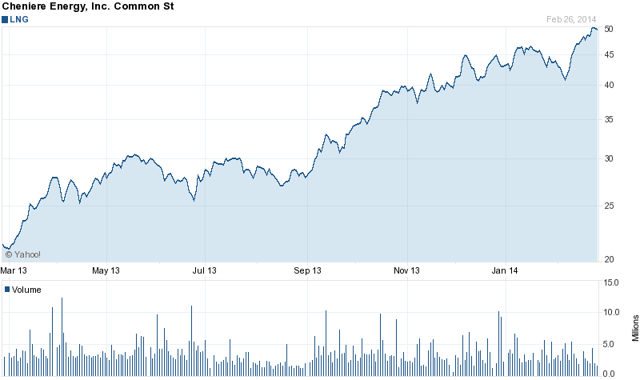 Click to enlarge
Source: Yahoo Finance
Other names to consider outside of Cheniere include Royal Dutch Shell (NYSE:RDS.A) and El Paso Pipeline Partners, LP (NYSE:EPB) which are jointly developing the Elba Island LNG facility in Savannah, GA. One gets more exposure to the play via El Paso Pipeline Partners than Royal Dutch Shell. This would be a facility that could see high demand from Europe.
Dominion Resources' (NYSE:D) Cove Point is another export facility that could be ideal for European exports due to its location in the Chesapeake Bay area on the United States' eastern seaboard.
The most recent approval from the DOE for LNG exportation is Sempra Energy's (NYSE:SRE) Cameron facility. The DOE will allow up to 1.7 bcf/d to be exported through the company's terminals once they are all completed.
Disclosure: I have no positions in any stocks mentioned, and no plans to initiate any positions within the next 72 hours. I wrote this article myself, and it expresses my own opinions. I am not receiving compensation for it (other than from Seeking Alpha). I have no business relationship with any company whose stock is mentioned in this article.