Times are good for IntercontinentalExchange Inc (ICE). The company is experiencing tailwinds from regulatory proceedings along with increased volatility in the market which drives heavier trading. On May 5, ICE announced first quarter earnings and the news was largely positive.
Revenues for the first quarter came in at $282 million which is good for a 22% increase. Earnings were up 25% at $1.36 per share as the company benefited from strong trading in commodity and energy trading. ICE has pioneered the concept of "clearing" over-the-counter (OTC) trades – or acting as a third party guarantor to both sides of these trades.
Increasing volatility in equity and fixed income markets in the second quarter should be a benefit to ICE as well with futures on its acquired Russell contracts adding additional revenue. While weakness in equity markets and investor aversion to risk could be a negative for ICE's PE multiple, the added revenue and earnings from this volatility should support the stock price and even lead to additional gains for investors.
One of the most exciting opportunities in front of ICE right now is the ability to clear Credit Default Swaps (CDS) for financial institutions. These transactions will likely face heavy regulations in the coming months as the liabilities and tangled web of counter-parties were instrumental in causing the financial crisis of 2008. ICE should be one of the front-runners for clearing these transactions, adding stability and confidence to the market while collecting lucrative clearing fees for its services.
In the first quarter, revenues for executing and clearing CDS transactions totaled $43 million. That figure is only up 13% from 2009, but could grow quickly as dealers will likely soon be forced to clear these transactions through ICE or The CME Group (NASDAQ:CME). Because of the huge capital requirements to participate in the clearance business, barriers to entry are high and ICE and CME should be able to act as a virtual duopoly in the market.
A Culture of Acquisitions
IntercontenentalExchange has been able to put up stellar growth in no small part due to management's ability to identify attractive acquisition targets, structure exceptional deals, and then effectively integrate its purchases into the ICE fold.
On April 30, the company announced the acquisition of Climate Exchange which is a leader in the trading of emissions market. Climate Exchange operates the European Climate Exchange (ECX), the Chicago Climate Exchange (CCX) and the Chicago Climate Futures Exchange (CCFE). Although the cap and trade bill has taken a back seat as far as media attention is concerned, ICE's opportunistic acquisition could turn out to be a major revenue driver in years to come.
Emissions trading should fit naturally into ICE's portfolio of products since the company has built such a strong presence in the energy trading arena. The acquisition has the feel of a "hedge" as an increase in carbon restrictions could cause some of the company's energy markets to eventually see lower volumes. But the emission contracts will likely offset the potentially lower volume and the contracts can naturally be marketed to the company's existing large clients.
Below is a great graphical representation of the company's historical revenue growth. Acquisitions have been an instrumental part of this process, but unlike some conglomerates who have grown at the expense of shareholders, ICE has been disciplined in its process to make accretive purchases – adding to shareholder value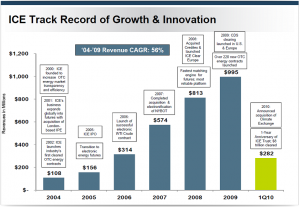 At 21 times forward earnings, the stock is not necessarily cheap. But keep in mind that most analysts do not factor in the effect of acquisitions in their models. ICE management will almost certainly continue to take advantage of future opportunities, and with a strong balance sheet the company has plenty of flexibility to pursue these options.
Increasing volatility in financial markets will likely persist beyond just a few weeks time. We are living in historical times on many levels. The financial crisis in Europe threatens to spread to other regions. BP's oil spill and the resulting cleanup and regulations could wreak havoc on energy prices. Political unrest remains a major international threat – and all of these issues should lead to volatile price swings in many different markets.
ICE has a broad product offering and should capture significant revenue from traders and hedgers seeking to exploit or protect themselves from these dislocations. The future looks bright for this exchange and I will be looking for opportunistic price points to once again own this industry leader.
Full Disclosure: Author does not have a position in any stocks mentioned in this article.