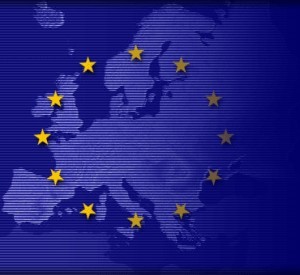 While history may paint our stance with the heavy brush of criticism, we're going on the record to call increased volatillity and a lower close on the S&P 500 by week's end. We feel it is our duty to yell from the rooftops just how treacherous the current developments in world markets have become. While we won't stamp corny metaphors to the ailing sovereign debt markets, wasting your time with visions of ships and storms, we do pray that readers appreciate the urgency of this week's Weekly Spectrum.
The options expiration on Friday will allow for increased volatility on a day where no significant U.S. Economic data will be released. Furthermore, the week's U.S. Economic data is focused on Inflation (CPI & PPI), Housing (HMI & Housing Starts), and Manufacturing (Empire State Mfg), all of which have been discounted for bullish trends over the past few reports and can only surprise to the downside. Meanwhile the risks of sovereign default measured by the CDS, LIBOR, and Bond spreads are mixing with all time highs for Gold/Euro prices per ounce, and are beaconing prudence amidst a still frothy expectations of a return to normalcy in the second half of 2010.
Econ Data
Let's get this out of the way quick, because it won't effect anything this week. But for the macro readers out there, we've got you covered…
Monday we'll see the Empire State Manufacturing Survey from New York, which is expected to cool from 31.8 to 30.0 for May's reading, and the Housing Market Index (a survey of home builders on the conditions of the market), which rose from 15 to 19 in the last report (April 2010).
Tuesday starts and ends at 8:30 am with Housing Starts, expected to firm from 626,000 to 650,000 yearly, and Producer's Price Index (PPI) which is projected to show virtually no change (+o.1%) in prices producers pay for goods.
Wednesday the MBA Purchase Applications will give a better reading of the mortgage market, following the expiration of government supported housing stimulus, after last weeks -9.5% drop in purchase applications. The Consumer Price Index (CPI) will compliment PPI the day prior, and is expected to show 0% change in both the headline and core sections of the report. And finally, the EIA will put out their findings in the weekly Petroleum Report, which last week showed a stabilization in gasoline demand matched by rising inventories of Crude and Distillates.
Perhaps the most crucial yet subtle event to keep an eye on Wednesday will be the 10 Year Treasury auction (1:00 pm). With all of the fears of contagion risk spreading through Europe, one would expect the benchmark U.S. bond, the 10 yr note, to attract increased investment. We believe there will come a day where Treasuries are shunned along with every other kind of paper, and the only thing worth holding is gold, however before that happens markets must first fall much farther in the U.S. Watch this auction in context with moves in equities and commodities on Wednesday for signals from market makers (the primary dealers who run the Treasury casino).
Thursday begins with Jobless Claims data, where 440,000 initial claims are expected, down from 444,000 last week. We'll also get the Leading Indicators report, where economists are either too scared or too dumfounded to make a call more bold than 0.1%. Finally, we'll get the Philly Fed Report, which should show a slight improvement from 20.2 to 21.5 in the metric that measures the economic conditions in the Philly Fed zone.
Friday we'll be expecting increased volatility, due to options expirations, and will also look for geopolitical factors from the EU to jar markets ahead of the weekend.
EU Break-Up
As the header above suggests, the true risk surrounding financial markets as a whole is the uncertainty of the European Union's future, where there seems to be no outcome that could calm financial markets. There is really no example within the bounds of modern history, where an economic union of separate sovereign states came together to share a common currency and then broke apart, which is partly adding fuel to the fire under EU leadership.
The effects on individual eurozone states' in an EU loan situation are clearly negative, where austerity measures are sure to send the domestic economies into recession. Contrarily, for a state to actually exit the 7 year young currency union, the bank would have to assume the previous currency (in the case of Greece, the Drachma) and then print enough of that currency, letting it devalue in order for the economy to recover and reorganize its debt.
Either outcome is unfavorable and the discombobulated leadership within the EU, is enough to assure us here at Diamond Slice that there will at least be no resolution until this time next week. As a result we are recommending that all readers with market long positions go 100% into cash, purchase exposure to precious metals, and even consider going short "western" equities (e.g. the S&P 500, German DAX (GDAXI 6113.6↑0.94%), and French CAC 40 (FCHI 3565.66 ↑0.15%)). We had set a target on Crude Oil at $70 for the WTI NYMEX Contract, so we can't recommend shorting crude at levels so close to our target, but would recommend adding shorts near $75/barrel on a pop.
Stay diligent and informed as markets send signals this week from the CDS, LIBOR, USD/EURO and other "truth telling" securities. DON'T TRUST THE EQUITIES FOR A PROPER DISCOUNT OF THE MARKET.