An article on Cypress Semiconductor (NASDAQ:CY) two and one half months ago expressed caution while describing the stock's potential to generate income. The equity rallied into its ex-dividend date more than expected, though it is uncertain whether it will happen again. As the company has been through some rough patches, declaration of a next payment of at least the same amount would be reassuring.
Some things can be viewed positively, though. It has been over a year since Cypress acquired Ramtron for $3.10 a share and a total cost of $118 million. It is now included in the company's Memory Products Division ("MPD"). Goodwill valued at $32.4 million is primarily attributed to F-RAM technology acquired in the transaction, and there has been no impairment. Some results are observable:
Revenues from the Memory Products Division increased by approximately $0.5 million in the third quarter of fiscal 2013 and $6.0 million in the first three quarters of fiscal 2013, or 0.6% and 2.4% , respectively, compared to the same prior-year periods. The increases in MPD revenue were primarily attributable to an increase in revenue of our non-volatile products due to the Ramtron acquisition, partially offset by declines in sales of our SRAMs (Source: 10-Q).
Shares are trading lower today, down 4.2%, concurrent with a downgrade by Pac Crest. It could actually be a buying opportunity; though maybe not risk-free until a next dividend is declared. Earnings have tended to be lower in Q1 and Q4 in recent years, and consensus estimates predict another YoY improvement:
Recent Earnings History of Cypress Semiconductor

Q1 Reported

Q2 Reported

Q3 Reported

Q4 Reported

2012

$0.12

$0.18

$0.20

$0.05

2013

$0.03

$0.14

$0.14

$0.09

2014

$0.06 Estimated
The dividend has been $0.11 per share since Q2 2012. Referencing the table above, the company has gotten through consecutive quarters in which it has reported earnings that do not cover it. However, if there is an adverse occurrence, and the dividend is cut, shares could go lower.
Sterne Agee has issued a February 27th Flash Note that specifically addresses the issues cited in the downgrade and gives reason to believe things are not actually so dicey:
We believe the competitor downgrade on CY today was due to 1) CY win on Galaxy S5 Mini being unlikely and 2) that CY had its Korea Sales head leaving in 4Q. We believe the Galaxy S5 Mini is expected in July and CY has noted Tier-1 smartphone wins and expects its sub-10% customer which we believe is Samsung (OTC:SSNLF) to be strong again in 2Q14. The Korea Sales head leaving in 4Q, we believe, was old news by CY's earnings call on Jan. 23 and we would note there has been turnover at Touch peers as well.

At Mobile world Congress, CY has announced new Handset Touch wins with ZTE (763-HKG, 16.36, Not Rated) with its Gen4 TrueTouch.
The firm has a $13 price target and rates the stock a Buy. I am not as optimistic about the shares reaching $13. The median consensus target is $11 and 2014E earnings are $0.51. While a P/E ratio of 22x can be used on the stock of a semiconductor company with sluggish results, the dividend yield probably needs emphasis. At a price of $11, it would still be high at 4%, as compared to 4.5% currently.
The corporation's CEO does not seem to have been appearing as much in the media as he was around the time of the buyout. He is a technological innovator and remarkable businessman who is running a corporation with an underperforming stock. Management evidently has all but stopped repurchasing (Nov 10-Q says recent activity has been "immaterial"); which could imply that they do not feel the equity is undervalued: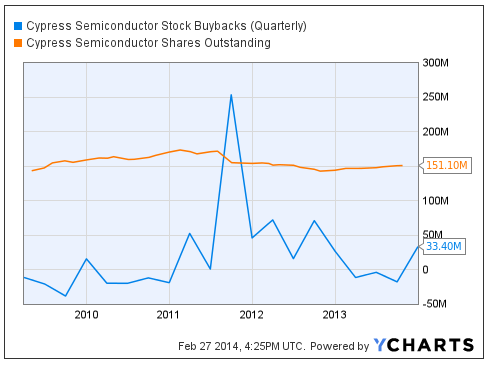 As mentioned previously, writing a call option(s) against the stock might be considered in order to enhance the income and also protect against the risk of a dividend cut. It is not as easy to think of CY shares as a long term investment.
The departure of Cypress' head of Korean sales has been known since January. The company has had some recent design wins. There have been revenues attributed to the Ramtron acquisition. Strong results with Samsung, perhaps including the Galaxy S5 Mini, are possible in the future. The stock offers a high yield that could render it worthy of consideration.
Disclosure: I am long CY. I wrote this article myself, and it expresses my own opinions. I am not receiving compensation for it (other than from Seeking Alpha). I have no business relationship with any company whose stock is mentioned in this article.