February has been an excellent month for Gold (NYSEARCA:GLD). Frankly, I have been surprised by the strength in gold all month long expecting to see a sharp correction at important technical levels. And while at times there have been swift moves down, these have all been absorbed and pushed prices back above levels that must have a lot of short sellers very nervous. Geopolitical news is has been a major factor in this, especially the unfolding drama in the Ukraine. But gold has been strong on days when it should have been weak, signaling to me that sentiment in this market has fundamentally changed.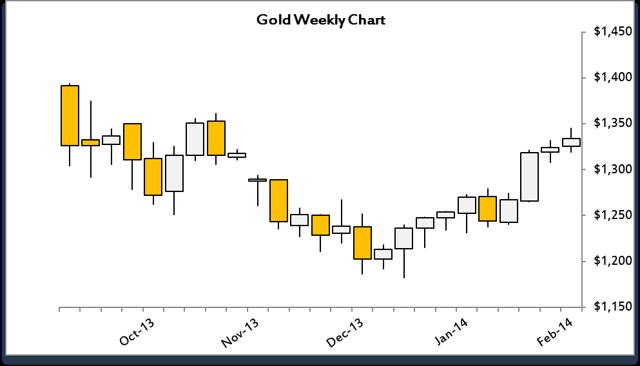 In one of my previous articles on gold I noted this change in trading behavior with the change in Friday trading behavior acting as the fulcrum for that change. So far in 2014 just one Friday has been a bearish day and it was the last one to end the month of January. That bearish close did a great job of "painting the chart" to manage expectations into February. Do not be surprised if we don't see a similar move to end this month as this Friday is also the monthly close, just like in January.
With the GDP release in the morning this will be a perfect opportunity for gold to be attacked, regardless of the data. At this point, as I've said many times in the past, the fate of these markets is tied more to what happens in the foreign exchange pits than anywhere else. With the Yen holding above ¥102 and the euro continuing to struggle to take out $1.38 this puts a cap on bullish momentum in gold as the USDX is held above the critical 80 level.
As long as these trading ranges are not violated and the equity markets continue to push towards new highs, the easier it is to bleed off momentum in gold.
Ukrainian Quagmire
The problem with that is that we have serious goings on in major emerging markets like the Ukraine and Turkey. Bank runs anywhere in the world right now have to be respected, as does the massing of Russian armor in the Crimean peninsula. More than 7% of all bank deposits in the Ukraine were withdrawn over a two-day period last week.
Pro-Russian gunmen taking over the Parliament of Crimea only heightens the tension. Gold immediately reacted with a move away from the critical $1330 level Thursday morning, despite slightly better than expected employment data in the U.S.
I don't see a short-term solution to the situation in the Ukraine, despite the rush by the IMF to offer an aid package that the interim government can't sign and have any hope of being honored after elections are held in late May. Russia's response has been simply to shrug at those moves while steadfastly refusing to engage in a war of rhetoric while mobilizing its military to, at a minimum, defend the southern, predominantly Russian, southeastern half of the country.
On the heels of the Ukraine we have the situation continuing to deteriorate in Turkey with opposition calls now for the resignation of Prime Minister Erdogan over corruption charges - similar to that of Ukrainian President Viktor Yanukovich. The Turkish Lira along with the Ukrainian Hyrvnia is in free fall again despite moves by Turkey's central bank to defend it by raising interest rates back in January.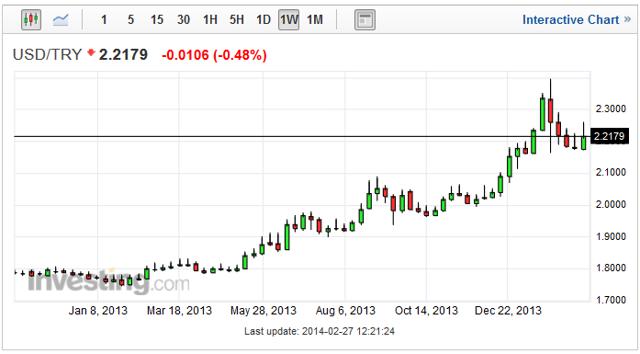 Physical Demand Driving Price
To my mind, gold will continue to get a bid on these issues. I believe both sides of the current war for gold's soul - the U.S. and China - are making major moves behind-the-scenes. Chinese physical demand in 2014 looks even stronger than in 2013.
Even the World Gold Council's data admitted that India's controls on gold didn't do much to slow down demand. And as we approach elections in India later this year pressure will mount to repeal the tariffs which should set off a strong round of physical buying in a market that is extremely tight.
That tightness can be seen in negative gold forward rates out 3 months in time. But the real turn in sentiment has to be seen through the lens of the SPDR Gold Trust ETF. So far in 2014 gold has stopped flowing out of GLD now that the price has stabilized. In fact, in February, we've seen $444.4 million move into GLD.
ETF Q1 Changes in AUM

Jan

Feb

YTD

-11.3%

-2.3%

-13.4%

GLD

-0.6%

1.3%

0.7%

-0.2%

44.0%

43.7%
The massive exodus of gold from GLD's coffers in 2013 was seen as a gauge for investor sentiment in gold. I'm not sure I buy that argument as much as I believe that, like the COMEX, GLD was raided for whatever physical metals could be obtained. Once that supply dried up, the outflows stopped. But, regardless of that, if flows into GLD are a measure of sentiment then those still short gold have some explaining to do if they want to continue making the bearish case for gold because the data is clear. In December, $1.767 billion left GLD. In January and February $254.54 million flowed in (as of February 26th).
Risk Off Rotation
I included the SPDR S&P 500 ETF ((NYSEARCA:SPY)) in the table for comparison purposes. As the S&P 500 continues to make new highs, money is flowing out of the ETF. I would be watching this carefully to see if the trend continues. In fact, the biggest winners in Q1 so far have been the short term U.S> Treasury bond ETFs, notably the iShares 1-3 year Treasury Bond ETF ((NYSEARCA:SHY)) which has seen its AUM grow to $11.5 billion with all of the buying happening in February. This reflects the worries that investors have about the state of affairs overseas despite the Fed tapering bond purchases.
In effect we are seeing, in aggregate, moves towards safe haven assets and away from risk assets with the big winners so far being Gold and bonds. Technically, for gold, a close this week above last week's high of $1332 will continue to put upward pressure on price due to a mix of short-covering and pent-up demand amidst geopolitical unrest.
However, a great GDP report -- not likely given the recent data -- will likely bring in flash selling to push the price below last week's low of $1307 and attempt to stop the rally and paint a less bullish monthly candle.
Disclosure: I have no positions in any stocks mentioned, and no plans to initiate any positions within the next 72 hours. I wrote this article myself, and it expresses my own opinions. I am not receiving compensation for it (other than from Seeking Alpha). I have no business relationship with any company whose stock is mentioned in this article. I own physical gold, silver, a small hobby farm and some very dramatic goats.