Latest Investigations
My Bank of America (NYSE:BAC), where I have several accounts in Naples, FL., is under investigation several International Financial agencies looking into Bank of America's foreign exchange transactions, while United states federal investigations are probing its mortgage practices. The second-largest U.S. bank has already paid billions to settle a wide range of cases against it.
Currently, government agencies on three continents-North America, Europe, and Asia--are investigating the firm's Forex practices. Authorities in multiple countries are launching investigations of the banks conduct over the span of several years in the United States, the United Kingdom, Switzerland, and Hong Kong.
In a SEC filing, Bank of America (acronym BofA) said that it is cooperating fully with the regulators, who are inquiring about the legality of its practices. BofA's conduct in foreign-exchange markets is part of a wider industry inquiry on bank fraud.
In a separate filing, BofA, headquartered in Charlotte, North Carolina, said that the Civil Division of the U.S. attorney's office for the Eastern District of New York is inquiring about its compliance with the meeting the requirements of the Federal Housing Administration's Direct Endorsement Program.
Beyond the filing, a spokesman for BofA declined to comment on the investigations. However, according to a SEC filing, the bank has increased its estimation of losses due to litigation by $1 billion, bringing the total figure at $6.1 billion. (At the end of the third quarter, this estimate was $5.1 billion.) The filing also added that in 2012, the bank had only 6 days of trading losses, compared with 10 days of trading losses in 2013.
Banking Violations of the FHA's Direct Endorsement Program
Federal investigators are inquiring whether BofA has violated the requirements of the U.S. government housing program. Specifically, the U.S. Attorney's Office for the Eastern District of New York in Brooklyn is trying to figure out if the bank conducted itself in a way that complied with the rules of the Federal Housing Administration's Direct Endorsement Program. Although this disclosure was made in the bank's annual report with the U.S. Securities and Exchange Commission, both BofA spokesmen and U.S. Attorney Loretta Lynch refused to offer more details to financial journalists.
Under the FHA program, mortgage lenders are permitted to approve home loans that the federal government will insure without a review. In essence, the investigations on banks are to determine if they have been making sub-standard mortgage loans. The FHA is empowered to be reimbursed for any and all losses if the mortgage defaults, because the lender did not abide by FHA underwriting standards. Two years earlier, in February 2012, BofA agreed to pay the federal government $1 billion to settle claims made before April 2009 that it's home loan subsidiary, Countrywide Financial Corp, made mortgages insured by the FHA to unqualified borrowers. Bank of America bought Countrywide Financial Corp in 2008.
Others Banks Embroiled
Already, U.S. Attorney Preet Bharara has brought several cases against banks that violated FHA program requirements. While the case against Wells Fargo & Co is still pending, in 2012, Deutsche Bank AG has settled for $202.3 million, Citigroup (NYSE:C) for $158.3 million, and JP Morgan Chase (NYSE:JPM) for $164 million.
All of these federal fraud lawsuits have one thing in common: in recent years, the big lenders have been using the program for "reckless" lending practices. Since the financial crisis, BofA has paid well over $50 billion in litigation costs--much of which has been related to the mortgage lending practices of its subsidiary, Countrywide Financial Corp.
Why Potential BAC Shareholders Should Be Wary
In addition to the violations discussed above, current and potential BAC shareholders should also note that the bank's dividends have stagnated since 2009 -- for more than twenty quarters -- at one copper penny, and the institution is currently firing thousands of employees, in an effort to cut costs with litigation expenses on the rise.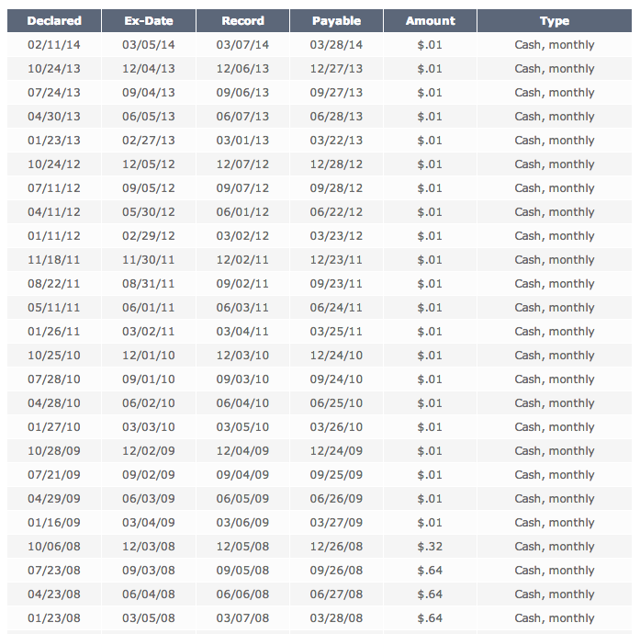 (Source)
These points combine to form deep doubt over Bank of America's long-term sustainability, particularly if this includes more lawsuits.
What Should BAC Shareholders Do Now
This investigation is another black mark against this mega bank.
Despite its perceived riches, BAC has missed revenue estimates in four out of the past six quarters, including the most recent quarter. These revenue shortfalls are not a good sign for shareholders.
BAC has not increased dividends for five years; in fact, after slashing dividends in half in 2008 ($.64 to $.32), BAC all but took them away entirely at the end of 2008, lowering the payout to one copper penny, where it has remained since, despite significant increases in BAC revenue in the past half-decade.
We believe that investors should consider taking profits in our Bank of America until the board of directors and senior management takes steps to improve the compliance efforts at this financial institution and re-focuses their efforts on increasing shareholder value.
Disclosure: I have no positions in any stocks mentioned, and no plans to initiate any positions within the next 72 hours. I wrote this article myself, and it expresses my own opinions. I am not receiving compensation for it (other than from Seeking Alpha). I have no business relationship with any company whose stock is mentioned in this article.