I've been somewhat of a perma-bull on Bank Of America (NYSE:BAC) since the beginning of last year while the bank's turnaround was still in full swing. Since the end of the subprime crisis, the bank has used the last 5-6 years to reestablish itself as the banking sector as a whole continues to reestablish itself.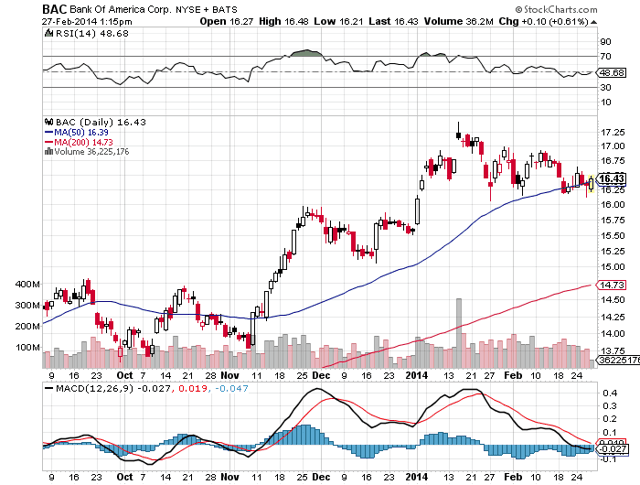 The bank has traded stagnantly for the better part of 2014, hovering around the same $16 level for the last couple of months. Technically, the bank's up 5% year-to-date, but the more impressive performance is the 45% gains the bank made over the last 12 months.
Part of my original thesis on the bank was to ignore it's legal woes, which I pointed out in August of last year in my aptly titled "Why You Should Ignore Bank of America's Legal Woes".
With its upcoming stress test to be a non-issue in the coming year (according to Citi), the focus has once again turned to the bank's legal issues.
Mired in litigation, the bank recently raised its estimates of legal losses to $6.1 billion, a number that was as low as $3.1 billion a year ago.
Additionally, the bank is also doing battle with the government over a substantial amount of money in the $2.1 billion that it is fighting to keep in a case over defective mortgages.
Reuters reported:
Bank of America Corp (BAC.N) said it does not owe the U.S. government the $2.1 billion it is seeking in penalties after a jury found the bank liable for fraud over defective mortgages sold by its Countrywide unit, according to a court filing made on Wednesday.

Lawyers for the bank said the government's request "contradicts every pertinent legal principle" and called it a "dramatic departure from reality," the filing stated. Bank of America said in the filing that it should only have to pay the amount it made in profit from selling the loans, which it contended was zero.

A spokesman for the U.S. attorney's office in Manhattan declined to comment. A spokesperson for Bank of America could not be reached for comment Wednesday evening.

A federal jury in New York in October found Bank of America and Rebecca Mairone, a former mid-level executive at Countrywide, each liable for fraud in the civil lawsuit.

The case focused on a mortgage lending process at Countrywide, which Bank of America acquired in July 2008, called the "High Speed Swim Lane," or alternatively "HSSL" or "Hustle."
What's my strategy here with the ongoing legal issues? Continue to let them play out in the background and continue to watch CEO Brian Moynihan keep the BAC ship pointed in the right direction. Call me nuts, but I'm paying little to no attention while BAC's legal department does what they do best.
And, in "follow the rich guy" news, Warren Buffett recently extended his commitment with the bank for another 5 years - this is on the heels of a $5 billion investment in the bank that has already netted Buffett billions. He doesn't seem to think there's going to be catastrophic results to any legal issues, obviously.
The Charlotte Business Journal reported:
The famous billionaire and Charlotte-based BofA have renegotiated their 2011 deal that saw Buffett invest $5 billion into the then-struggling lender. Buffett's investment conglomerate, Omaha, Neb.-based Berkshire Hathaway Inc., and BofA have agreed to terms that will lock BofA into the preferred shares it issued in that deal for five more years.

The changes were disclosed in a securities filing this week.

Under the terms, which will require shareholder approval this spring, BofA will be prohibited from redeeming $2.9 billion in preferred shares it issued to Berkshire for five years. The shares will continue to pay a 6% dividend. But the dividends will no longer be cumulative, meaning BofA won't be penalized if it misses a payment due to financial struggles. That scenario, however, is unlikely considering BofA's condition has been steadily improving and is expected to get better with time.
So, Buffett keeps riding with the bank and so do I.
Let's face it, Bank of America stock is cheap no matter how you look at it. From a price/book angle, from a comp to sector angle, from a forward P/E ratio - the bank is simply a good looking buy.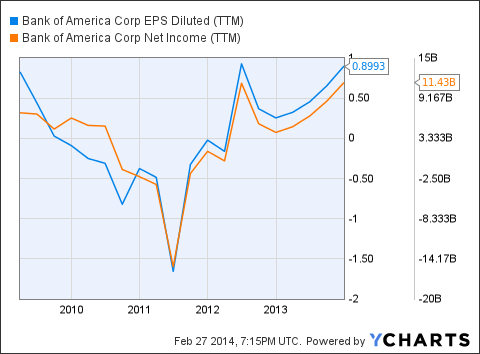 BAC EPS Diluted (TTM) data by YCharts
I'm also expecting the bank to raise its dividends in the coming months, after it gets past its stress tests.
As I've said in the past, Brian Moynihan has been doing a great job helping lead the bank turnaround and once these legal issues are dealt with, they're done over and gone for good. The risk here lies in one time expenses that would likely be related to settlements with the government. Once they are behind the bank, which I predict will continue growing EPS, the stock's multiple will likely increase.
I remain bullish and long on Bank of America. Best of luck to all investors.
Disclosure: I am long BAC. I wrote this article myself, and it expresses my own opinions. I am not receiving compensation for it (other than from Seeking Alpha). I have no business relationship with any company whose stock is mentioned in this article.