Say what you want to say about Obamacare, but I thought that insurance companies were supposed to benefit? Looking at the earnings revisions for a few of these stocks, I guess I'm wrong about that, too. While the Affordable Care Act may be good for the insurance business as a whole, the Medicare side of the business falls outside of the act. Companies offering a Medicare Advantage Plan like an HMO are not going to see any additional business from the Health Insurance Marketplace. This wrinkle in Obamacare has the HMO providers in the bottom 12% of our Zacks Industry Rank. Drudging up the bottom of these stocks currently is WellCare Health Plans (WCG), the Bear of the Day.
WellCare provides managed care services targeted exclusively to government-sponsored healthcare programs, focusing on Medicaid and Medicare. This puts the company firmly in a spot that does not benefit from the sweeping healthcare reform. In the face of further socialized medicine, the company is struggling to find earnings growth. Current quarter consensus has been revised down by 11 different analysts, dropping the target number from 65 cents per share just 60 days ago to 5 cents. Next quarter and next year earnings numbers share a similar fate, each dropping by over a dollar. The downside revisions have been a negative drag on the share price.
The price and consensus chart shows consensus falling off a cliff. 2014 estimate revisions show earnings at levels not seen since 2011 when the stock was trading in the $40 range, well above the nearly $60 price it trades at today. This is not the kind of chart you want to see when you are looking for a long-term winner.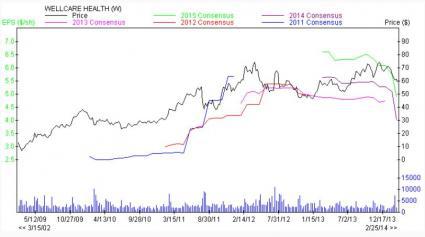 In the face of this dreary fundamental outlook, the stock has been relatively resilient. After reaching a high of $75.31 the stock sold off, touching $55.16 before a small reprieve to $64 and finally settling down today just above $59. We are firmly below the 25x5 SMA at $65.14 and with a recent bearish stochastic cross while in overbought territory, the technical picture is bleak. Over the next few weeks, the stock may struggle to find support at these levels.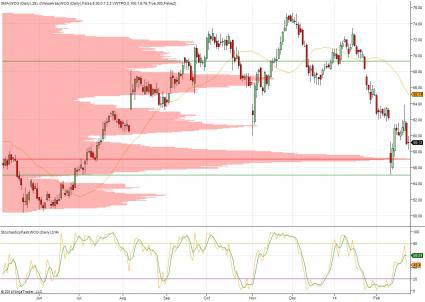 On the flip side of the equation, Aetna (NYSE:AET) looks a whole lot healthier. AET carries a Zacks Rank #2 (Buy) and has had 11 analysts revise to the upside for the current quarter. Aetna's diversified business model appears to be expanding in all directions.
AETNA INC-NEW (AET): Free Stock Analysis Report (email registration required)

WELLCARE HEALTH (NYSE:WCG): Free Stock Analysis Report (email registration required)