Intel (NASDAQ:INTC) last year announced a major effort to penetrate the tablet market. SA Author Ashraf Eassa recently expressed some disappointment that Intel had not announced more design wins for its Bay Trail processors aimed at tablet markets. For my money, Intel is doing just fine.
The number of tablets with "Intel Inside" is growing daily. Here are some of the announcements.
This list is far from exhaustive. It is intended to demonstrate quite simply that Intel is making progress in tablets. There are literally dozens and dozens of Intel powered tablets in the market today and more are coming.
The Tablet market for applications processors is still pretty small. Strategy Analytics put the total tablet applications processor market at $3.6 billion in 2013, a 32% rise from 2012. Apple (NASDAQ:AAPL) was the major player with 37% of that market leaving $2.6 billion to be divided up among Samsung (OTC:SSNLF), Intel, Mediatek (OTCPK:IMKI) and smaller players. Strategy Analytics estimates Qualcomm (NASDAQ:QCOM)had an 11% revenue share ($400 million) and Samsung a 10% revenue share ($360 million) with Intel in fourth place.
Intel says it shipped processors for 12 million tablets in 2013 with plans to ship 40 million in 2014.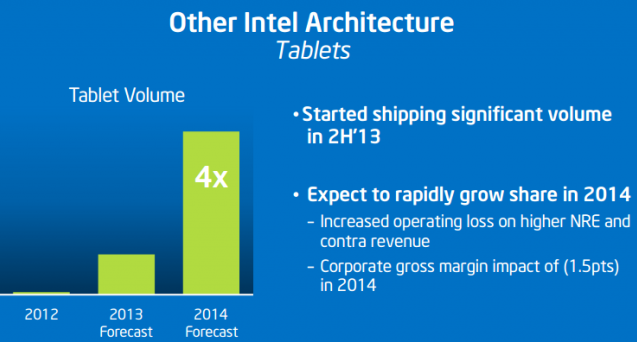 Source: Intel
The 12 million units shipped in 2103 probably amounted to $350 million in revenues if the mix was 20% Core processors and the rest Atoms. If that is about right Intel had roughly a 9% share of the 2013 tablet processor market by revenue and about a 5% share by units based on IDC's estimate that 221 million tablets were shipped in 2013.
If Intel does ship 40 million tablets in 2014 it will have a 15% unit share of the estimated 271 million tablet market projected by IDC. Assuming the mix of tablets remains constant and processor prices are more or less than same as 2013, the 2014 tablet processor market will reach $4.4 billion.
Actual industry revenues from the total tablet market may be less as lower priced processors from Allwinner and Mediatek win designs but I will use the $4.4 billion figure to make my point. I expect Intel to garner $0.9 billion of that total industry revenue based on 40 million tablets at an average selling price of $22.50 for its mix of Atom and Core processors in those tablets giving Intel a 20% market share by revenue.
It is hard for me to find room for disappointment in those numbers. Intel is steadily improving its tablet offering including LTE and is steadily pocketing design wins for new tablets. The company will continue to show losses from its tablet processor sales but those losses will begin to abate and by 2016 I believe this area will show profits.
Given the tablet market is relatively small, the question is why Intel has chosen it as a target at all. The answer to that question, in my view, is that users will want tablets with serious computing power over time and that tablets will become a major target for Core processors using Intel's voltage regulation technology to facilitate fan free designs with very low power usage and quite long battery life. A full day of battery life on a thin, light tablet capable of running Android or Windows OS is a compelling option if it also provides the kind of processing power PC users have become accustomed to from Intel. As big data moves closer to consumers I think this is a market that will develop quickly and where Intel is ideally suited to win.
2014 Outlook for Intel
The more important numbers for Intel in 2014 are the number of PC's and hybrids with Core processors and the number of server processors sold for the year. Data is spotty but the outlook for those markets seems encouraging.
Servers
IC Insights sees 3% growth in server shipments for 2014.
Whether that translates into revenue growth for Intel will depend on its ability to defend its massive share against inroads expected from lower cost ARM based micro servers competing with its low power Atom processors.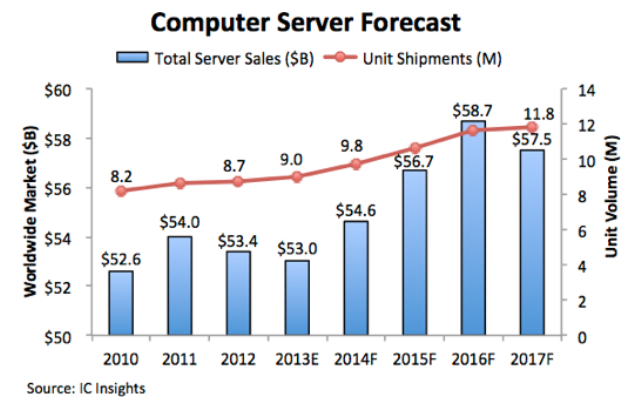 Personal Computers
The PC market has been in decline for several years but the rate of decline seems to be abating. Gartner forecasts 320 million units of combined traditional PC's with ultramobile hybrids and clamshells in 2014, up from 317 million units in 2013 but with the mix shifting to the ultramobile category.

The mix shift will reduce average processor selling prices about $5 assuming PC processors average $120 and ultramobile processors average $40. That is about a $1.2 billion headwind for Intel in 2014.
Intel may offset that headwind by taking share from AMD in the PC market or by producing its processors at lower cost based on advances in process geometry. My guess is that it will do both and the reduction in costs from moving ahead one node on Moore's law will more than offset the lower revenues. As a result, I expect Intel to show modest profit improvement in 2014 from the PC segment.
Longer term growth
The smartphone applications processor market is larger than the tablet market by quite a bit. Strategy Analytics estimates it amounted to $18 billion in 2013, a 41% increase from 2012. Qualcomm is the big player with an estimated 54% revenue share (about $10 billion) followed by Apple with 16% ($3 billion) and Mediatek with 10% ($1.8 billion). Samsung, Spreadtrum (NASDAQ:SPRD), Broadcom (BRCM), Marvell (NASDAQ:MRVL), HiSilicon, and Nvidia (NASDAQ:NVDA) round out the balance with Intel having a tiny 0.2% of the market.
Intel to date has not had a product that could compete in the smartphone arena. That seems to be changing. Intel has demonstrated a reference design for its Merrifield smartphone processor that on the surface seems fully competitive with the Apple A7 and Qualcomm Snapdragon 805, the industry leading components.
No OEM has yet partnered with Intel to produce a device based on the just-released reference design so we will have to wait and see. Dell, Lenovo, Asus and Foxconn have all shown interest in the design.
Intel is putting a lot of resource into its smartphone processor program with ambitious plans to have a lead in processor performance with integrated LTE sometime in 2015. If it can gain a technology lead it will have the chance to duke it out with Qualcomm, Samsung and Apple in a battle of giants.
In describing its smartphone program, Intel has used the phrase 'Accelerating Atom to be on Par with Core". That is an ambitious goal but it has promise. Future smartphones may be used for data intensive applications far beyond the scope of the relatively modest applications they run today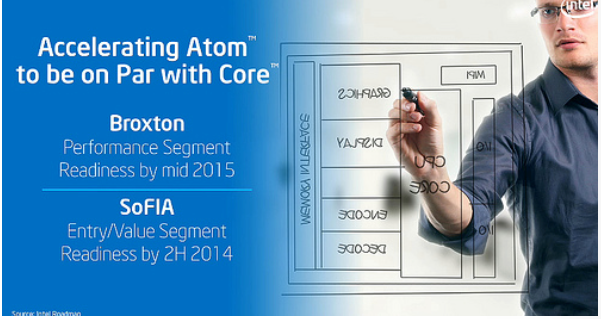 Source: Intel
I can see a day when the smartphone has all the processing power anyone needs and connects wirelessly to peripherals such as monitors, mice and keyboards as you approach them with the bulk of storage in the Cloud. If that happens, it will spell the end of the traditional PC and Intel needs to be there. I am confident it will.
I have read a lot of criticism about Intel on SA largely comparing it on unfavorable terms to Qualcomm or ARM Holdings (NASDAQ:ARMH). The fact is that Intel earned more money from semiconductors as Qualcomm and ARM Holdings combined in every year those companies existed; has all the capability in the world to develop components that outperform those that exist today by a wide margin; and, would be not much farther ahead if it had not "missed mobile" since the mobile processor market in aggregate has not been very large until the past year when it finally surpassed $20 billion as an industry.
Intel faces real risks. The competitors are strong and well financed. The markets are challenging and dynamic. Technology advances are not guaranteed or easy to achieve. That is why Intel stock trades at a low multiple and that is what makes Intel interesting as an investment.
I am long the name.
Disclosure: I am long INTC. I wrote this article myself, and it expresses my own opinions. I am not receiving compensation for it (other than from Seeking Alpha). I have no business relationship with any company whose stock is mentioned in this article.