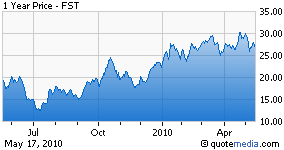 Forest Oil Corp. (NYSE:FST) reported first-quarter earnings per share of 42 cents, below the Zacks Consensus Estimate of 47 cents, mainly due to lower sales volume
However, earnings per share was up 45% year over year. Net income spiked up 70% to $47.5 million from $27.9 million in the corresponding period a year ago. The increase was primarily due to the lower depreciation and depletion expense in the reported quarter.
Operational Performance
Sales volume in the quarter decreased 24% year over year to 416.9 million cubic feet equivalent per day (MMcfe/d), closely beating the guidance of 410-414 MMcfe/d.
The average equivalent price per Mcfe (including the effect of hedging) was $6.08, up 13% from the year-ago realization. Average realized prices (inclusive of hedging activities) were $5.12 per Mcf of natural gas, a decrease of 2% from the comparable period last year. Average realized prices (inclusive of hedging activities) were $73.09 per barrel of oil, an increase of 58% from the year-ago quarter.
During the quarter, production expenses increased 3% year over year to $1.21 per Mcfe. Unit general and administrative expenses in the quarter jumped 44% year over year to 36 cents per Mcfe.
At the end of first quarter 2010, Forest had $213.8 million of cash and cash equivalents with $1.9 billion of long-term debt, representing a debt-to-capitalization ratio of 61%.
Outlook
The company maintained its 2010 production guidance of 439−449 MMcfe/d but increased its liquid percentage of oil and gas net sales volume estimate to 22.5% from its previously guided percentage of 20.0%, primarily due to strong performance at horizontal wells in the Granite Wash.
For 2010, Forest also increased the natural gas liquids realization guidance to 42.5% of the West Texas Intermediate (WTI) price from its previous guidance of 40% of the WTI price.
Given the recent drilling success and the uplift in well economics from liquids production, Forest chose to redeploy capital away from the Haynesville shale to the Granite Wash. For the remainder of 2010 and beyond, the company is eager to manage its drilling program to focus on the highest rate-of-return and liquids-rich projects.
Despite the improving commodity-price environment, we remain concerned about the company's debt-heavy balance sheet as well as its weak production and reserve growth profile. Our Neutral recommendation remains unchanged at this stage.