Previously, I've covered Nestle (OTCPK:NSRGY) as a safe income play in the food industry, but as the company is based in Switzerland, its dividend is annual and the dividend withholding tax is quite high, hence both factors reduce its appeal for income investors. An alternative may be General Mills (NYSE:GIS), which offers a slightly lower dividend yield, but also enjoys strong fundamentals, and like many American companies, pays a regular income stream. General Mills has a market capitalization of $31 billion and trades on the New York Stock Exchange.
Company Overview
General Mills, Inc. is an American corporation, primarily concerned with food products, founded in 1928 and headquartered in the Minneapolis suburb of Golden Valley, Minnesota. The company markets many well-known North American brands, such as Betty Crocker, Yoplait, Colombo, Totino's, Jeno's, Pillsbury, Green Giant, Old El Paso, Häagen-Dazs, Cheerios, Trix, and Lucky Charms. Its brand portfolio includes more than 100 leading U.S. brands and numerous category leaders around the world. It also has two joint-ventures, namely Cereal Partners Worlwide with Nestle and Haagen-Dazs Japan. General Mills has completed two major international acquisitions over the past three years. A 51% controlling stake was purchased in Yoplait SAS for $1.2 billion in 2011, and Brazilian convenience food company Yoki was purchased for $840 million in 2012.
General Mills is a global consumer food company, owning leading brands across 25 different food categories. Its principal product categories include ready-to-eat cereals, refrigerated yogurt, ready-to-serve soup, dry dinners, shelf stable and frozen vegetables, refrigerated and frozen dough products, dessert and baking mixes, frozen pizza and pizza snacks and grain, fruit and savory snacks. General Mills operates in three segments: U.S. Retail, Convenience Stores and Foodservice, and International. U.S. Retail is the company's largest segment representing 60% of its sales, followed by International with a 29% weight, while Convenience Stores and Foodservice is the smallest operating segment accounting for 11% of the group's total sales.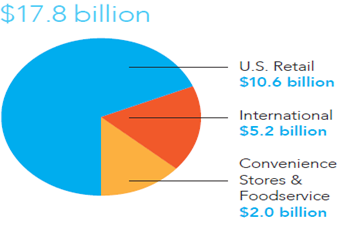 General Mills generates the vast majority of its sales in the U.S., accounting for about 66% of the company's sales. Regarding profitability, its weight is even higher, as General Mills enjoys higher margins in its domestic market than abroad. Its international business is currently responsible for 34% of its sales, but the company is pursuing growth abroad, so its international sales weight should continue to increase over the following years.
Europe is the company's largest international market, accounting for 43% of sales abroad, followed by Canada with a 23% weight, while the remaining comes from Asia/Pacific and Latin America. Compared to Nestle, the company is much less exposed to emerging markets given that they only account for about 12% of its sales, while Nestle generates 43% of sales in emerging markets. Nevertheless, General Mills' strategy is to grow its presence in international markets, so its exposure to high growth markets should continue to increase in the coming years.
Specifically, the company targets Brazil and China as two major growth markets. Its growth can be organic or through additional acquisitions, like it has done recently with Yoplait and Yoki. However, this should not happen over the next few months, as the company is currently focused on completing the integration of these businesses.
Financial Performance & Dividends
Regarding its financial performance, General Mills has reported very good results over the past few years, achieving good sales growth and stable operating margins. Since 2009, General Mills sales have grown at a 5.1% CAGR, which is very good and above Nestle's top-line growth rate. Unlike most companies that report fiscal year equal to the calendar year, General Mills' fiscal year [FY] ends in late-May. Its FY 2013 ended in May 26, 2013, achieving sales of $17.8 billion, up 6.7% from the previous year. This performance was mainly driven by International markets, namely Latin America, that registered strong growth due to its acquisition of Yoki. The company's profitability is very good, given that in FY 2013 achieved an EBITDA margin of 19.5%. This is also above Nestle, which had an EBITDA margin of 17.5% during the last year. General Mills net profit was $1.8 billion, or $2.79 per diluted share. For 2014, its earnings guidance is for adjusted EPS to be in the range $2.87-$2.90, or 3% above FY 2013 EPS.
General Mills has an outstanding dividend history, given that General Mills and its predecessor firm have paid regular dividends without interruption or reduction for 114 years. Over the past five years, General Mills delivered a dividend CAGR of 11%, a very good growth rate within its industry. Its current quarterly dividend is $0.38 per share, or $1.52 per share annually. At its current stock price General Mills' dividend yield is slightly higher than 3%, which is not impressive, but its dividend has good growth prospects and is supported by the company's strong business fundamentals.
Reflecting this, its dividend payout ratio has decreased to 47%, a relatively low level for a stable and mature company like General Mills. Its dividend is also safe when considering its cash flow generation, which fully covers the company's capital expenditures [capex] and dividend payments.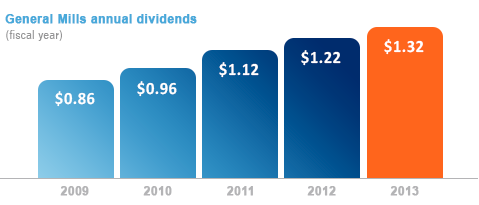 General Mills' cash flow from operations amounted to $2.9 billion in FY 2013, an increase of 21.6% from the previous year, helped by a reduction in working capital. Its capex is relatively low as the company does not need to invest aggressively in growth capacity. Its annual capex is usually around $650 million, and its guidance is for FY 2014 capex to be about $700 million, or less than 4% of its sales. This leads to free cash flow of around $2.3 billion, a value well above its annual dividend cash outflows of $900 million showing the safety of the company's dividend and how much room it has to grow.
Moreover, the company's free cash flow finances the majority of its share repurchases, instead of issuing debt like many companies are doing. This is good because it does not leverage its balance sheet, but allows the company to provide both a good remuneration for shareholders and to pursue a conservative financial policy which is the best combination for long-term income investors. Even though its leverage is higher than for Nestle, it's still at a relatively low level and should not be an issue for its dividend sustainability.
Conclusion
Like its peer Nestle, General Mills is a very good dividend play. The food industry is very resilient to the economical cycle, providing a stable operating environment for the industry's major players. Although both companies don't offer high-dividend yields, they are still attractive for conservative income investors due to good growth prospects and its clear sustainability over the long-term. General Mills is trading at more than 17x its estimated earnings, which is not particularly cheap, but seems fair taking into account its stability over the economic cycle, good profitability, and high cash flow generation capacity.
Disclosure: I am long NSRGY. I wrote this article myself, and it expresses my own opinions. I am not receiving compensation for it (other than from Seeking Alpha). I have no business relationship with any company whose stock is mentioned in this article.