Rentech Nitrogen Partners, L.P. (NYSE:RNF) unit holders (Rentech) have suffered over the past few months. But the units have been bouncing higher lately, so a review is in order. I think the units have some short-term upside here to $20-21, but medium and longer-term problems remain.
The nitrogen fertilizer MLP (Master Limited Partnership) units hit $30 back in October before plummeting with a lower-than-expected 27 cent Q3 cash distribution declared on October 27, 2013, versus 85 cents paid in Q3 of 2012.
This was mainly due to problems at the Pasadena, Texas, ammonium sulfate plant, which I wrote about here, as well as lower global and domestic nitrogen fertilizer prices experienced in the second half of 2013. Nitrogen fertilizer prices have since rebounded smartly but could stall in the spring.
Although Rentech initiated a planned expansion of its second, East Dubuque, IL, ammonia plant from 302,000 to 370,000 short tons per year on schedule, a routine inspection in late October showed a syngas compressor foundation needed a total rebuild, reducing post-expansion production back to 790 short tons per day (tpd) during November. Unfortunately, a short-lived fire in the ammonia synthesis loop on November 29 required the shut down of the entire East Dubuque plant until early January.
The units hit a low of $16.90 on December 17, and formed a base in February in the $17.50 area.
The MLP announced a 5 cent distribution on February 13, 2014, for Q4 2013, payable tomorrow, a far cry from the 75 cents paid out for Q4 2012.
Over the last two days the units have rallied above $18 and are trading at $18.75 currently, above the $18.38 50-day moving average.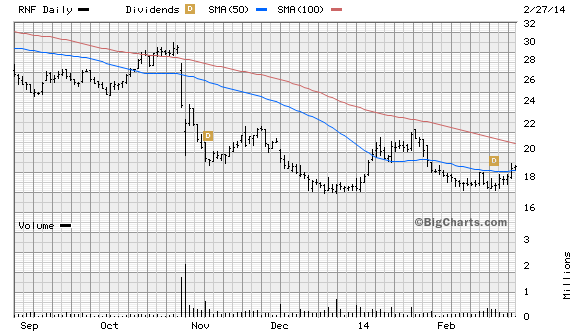 Although the MLP clearly lost money (we don't know how much) in Q4 2013, the Board decided to pay unitholders the $2 million property insurance payment it obtained from the fire it experienced in November. That's 5.15 cents on the 38.84 million units outstanding. The plant was not down long enough to claim on its business interruption insurance.
The MLP said the ED plant was operating well in the February 13 press release and "running at nameplate capacity." It gave some examples of the leverage the units would have to go for higher or lower fertilizer prices and natural gas inputs for 2014.
Although not stating these were its own expectations, the MLP said it could make $123.1 million in EBITDA if ammonia averaged $515/st in the corn belt this year, UAN solutions $315/st, ammonium sulfate $219/st in the southern plains and internationally, and natural gas NYMEX was $4.57/mmBTU.

Other inputs (for the less profitable Pasadena, Texas, ammonium sulfate plant) were Tampa ammonia priced at $376/st and raw sulfur at 104/st.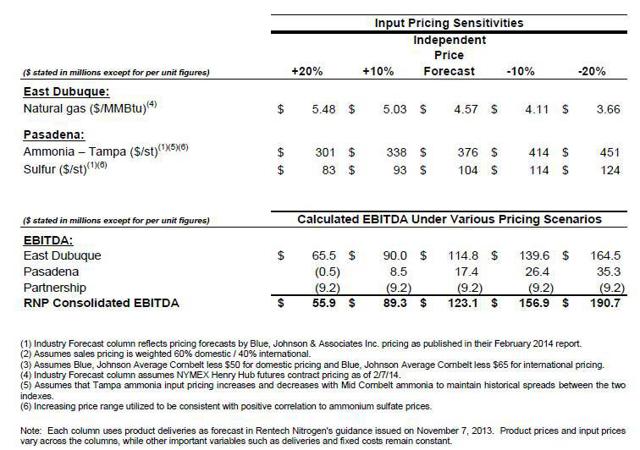 The average price estimates were from the February 2014 report from Blue, Johnson & Associates, an agriculture chemicals consultancy.
The natural gas in the matrix is the February 7/14 NYMEX price and I am not sure the analysis, produced internally by Rentech financial staff, considered the NYMEX calendar strip or premiums and derivative premiums to get the actual natural gas cost to the Illinois plant. I have to assume so.
I understood from the company the estimates also considered the lag in time between producing ammonium sulfate and selling it later, and the resultant inventory risk. If you recall, during the 2H of 2013 this effect really hurt the MLP, as nitrogen fertilizer prices declined precipitously before input costs dropped.
From the $123.1 million EBITDA number the MLP produced given the Blue, Johnson estimates, you'd have to deduct interest expense, maintenance capex and other contingencies, to get an estimate for 2014 available cash for distribution (CAD).
The interest on the $320 million 6.50% note financing done last April would cost $20.8 million in interest coupon payments.
The MLP said it would be performing a turnaround of the sulfuric acid plant at Pasadena this year, but would buy sulfuric acid to keep the ammonium sulfate plant running at that time. The actual cost of components (if you recall, a sulfuric acid converter failed soon after Pasadena was purchased), was included in the financing done to support the acquisition, so the cost will not come out of operating cash flow/CAD.
We might budget a minimum of $2 million for maintenance capex at East Dubuque in 2014, barring any unforeseen problems that would require additional expenses. And Pasadena will require an additional estimated $2 million, excluding the aforementioned sulfuric acid converter project. Rentech was also planning a power generation project in the $30 million cost area for Pasadena in Q3 14, but that has yet to be approved by the board.
The MLP said in the press release that it had worked down working capital balances during the downtime, and would have to build up inventories and accounts receivable and would use cash flow that otherwise would be available for distribution. No estimate of the amount was offered.
It's almost impossible to guess what the MLP requires for working capital replenishment. The last financial report was September 30, 2013, and is therefore five months out of date. At that time, the MLP had $85 million in cash earmarked for the ED ammonia expansion and third 20,000 ton storage tank (combined cost $100 million), and the Pasadena AMS debottlenecking project ($6 million). Company-wide inventories were $36 million and accounts receivable were $24 million.
Some of the sales commitments for Q4 were pushed over to Q1 due to the shutdown of the ammonia plant in late November, but generally, business was very slow during Q4, so it was a good time to have your plant idle.
We won't know how slow sales were until the Q4 and FY 2013 results are announced on March 11 after the market close.
The MLP must be now working hard to build inventories, especially UAN solutions. Ammonia application was low this winter due to extreme weather, unlike the very mild winter of 2011/2012.
These issues will smooth themselves out as the crop year progresses. All in all, I might expect $10 million in working capital build cash requirements.
Therefore, for the year we might expect $123.1 million less $4 million CAPEX less $20.8 million interest and an estimated $10 million for working capital.
This would equate to $88.3 million of CAD, assuming the midpoint Blue, Johnson estimates and the $4.57 NYMEX price.
This would equate to $2.27 CAD/unit in 2014. Given the lags between sales and shipments, and the near-term WC replenishment, this would be weighted towards Q2 and Q3 and I would expect much less CAD for Q1.
Do I agree with the Blue, Johnson 2014 fertilizer price estimates?
I think $315 for average domestic UAN is somewhat optimistic. I think natural gas prices will be higher than $4.57.
The current NYMEX strip is $4.70 and the first two months of 2014 have been much higher than this. East Dubuque should use about 12 bcf of gas in 2014 at the higher ammonia production rate.
A $1 increase in natural gas would cost the MLP $12 million in extra costs. In my view, some of the price weakness of the Rentech and also Terra Nitrogen LP (NYSE:TNH) units stems from the lower margins that natural gas ammonia producers will experience due to the higher feedstock costs.
Conversely, there has been recent outperformance by CVR Partners (NYSE:UAN), which makes ammonia from petroleum coke, avoiding the natural gas spike.
UAN is currently $295 at the Gulf and certainly typical premiums for sales in the corn belt push this number well over $300 currently. UAN-32% is currently offered retail at $355-420 in Iowa with a midpoint of $387.50 (USDA survey dated February 25, 2014).
But both Urea and UAN swaps show a precipitous drop off to lower prices after Spring application. By July, UAN is offered at $235 and urea, currently at $421, is offered at $312.50.
The prices drop off, in my view, due to expectations for strong Russian and Chinese nitrogen exports hitting the Gulf in late spring/early summer, plus the usual drop off in demand once the spring application season is over.
Regarding ammonia, I expect the large snow cover in the Midwest will lead to a late wet planting season, making ammonia application very difficult. In fact, I could see flooding of the upper Mississippi and Missouri river basins, as we experienced a few years ago.
Under this scenario, summer side dress opportunities for UAN-32% solution and blended fertilizers using ammonium sulfate may increase. This would tend to benefit UAN producers over ammonia producers. Unfortunately, Rentech's expansion of merchant ammonia production to 220,000 tons per year would not be a beneficiary if this becomes true. Currently, the producer has no plans to upgrade the ammonia to higher value added products such as urea and Diesel Exhaust Fluid.
We cannot know exactly what US farmer crop planting intentions will be until March 31, when the USDA prospective planting report comes out. The current soybean to corn price ratio is at 2.52, with over 2.50 benefiting corn over beans. The next USDA WASDE report is on March 10, a day before Rentech's earnings. This will give us an update on the progress of the Brazilian and Argentine corn crops, which are competitors to the US crop.
Last week the USDA agriculture economist predicted a $3.90 on farm corn price for 2014/2015 based on a 163/bushel yield. "New Crop" September and December 2014 corn futures are trading substantially higher, at $4.59/$4.62, indicating some may think this is an overly optimistic yield. The United Nations' FAO (Food and Agriculture Organization) said in its most recent food status update that global coarse grains and cereals production is forecast to be at an all-time high, with ample stocks and reasonable stocks to use levels. Events in the Ukraine, however, may disturb wheat production.
Given the deep freeze the North American Midwest has been in this winter, the chances for a muddy, cold and delayed planting season are high with weather forecasts predicting colder than usual weather into mid March. Sometimes an early plant does not work out better, however, as we experienced in 2012 with the big drought. At least soil moisture levels have returned to normal for much of the Midwest, although California has inherited drought conditions.
The Iowa State University Extension put out its estimates for corn and other row crop production for 2014. Corn planted after corn, at 165 bushels/acre, would cost $424.62/acre in variable costs and $395.00 in fixed costs, including cash rents of $287, for a total of $819.61 or $4.97/bushel.
This would indicate margins will be adequate for those who own their own land and machinery, but very low or negative for less well-off farmers. Tempering this situation is the newly-signed Farm Bill that will provide growers with varied plan options for buying crop insurance and guaranteeing income.
Regarding Rentech in Pasadena, Texas, the ammonium sulfate and thiosulfate plant uses anhydrous ammonia as an input, and Tampa ammonia was settled for March at $460/metric ton, up from $415 in February.
This equates to $417/short ton, higher than the $376 used in the Blue, Johnson matrix. Although more ammonia should be available as Pasadena's main supplier OCI Partners (NYSE:OCIP) expands the Beaumont, Texas plant, it might be later in the year before that manages to impact Rentech's costs.
Sulfur and sulfuric acid have risen in price, although I have yet to quantify how that would impact Pasadena's cost of inputs.
Pasadena is forecasting a 60%/40% domestic/international split in sales of ammonium sulfate, and therefore the plant is expecting to compete off shore to soak up the extra production.
As you will recall, the ammonium sulfate plant was expanded from 575,000 to 698,000 tons capacity with additional load-out capability expected to be in place by Q1 2014.
The entire US production of approximately 3 million short tons of ammonium sulfate was increased by 20% when the Pasadena plant began operating. On the last conference call, Rentech indicated it was finding new markets for its AMS in New Zealand and Canada. We should get more updates on how that expansion proceeded and how sales are progressing on the March 11 earnings call.
Several ammonia and nitrogen product plant expansions and greenfields are targeting the US corn belt and the northern western plains where Rentech sells most of its products.
Specifically, CF Industries Holdings' (NYSE:CF) Port Neal, Iowa plant and Orascom's new plant at Wever, Iowa, expect to begin production by the end of 2015. We also have start-ups capitalizing on flared natural gas from the Bakken oil play - CHS Spiritwood and Northern Plains Nitrogen have legitimate plans for plants which could begin production by 2017. Both plants have obtained initially financing from their farmer coop members.
Finally, we just heard Agrium Inc. (NYSE:AGU) approved the expansion and upgrading project at its Borger, Texas, ammonia plant to produce more merchant ammonia, urea and diesel exhaust fluid, targeting Rentech's product markets, with completion (albeit optimistically) planned for the end of 2015.
All these plants will test the profitability of Rentech Nitrogen's East Dubuque plant, which is smaller and older than most of these competitor initiatives.
East Dubuque has a long history, being built in the 60s, and was owned by the same company (N-Ren) that owned the LSB Industries (NYSE:LXU) Pryor, OK, plant. LSB announced its results today, and indicated the Pryor plant, which makes primarily UAN-32 solutions, was running again, albeit at a lower production rate. This means more supply of UAN could be hitting the market.
As if these were not enough uncertainties, an activist shareholder group led by Engaged Capital and Lone Star Value Management is contesting the legitimacy of the senior management and board of Rentech, Inc. (NYSEMKT:RTK), the holding company that owns 59.8% of Rentech Nitrogen. The activists own 4.9% of the shares of Rentech, which is widely-held, primarily by institutional investors including Park West Asset Management (7.8%), Vanguard Group (5.7%) and BlackRock (4.7%).
Some institutional investors may start betting that Rentech will have to sell more units of Rentech Nitrogen at some point, either voluntarily, or from the pressure of potential new board members. The proxy fight should come to a head at the 2014 Rentech Annual General Meeting, which normally would occur in early June but could be delayed. The meeting was held on June 4 last year.
Certainly, expectations of a Q1 2014 cash distribution (50 cents Q1 2013) due to the two plants' operating at full rates in February and March could boost Rentech Nitrogen's units from currently depressed levels. The Q1 distribution was previously declared in late April but the MLP has changed its policy to announce distributions simultaneously with earnings releases, and Q1 was released on May 9 last year.
My view is the units could test $20 if the market for fertilizer stocks and the overall stock market continues to be favorable, and the units could conceivably test the January high of $21.40, but more progress is unlikely.
As I have said, the working capital deficiency statement in the February 13 press release should temper expectations of greater cash distributions until we actually see the Q4 numbers on March 11.
In my view, 2014 and 2015 were to be the last two really good years for corn belt nitrogen prices before new domestic capacity began opening. But stiff import competition in 2013 from Russia, the Middle East and China has put a lid on Gulf prices and it could get worse in 2014. This is tempered by the political problems in the Ukraine, whose ports were effectively the benchmark price makers for international dry urea and ammonium sulfate.
However, urea production from China far outweighs that from the Ukraine.
A full year 2014 CAD of $2.27 for Rentech Nitrogen unitholders would be enticing and represent a cash on cash yield of 12.1% at the $18.75 unit price. But in my view, this would require fertilizer prices and cost inputs that are better than what I am forecasting.
Disclosure: I am long RNF. I wrote this article myself, and it expresses my own opinions. I am not receiving compensation for it (other than from Seeking Alpha). I have no business relationship with any company whose stock is mentioned in this article.