Global advertising spending is expected to rise 2.2% this year, driven by online paid search ads. Advertising revenues made up 96% of Google's revenues. Not only does Google face competition from established web giants, it also faces challenges from fast-growing online society media.
Top 10 Websites
Followings are top 10 global websites based on Alexa:
Google


Google


Microsoft

Chris Anderson, author of Free, called Google "the biggest company in history built on giving things away". All top 10 sites above are "free". Out of 10, 3 belong to Google. The biggest online retail, Amazon (NASDAQ:AMZN), ranked 19th.
PE/G Comparison between Google and Other Top Web Companies
Price/Earnings To Growth (PEG Ratio) is a widely used indicator of a stock's potential value because it accounts for growth. In general, the lower PEG, the better. The following PEG ratios show Google is still the most undervalued tech company, compared to other web giants:
| | |
| --- | --- |
| | |
| Google Inc. | |
| | |
| Baidu, Inc. | |
| Microsoft Corporation | |
| Yahoo! Inc. | |
Social Media Sites are Becoming Mainstream Communications Channels
It's no secret that more and more companies are using social networking platforms like Facebook, YouTube and Twitter to further engage consumers with their brands. The recent recession accelerated budget shifts from traditional media by focusing advertisers' minds on the importance of measurable return on investment. Some 79% of the Fortune Global 500 companies now use at least one of the predominant social media channels, according to an article published in CFA Magazine May/June 2010 issue.
Google vs. Facebook's Growth Rate
Facebook has more than 400 million registered people on its web site. Half of these users log in to the service every day. Verizon (NYSE:VZ), Toyota (NYSE:TM) and Ford Motor (NYSE:F) ranked in the top 25 advertisers on Facebook in the first quarter 2010. Facebook's share of the U.S. display-ad market grew to 20% in April 2010, up from 2% in April 2009. Year over year, Facebook's revenues have typically doubled, from $150 million in 2007 to around $300 million in 2008. The site generated $700 million in revenue for 2009, and will pull in $1 billion in 2010.
On the other hand, the following chart from Google.com shows Google's revenue growth has slowed down: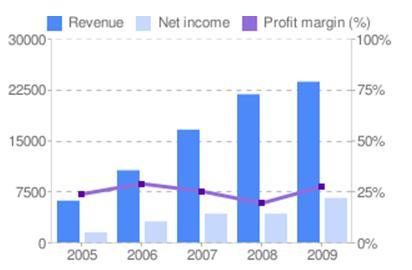 Wireless & Mobile Ad
Instead of talking, increasing number of people are using smart phones to browse the web, watch TV, and send email/text messages, etc. Since 2009, voice data is less than half of the traffic on mobile networks.
Devices that run Google's Android software outsold the iPhone in the first quarter of 2010. Android-powered phones accounted for 28% of all Smartphone sold in the U.S., exceeding Apple's 21% share during the quarter. Research in Motion's (RIMM) BlackBerry models led the category with a 36 percent share.
iPad web traffic shows rapid growth and browsing behavior is similar to desktop. To catch up, Google is working with Verizon Wireless (VZ) on a tablet computer.
3 Main Technology ETFs
Below are top 3 tech related ETFs and percent of net assets of Apple, Microsoft and Google inside each ETF:
| | | | |
| --- | --- | --- | --- |
| Fund (Ticker) | Apple | Microsoft | Google |
| PowerShares QQQ (QQQQ) | 16.5% | 4.9% | 4.7% |
| Tech Select Sector SPDR (NYSEARCA:XLK) | 10.4% | 9.9% | 5.5% |
| iShares Dow Jones US Tech (NYSEARCA:IYW) | 11.5% | 11.5% | 6.2% |
Conclusion
By offering free services, Google has reinforced a notion that traditional media now want to combat: That digital information and content should be free. This is the Google Generation, and they've grown up online simply assuming that everything digital is free, according to Ken Auletta, author of Googled.
Organizations have been spending an increasing proportion of their marketing budgets on social media. However, despite the growing popularity, only 13% people believe online society media are the most trusted sources of information.
Ten years ago, few people predicted that Google's 3-line-text search could defeat Yahoo. Each year more and more free websites such as Twitter become mainstream and "steal" Ad dollars from Google, so it is hard to know how things will look in the future. For Google, clearly "Don't be evil" is not enough.
Disclosure: long QQQQ. Data is from Google, Yahoo and MSN Finance and is valid as of May 16, 2010.