We believe Micron Technology (NASDAQ:MU) offers one of the most compelling risk to reward ratios for investors. After the drastic price run up in 2013, we still think the shares are cheap, and with a current run rate EPS of $3.0 (conservative), we believe the most conservative of estimates will yield a return of 23%. As the industry has consolidated, we believe a share buyback coupled with conservative capital allocation practices will yield a strong return for shareholders that can endure the volatility.
Our price target for the end of 2014 is $40 based on strong earnings, stabilizing DRAM pricing, overblown caution over the Hynix Wuxi plant, and increasing shareholder friendly capital allocation plans.
Business/Industry Background:
Business:
DRAM (Dynamic Random-Access Memory) has historically been a cyclical and volatile industry with dozens of competitors. It was a commodity industry and sustainable long-term profitability was out of the question for the participants. After a decade of consolidation from a dozen industry participants to only three, we believe the remaining three participants; Hynix, Samsung and Micron, will pay particular attention to profitability over market share. This new dynamic will help stabilize DRAM pricing and allow the market participants to earn an attractive return on investment.
Over the years, Micron has also diversified its product offering into multiple categories such as, NAND flash and NOR Flash memory, as well as other innovative memory technologies, packaging solutions and semiconductor systems for use in leading-edge computing, consumer, networking, automotive, industrial, embedded and mobile products.
Here's a revenue breakdown:

Click to enlarge
The company describes each of the segments like this:
DRAM Solutions Group ("DSG"): Includes DRAM products sold to the PC, consumer electronics, networking and server markets.
Wireless Solutions Group ("WSG"): Includes DRAM, NAND Flash and NOR Flash products, including multi-chip packages, sold to the mobile device market.
NAND Solutions Group ("NSG"): Includes high-volume NAND Flash products sold into data storage, personal music
players and the high-density computing market, as well as NAND Flash products sold to Intel Corporation ("Intel") through our IM Flash Technologies, LLC. ("IMFT") joint venture.
Embedded Solutions Group ("ESG"): Includes DRAM, NAND Flash and NOR Flash products sold into automotive and industrial applications, as well as NOR and NAND Flash sold to consumer electronics, networking, PC and server markets.
A further breakdown of the sales:

Click to enlarge
Elpida Acquisition:
In 2013, Micron Technology closed one of the most accretive acquisitions to date. The Elpida acquisition increased DRAM production by about 185,000 300-mm wafers per month, which increases the company's output by about 45%. This acquisition also gave Micron a large market share in the mobile DRAM business, 23%. Through this acquisition, Micron also attained Apple (NASDAQ:AAPL) as a customer, which represents 13% of Micron's net sales.
Reasons for undervaluation:
Hynix Wuxi Fire:
One of the leading concerns amongst the analyst community is the Hynix fire situation. The analyst community believes that the elevated DRAM prices are due to the Wuxi fire in September. We disagree. Hynix has already forecasted that the plant should return back to normal production levels by mid January, however, prices have only declined modestly. The industry players are aware of this situation and have reallocated production capacity to NAND.
By keeping supplies tight throughout the year, the DRAM players can effectively control the pricing dynamics. Trendforce has forecasted that bit growth should be low teens for this year with mobile DRAM ASPs recovering in Q2.
We feel that by the time Hynix returns to normal yield in its Wuxi plant, demand should inadvertently pick up and reduce the pressure on DRAM prices.
Negative Sentiment in the Analyst Community:
We completely understand that Micron is in a cyclical industry. When supply outstrips demand, industry players are faced with a rapidly declining ASP and forced to renegotiate contracts below economic cost.
However, we think that has taken a 180 degree turn, but the analyst community disagrees.
Bank of America's Simon Dong-je Woo:
"We downgrade Micron from Buy to Neutral without changing either our estimate or price objective ($20.50). In fact, the share price has already tripled YTD, reaching a 10-year high. Of course this is consistent with the 3x higher EPS we expect in FY14 vs FY12 (from minus $1.0 to plus $2.0). Our model still shows a decent increase in FY15-16E EPS, but not as strong as in FY13-14E. Thus, we apply about mid- to upcycle fair value, or 30-40% higher than the historical average PBR (1.8x vs 1.3x), to derive our PO. Since we still worry about the cyclical risk, our revaluation (2x fair PBR or higher) would be exercised when FY14-15E EPS exceeds $2.5. Our EPS appears slightly below consensus now."
With earnings estimates at $2 EPS, and consensus 2014 estimates at $2.1 EPS, we believe that Micron, based on our projections, will handily beat estimates and provoke analysts to take out their handy calculators and recalculate Micron's earnings potential for fiscal 2015 and onward.
As of February 26, 2014: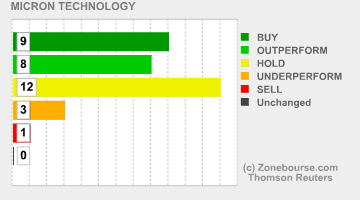 Underestimating the Elpida Acquisition:
We believe the Elpida acquisition gave Micron both the scale and the mobile DRAM market share to compete effectively in the industry. Wall Street on the other hand is underestimating the magnitude of the purchase.
There are two factors that need to be cleared up first for analysts to start agreeing with our viewpoint. The accounting issues with regards to the Elpida acquisition requires analysts to make their own revenue, ASP, gross margins, and other assumptions while using management's guide on how to correctly recalculate the true earnings potential. That creates a lot of headache for most of these analysts who are in charge of 14+ companies at once. Especially given the fact that Micron's management team doesn't like giving clear cut guidance, it makes the forecasting job that much more tedious.
The second factor that needs to be cleared up is the true earnings power of Elpida. Wall Street's understanding to only one quarter of Elpida earnings remain unclear, and most remain skeptical. This hazy fog should be cleared up by the second to third quarter as Wall Street analysts reassess what Elpida's true earnings potential look like.
Price Run Up:
We believe another reason for the undervaluation is due to the amazing performance Micron had in 2013. It was one of the top performing stocks in the S&P 500 with a return of 200+%. We don't blame investors for being skeptical when we say that Micron is still undervalued. Without truly understanding the change in the industry dynamics, it is easy to dismiss this as another momentum stock. However, we feel that after thorough due diligence, the undervaluation is simply too big to ignore.
We believe the price run up argument will be dismissed once Micron delivers more clarity in its upcoming earnings report. If the company delivers the results we expect it to deliver, then Micron should start trading more in line with fundamentals.
Catalysts:
Earnings:
Earnings will be the key catalyst for Micron. No other catalysts will come close. In Q1, Micron shattered earnings estimates with a non-GAAP EPS of $0.77. That earnings report did not include the run up in DRAM prices after the Hynix Wuxi fire. Based solely on that report, it's easy to see Micron earn a current run rate of $3 per share.
However, since the Wuxi fire, DRAM prices have skyrocketed.
In the last quarterly earnings call, Micron's CEO, Mark Durcan, had this to say about the current DRAM environment:
"Our outlook for memory industry conditions remains very favorable. In terms of DRAM, the fire at Hynix Wuxi fab last fall coupled with what was a healthy supply demand situation beforehand is resulting in significant reductions in inventory across the DRAM supply chain, in particular for the PC and mobile segments. Our belief is that this tight and further declining inventory situation coupled with balanced long-term production and demand to continue to drive healthy market conditions. We will continue to monitor the market and make the best supply allocation decisions for our long-term margin profile."
We view the current DRAM pricing environment very similar to that of the Thailand flood incident, where HDD suppliers saw prices skyrocket. However, after the incident, most HDD manufacturers cut down supply and realized that by doing so profits quickly rose.
We see the same happening in the DRAM industry. Micron has already told investors that it will be shifting its Singapore fab into NAND production, and as you will note below, NAND provides a much more stable cash flow stream for Micron than DRAM. As long as DRAM prices stay 10-20% within its current proximity, we believe our valuation scenario will play out.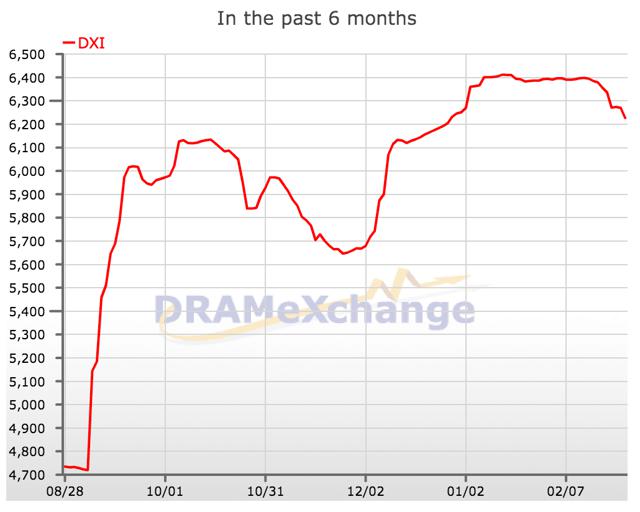 Click to enlarge
In our model, we ran two scenarios. (These estimates DO NOT include Q1 results. The Diluted EPS figure contains the non GAAP EPS of $0.77 reported in Q1.)
In both scenarios, we believe that NAND pricing will remain relatively stable. We forecasted a 5-10% decrease in ASP while forecasting a modest 5-10% growth in unit shipment, thus offsetting our estimates.
We believe the key to Micron's success is in determining how favorable the DRAM environment will be, while NAND offers Micron a more stable cash flow.
Scenario 1: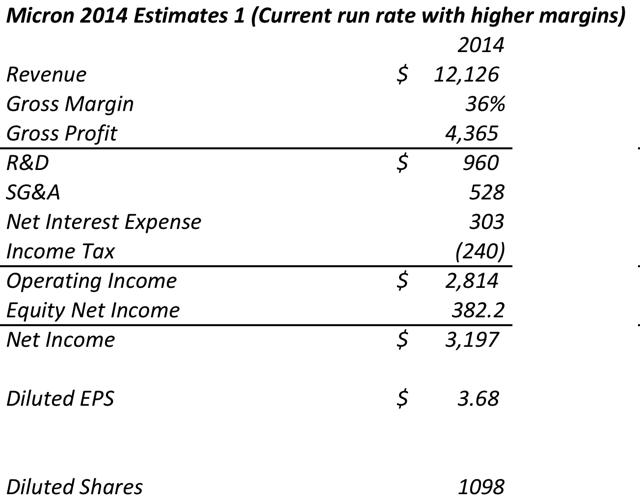 Click to enlarge
In this scenario, we assumed that the remaining three quarters would experience bit growth that will be offset by declining ASP. However, per bit cost will decline faster resulting in higher gross margins.
The diluted EPS line includes Q1 results of 0.77 per share.
Equity net income is the proportionate share Micron gets from Inotera. We used Inotera's Q1 run rate EPS to arrive at our remaining three quarter numbers. We understand that there was a renegotiation between Micron and Inotera where Inotera guided towards a plus or minus 45% gross margin as opposed to a 52% gross margin the quarter earlier. For conservative purposes, we assumed the base run rate.
Scenario 2: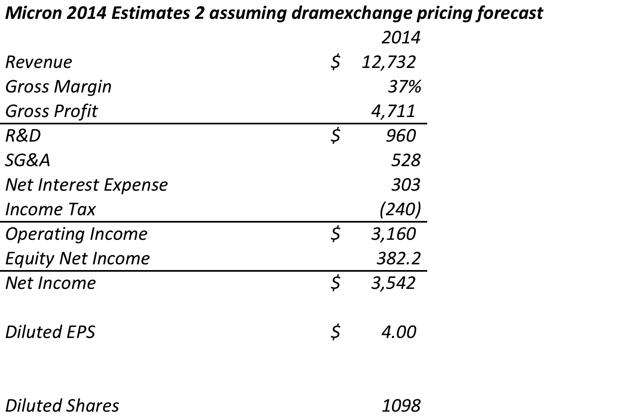 Click to enlarge
In this scenario, we assumed a more modest DRAM ASP environment and forecasted a conservative 5% revenue growth off of Q1. Due to higher bit growth and declining cost per bit, we assumed the remaining three quarters to have gross margins of 37%. This scenario does not take into account the renegotiation between Micron and Inotera, and it also does not take into account the possible impact of the run up in DRAM prices due to the Hynix fire.
After analyzing both scenarios, we feel compelled to go with scenario 2. The current DRAM environment is far different than the one we've seen in the past, and with only three players in the mix, tight supply and continued bit growth this year will help make scenario 2 more likely than scenario 1.
Share Buybacks:
One of the most talked about topic on Micron is how the company will use its free cash flow, which we estimate around $2.5-3 billion after capex.
In February's Winter Analyst Conference, this topic was brought up multiple times. The management responded by saying:
"And so what do we do with surplus capital? As Mark mentioned, we believe we're in a better place as an industry and as a company going forward. Clearly, we want to maintain minimum cash levels. Now this is part of our liquidly management to support operations as we go forward in the business. And those minimum cash levels we target to be comfortably worth of $2 billion at any point in time. We focus on dilution management and dilution reduction and we made a number of moves recently here and I'll show you the net effect of that. We want to reduce debt in an absolute sense, as well as reduce our leverage ratios overtime. So what you can expect from us is that we will drive absolute debt down overtime over the next couple of years and we want to bring the debt to capital ratio which we've targeted 20% to 25% long run back into that range in a couple of years. Then we obviously as part of that intend to get to net cash positive and once we do, our other options to optimize shareholder value would include -- probably top of our list, share buybacks is a consideration." - Ron Foster, CFO
As of Q1, Micron had $3.654 billion in cash and cash equivalents, $216 million in short-term investments, and $538 million in long-term marketable securities for a total of $4.408 billion in total liquidity.
According to Ron's measure, Micron currently has $1.654 billion in firepower for share buybacks. And at our estimate of $1.5 billion operating cash flow per quarter, we think Micron has ample amount of liquidity to start a buyback no later than Q2.
We propose a mix of debt reduction and share buybacks to maximize shareholder value. As of Q1, Micron had $4.26 billion in long-term debt; this equates to 0.42 D/E, 17% higher than what Ron targeted over the long run. However, he did state that he wants to target the 20%-25% in the next couple of years, so we do not expect Micron to all of a sudden bring down their debt load to their range within the foreseeable future.
A $1.5 billion share repurchase program coupled with $500 million in additional reduction in debt per year would create significant shareholder value, and we believe this to be one of the catalysts in 2014.
Valuations:
Using our second scenario estimates, we arrived at a probability table weighing the possible share price scenarios.

Click to enlarge
If we used the least likely scenario, it would still yield a return of 15.6% at the closing price of 24.22.
We believe however that the market should at least assign a multiple of 10x, and if in exuberant cases, a 15x multiple.
We then assigned a confidence weighting to each of the three scenarios and arrived at a probable price target of $41.80 by year-end.
Risks:
Volatility in DRAM prices:
Historically, DRAM prices fluctuate, and when they do, it can mean the difference between solvent and insolvent. When DRAM prices hit their lows in 2012, Elpida was forced into bankruptcy. It goes without saying how important this risk factor is.
On the contrary, things are different now, and they are for the better. With only three players remaining, things become more sensible rather than market share focused. To quote Kipp in a Citi's Conference:
"This is really what's going on. We -- in my opinion, for those of you, I apologize, if you are suffering to hearing the story again, but for the first time, the arms race is over. We don't have that new country aligned and aimed at the memory space that has to build scale in order to survive long term, it's over.

And we could have been talking about this consolidation move a decade ago, had we not had Qimonda and Elpida in a tough financial situation whereby they basically traded their technology, the DRAM technology to the Taiwanese, led them in the space and in return they got cheap wafers. We just don't have it in that mechanism today.

The three folks that are in the DRAM business, all are financially sound. There is no need to go trade that technology for something new. You know that's us, and Hynix and Samsung. So we have a caller if you will on any new entrant into the DRAM space. So I think you're looking at the three of us in terms of how healthy we are going to let this business and the kind of decisions we'll make in order to add capacity and for us it's a pretty tall number."
While he seemed a bit frustrated from the continued bombardment of, "Do you see DRAM prices cratering?", we aren't, and as investors; we are thankful for explanations like these because it helps ease one of the greatest investment concerns in Micron.
Conclusion:
We believe that the negative perception of Micron in the analyst community will go away once Micron demonstrates its earnings potential and initiates a large share buyback. With $3.68-$4.00 of earnings potential and an oligopoly like industry environment, we feel that Micron is one of the most compelling risk to reward ratios out there.
Price target - $40 by year-end.
Disclosure: I am long MU. I wrote this article myself, and it expresses my own opinions. I am not receiving compensation for it (other than from Seeking Alpha). I have no business relationship with any company whose stock is mentioned in this article.