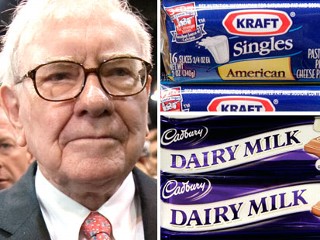 Warren Buffett was highly critical of Kraft's (KFT) acquisition of Cadbury (OTC:CDSCY) throughout the takeover process. It is therefore not entirely surprising to learn that Berkshire Hathaway cut its stake in Kraft by nearly 23 percent during the first quarter. It is not common for Mr. Buffett to openly criticize managers so it was all the more notable to hear him say that the deal made him feel poorer, particularly due to the "dumb transaction" involving the sale of Kraft's pizza business to fund part of the acquisition.
In a 13F Filing with the Securities and Exchange Commission Monday afternoon, Berkshire reported holding 106.7 million shares of Kraft as of March 31, 2010 compared to nearly 138.3 million shares on December 31, 2009. In addition to the sale of Kraft shares, Berkshire liquidated shares in several other companies and added to positions in three companies. No new positions were initiated during the quarter. Let's take a brief look at the Kraft sale and other transactions revealed in Monday's report.
Why Sell if Kraft is Still Undervalued?
The reason we stated that the sale of Kraft shares was not "entirely surprising" is due to Warren Buffett's longstanding preference for dealing only with managers who can be trusted to exercise good business judgment. With wholly owned subsidiaries, Mr. Buffett is looking for good operational managers who can run their businesses well but he handles all capital allocation personally. This is not the case with minority stakes in public companies. Mr. Buffett quite clearly believes that Kraft CEO Irene Rosenfeld is incompetent in capital allocation, although he has said that she is a capable operational manager.
What makes the size of the reduction somewhat surprising is that Mr. Buffett still believes that Kraft is undervalued on a component part basis. According to several accounts of notes taken at the Berkshire Hathaway annual meeting (for example, click on this link for The Inoculated Investor's notes), Mr. Buffett quite clearly stated that Kraft is undervalued. The implications of a large sale is that the degree of undervaluation may not represent enough of a margin of safety to protect against future incompetence in capital allocation. Of course, Berkshire continues to own a large stake in Kraft even after the sales during the first quarter.
Other First Quarter Portfolio Changes
During the first quarter, Berkshire eliminated positions in Wellpoint (WLP), United Health Group (NYSE:UNH), Travelers (NYSE:TRV), and SunTrust Bank (NYSE:STI). Both individually and in aggregate, these were relatively small positions for Berkshire and from the prior 13F report, it appears that the Wellpoint and United Health stakes were most likely positions controlled by GEICO's Lou Simpson.
In addition to Kraft, positions that were reduced but not entirely eliminated include CarMax (NYSE:KMX) (3.4% reduction), Costco (NASDAQ:COST) (17.5% reduction), Gannett (NYSE:GCI) (21% reduction), Johnson & Johnson (NYSE:JNJ) (11.9% reduction), M&T Bank (NYSE:MTB) (17.2% reduction), Moody's (NYSE:MCO) (3.2% reduction), Conoco Philips (NYSE:COP) (9.4% reduction), and Procter & Gamble (NYSE:PG) (9.6% reduction).
Berkshire added to its position in three companies: Republic Services (NYSE:RSG) (30.6% addition), Iron Mountain (NYSE:IRM) (11.4% addition), and Becton Dickinson (NYSE:BDX) (16.3% addition).
In addition to the changes noted above, the latest report shows the effect of Berkshire's acquisition of Burlington Northern Santa Fe. The 76.8 million shares that were held as of December 31, 2009 no longer appear on the report due to the completion of the acquisition on February 12.
Due to the widespread availability of free high quality resources for viewing Berkshire's portfolio in real time, we are no longer providing the spreadsheet that was previously posted following the 13F release. Instead, we suggest using Dataroma's Berkshire portfolio tracker for basic information or GuruFocus.com for more in depth coverage.
Disclosure: The author owns shares of Berkshire Hathaway.