By Sumit Roy
Natural gas was last trading up fractionally to $4.55/mmbtu after the Energy Information Administration reported that operators withdrew 95 billion cubic feet from storage last week, within the range of most analyst estimates.
The latest withdrawal was below last year's draw of 171 bcf and the five-year average draw of 121 bcf.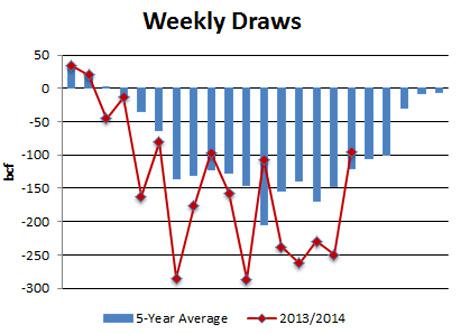 In turn, inventories now stand at 1,348 bcf, which is 881 bcf below the year-ago level and 716 bcf below the five-year average (calculated using a slightly different methodology than the EIA).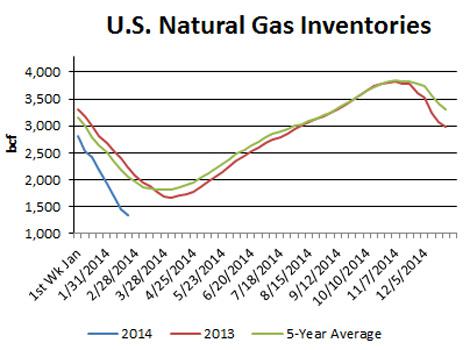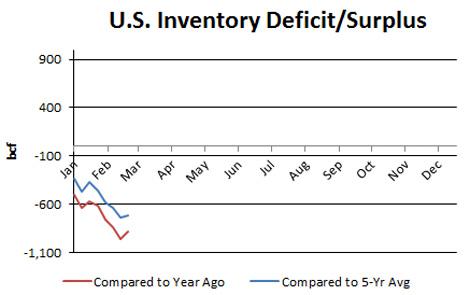 The weather last week was warmer than normal.
According to the Edison Electric Institute, utilities generated 73,257 GWh in the week ending Feb. 22, which was 5 percent below the same week a year ago.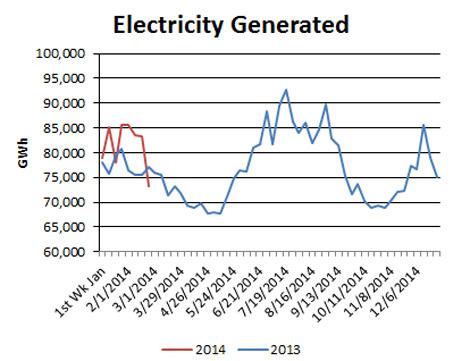 Looking forward, the NOAA's 6- to 10-day outlook calls for colder-than-normal temperatures across the eastern half of the country.
NOAA 6- TO 10-DAY OUTLOOK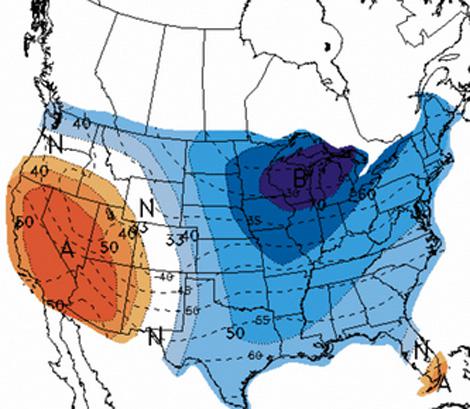 Meanwhile, Baker Hughes reported that the number of rigs drilling for natural gas in the U.S. rose by five to 342 last week after hitting the lowest level since 1995 in the previous week.
Natural Gas Rig Count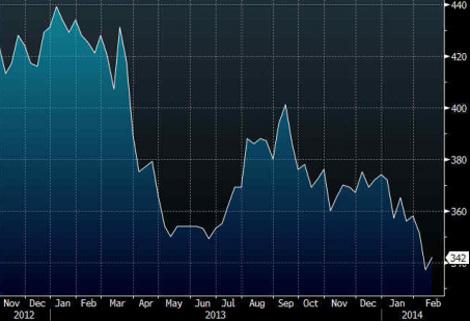 Natural Gas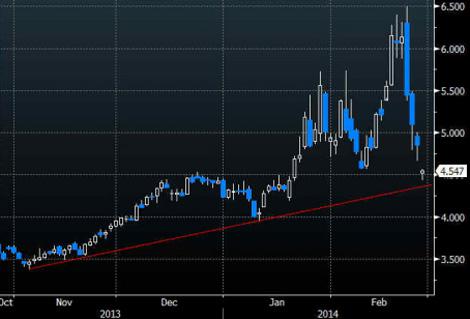 Bottom Line: The latest inventory data from the EIA were bearish, as the inventory deficit against the five-year average fell from 742 to 716 bcf.
Natural gas prices have plummeted about $2 since peaking at a five-year high of $6.49/mmbtu on Monday. But we certainly wouldn't blame this smaller-than-normal inventory withdrawal for that decline. Rather, a combination of producer hedging, anticipation of the end of winter, and weather forecasts that show less-intense cold weather through the first week of March are to blame.
Moreover, a decline in front-month prices was to be expected. The April futures contract - which today became the front month - only got as high as $5.21 on Monday. The now-expired March contract surged above $6 on short-term supply fears, but traders were well aware that once the front month rolled into April, prices would be lower.
That said, prices are starting to look compelling. Temperatures through the first week of March will be colder than normal, even though that cold may be less intense than initially feared. That will likely push inventories below 1,000 bcf for the first time since 2003.
In our view, dips below $4.50 for the front month should be considered buying opportunities. There could be more volatility ahead in the short term, but once prices find their footing, they may bounce back toward the $5 level.