A large portion of Cirrus Logic (NASDAQ:CRUS) revenue is now dependent on Apple's (NASDAQ:AAPL) iPhone and iPad. I recently put this video together that is in part a tribute to CRUS. The Kaching portfolio entered at 8.57 and it is currently trading above 13.00 with a recent high of 15.74.
Here are the bullet points that appear in the video: Analysts expects Apple to sell 5 million iPads this year. The company is seeing strength from iPhone sales and builds for new products such as the iPad and next generation iPhone. Some believe this to be the best derivative play on Apple.
You can see the portfolio updated in real time with the Facebook app by going to Randall Williams, and clicking on "Applications" and then "allow" the application. In just a few weeks the position is up over 50% and now accounts for 7% of the $16.3 million portfio, having started at about a 4% position. It is now the largest position.
Study this chart (below) in relation to the recent market volatility, and be amazed by the strong performance. This was added in real-time to the Facebook portfolio (look under applications in Randall Williams).
The balance sheet is impressive with gross margins of 53%. Return on Equity is 19.6%. Price appreciation has been stellar. While it traded over 40 about 10 years ago, it could never break back above 10 until a couple of weeks ago and has recently maintained current price levels above 13.
This is the chart that appears in the video with annotations included.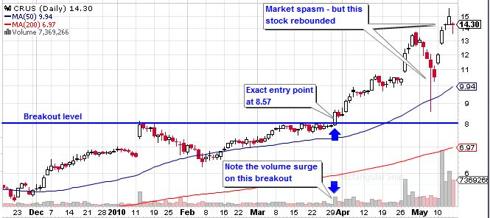 Disclosure: Long