By Michael Cintolo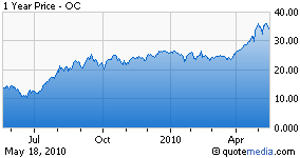 At this point, of course, all the market has done is bounce. So my main focus is on finding those stocks that (a) weren't beheaded during last week's decline and (b) have rebounded the strongest, and on the best volume, during the past few days. Surprisingly, many stocks fit my criteria.
There are the usual suspects, like Apple (NASDAQ:AAPL), Baidu (NASDAQ:BIDU) and Netflix (NASDAQ:NFLX), all of which are performing very well. There are some others, like F5 Networks (NASDAQ:FFIV), Salesforce.com (NYSE:CRM) and VMware (NYSE:VMW), that have good growth stories and have jumped nicely this week.
But the one I'm highlighting today is a stock few people are watching, mainly because it doesn't inspire images of huge growth. In fact, I'm guessing many who read this won't like the idea! But I think it has great potential as the construction- and building-related industries begin a huge turnaround.
The stock is Owens Corning (NYSE:OC). The company has been around for more than 70 years, and it's in the midst of a big turnaround thanks to its roofing and composites business. Here's what I wrote about the company two weeks ago in Cabot Top Ten Report:
Owens Corning is another in a growing line of housing- and building-related stocks that's under strong accumulation as investors begin to see signs of a recovery in the industry. Owens Corning is a big ($5 billion) producer of residential and commercial building materials, including composites, roofing and insulation. And all of those segments are showing healthy activity, with both increased volumes and cost cutting leading to large increases in the bottom line.

In the first quarter, sales rose 18% while earnings of 42 cents a share were a whopping 27 cents above expectations. Better yet, management significantly hiked estimates for 2010 to $2 per share, compared to $1.14 last year. There's nothing revolutionary here, but after cutting costs to the bone, Owens Corning looks set to take full advantage of the global economic boom, which should drive a turnaround in construction levels.
The stock broke out around 27 in the second week of April and then soared as high as 36 in the weeks that followed. Then came the brief plunge to 31 during the market's dive last week. And how did OC react this week? It moved right back up to 36! That's a strong sign that the buyers are still in control, and are snapping up shares during any weakness.
That said, I don't think OC is heading significantly higher from here – more likely is a period of backing-and-filling, similar to the overall market. But to this point, the stock's recent, powerful breakout, along with its quick snapback from last week's malaise, puts it on my Watch List. If you're aggressive, you could buy a little in the 33-35 area and see what comes.
Disclosure: No positions