Dick's Sporting Goods (NYSE:DKS) is America's largest publicly traded sporting goods retailer, and they reported Q1 results that topped analysts' estimates for the seventh straight quarter. Net income rose to $26.2 million or 22 cents per share from just $10.2 million or 9 cents per share a year ago. The retailer which caters primarily to warm weather sports saw sales grow by 9% to $1.05 billion in the quarter ended May 1. Analysts had forecast EPS of 14 cents on sales of $1.03 billion, so they were able to best those numbers on both accounts. Furthermore, gross margin widened to 28.9% from 26.1% a year ago thanks in part to better inventory controls.
For the current quarter, Dick's management sounded a conservative tone calling for profits of 37-39 cents per share, while the Wall St. view was for 39 cents. They also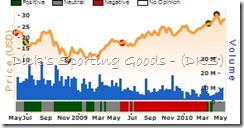 forecast same store sales growth of 4 to 5 percent, but Dick's has a history of providing cautious figures that should be relatively easily attainable. However, the company increased full year guidance to $1.41 to $1.44 per share, well ahead of consensus estimates.
At Ockham, we view this report as exceedingly positive as operating performance and guidance were both better than expected. Furthermore, they ended the quarter with no borrowing on their credit facility and raised cash on hand by $161 million compared to a year ago (down slightly sequentially). In premarket, the stock actually topped $30 per share a gain of more than 6%, but the market has pared those gains and even swung to a loss of more than 2% as of the time of writing on Tuesday morning.
We are reaffirming our Fairly Valued rating on DKS shares as of this report, as the stock currently rests near the middle of both its historical price-to-cash earnings and price-to-sales valuation ranges. In our view, the fundamentals have become far more attractive over the past few quarters, yet the price has appreciated in line with said improvements. The fact that the stock is selling off after such a strong report is surprising, and may provide an opportunity for long term investors should the slide continue. We expect Dick's will continue to benefit from consumers increasing willingness to spend on leisure activities as the economy rebounds and the weather warms through the spring and summer.