When Intel (NASDAQ:INTC) launched its next generation "Merrifield" processor for smartphones, it provided the following chart in which it claimed performance "superiority" to Apple's (NASDAQ:AAPL) A7 chip: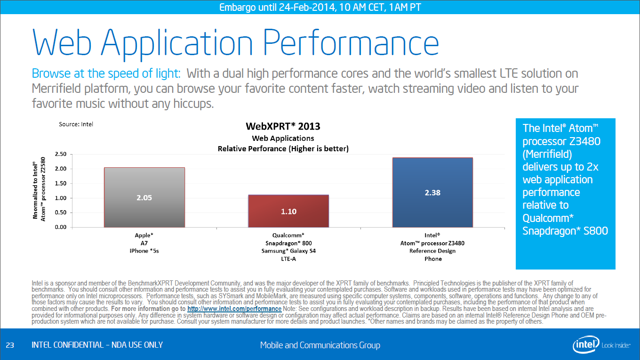 Unfortunately, this chart seems to be pretty off-kilter with reality now that some more processor-oriented benchmarks are in (rather than web-based benchmarks that are highly dependent on Javascript/HTML5 engines - in short, not "pure" CPU measurements). More importantly, it's clear that Intel's latest Atom Z3480 - as far as CPU performance goes - is roughly on par with an Apple A6 and can't really hold a candle to Apple's A7 chip.
The Geekbench Results
Geekbench is a pure CPU benchmark that tests both per-core performance as well as multi-core performance. Apple's A6 and A7 SoCs are dual cores, as is Intel's latest generation Z3480 smartphone platform. I'm going to cut right to the chase: the preliminary results don't paint Intel in a particularly pretty light as you will see shortly.
Here's how Z3480 performs in Geekbench 3: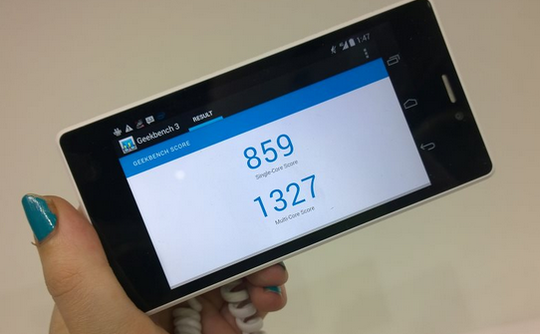 (Source: The Inquirer)
In the single core test, the Z3480 processor scores 859 and in the multi-core test, it scores 1327. Here's how the Apple A6 (built on Samsung's 32nm process; chip is found in the iPhone 5c and the iPhone 5):

Intel's 2014 chip is about 19% faster on a per-core basis in CPU tasks relative to Apple's 2012, 32-nanometer A6, and 2% faster in tasks requiring two processors.
Things get ugly for Intel when we see how the A7 performs (built on Samsung's 28-nanometer process):

Ouch. One of Apple's CPU cores is faster than TWO of Intel's "Silvermont" cores found in the Z3480. Two of these Apple-designed beauties is of course, twice as fast as Intel's chip and should be roughly on par with the quad core Moorefield product that is slated to hit the shelves in 2H 2014. It's mind-blowing that Apple has been selling this phone with this chip since September 2013!
Are You Speechless?
I don't know about you, but if this benchmark is even *remotely* credible, then it's pretty breathtaking how incredible Apple's CPU team executed with this product. For Intel investors, the problem here is clear: why can't Intel's mobile group - given a process technology lead and many more years of experience designing high performance CPUs - outperform Apple's second CPU and can only match Apple's first CPU?
Of course, Geekbench could be broken and the benchmark may not be valid, but as investors this is the kind of red-flag that at the very least you can't afford to ignore. I know I won't. More investigation into this issue to come.
Disclosure: I am long INTC. I wrote this article myself, and it expresses my own opinions. I am not receiving compensation for it (other than from Seeking Alpha). I have no business relationship with any company whose stock is mentioned in this article.