Last night after the close, Berkshire Hathaway (NYSE:BRK.A) filed its Form 13F which highlights its equity holdings at the end of the first quarter. Even though the information in this report is already six weeks old, turnover is typically low in BRK's portfolio. This means that, unlike most hedge funds, there probably have not been too many big changes in BRK's holdings since the end of March.
In the table below, we highlight equity positions within Berkshire's portfolio that changed during Q1. Positions highlighted in green indicate that BRK's stake in the company increased during the quarter. Non-shaded positions indicate that BRK lowered its stake during the quarter. At first glance it would appear that with all the position declines, BRK is taking a negative view of the stock market. However, we would note the major reason for all the selling was to raise cash for Buffett's "all-in" Burlington Northern acquisition that closed on February 16th.
Even though BRK sold a million shares in Moody's (NYSE:MCO) during the quarter, they still own a sizable 13% of the company. BRK's actions in Kraft (KFT) highlight Warren Buffett's dissatisfaction with KFT's buy of Cadbury. During the negotiations, Buffett was publicly vocal about his dislike of the merger, and based on his activity in Q1, Buffett voted with his feet and cut BRK's stake by nearly 23%.
Finally, following the passage of Health Care reform, Buffett seems to have downgraded his view on the Health Care sector. While BRK raised its stake slightly in Becton Dickinson (NYSE:BDX), the firm completely liquidated its stakes in WellPoint (WLP) and Unitedhealth (NYSE:UNH). (Click to enlarge)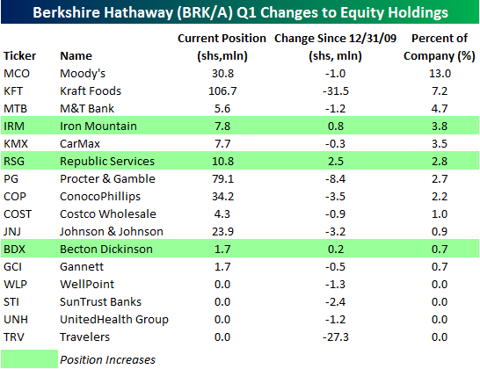 Click to enlarge