ARM Holdings PLC (NASDAQ:ARMH) designs microprocessors, physical IP and related technology and software, and sells development tools to enhance the performance, cost-effectiveness and energy-efficiency of high-volume embedded applications.
Shares of ARM tumbled following the fourth quarter report, which featured an asset write down. The asset write down was mostly attributable to a change in the accounting for a previously purchased patent portfolio. ARM went from being the partial owner of the patents to owning the patent outright for a non-material incremental investment. The patents were previously accounted for as an available-for-sale security, which had to be written down once the portfolio was purchased outright.
Looking forward, ARM is likely to increase its presence in the markets for embedded, enterprise networking, and server solutions. But ARM could lose some of its dominance in the mobile computing market as Intel begins to compete more effectively in the market. Revenues are forecasted to grow into the high teens over the next three years; consequently, opportunities to purchase shares of ARM below its intrinsic value of $50 per share could provide substantial upside.
Recent Developments
Version 4 of the ARM Cortex Microcontroller Software Interface Standard, which standardizes middleware interfaces and software delivery, accelerating time-to-market and cutting application development costs for new ARM Cortex-M processor-based microcontrollers, is available.
Shares of ARM tumbled after the company reported a Q4 loss.
ARM announced the collaborative development and immediate availability of a platform standard for ARMv8-A based (64-bit) servers, which is known as the ARM Server Base System Architecture specification.
ARM acquired Geometrics, whose lighting solutions are used in some of the best-selling game titles, including Need for Speed Rivals, and Medal of Honor: Warfighter.
Seventy-five percent of global business leaders are exploring the economic opportunities created by the "Internet of Things."
Business Summary
ARM designs the semiconductor intellectual property and enabling technology at the heart of the world's advanced digital products. Its energy efficient and scalable processors deliver the intelligence that is transforming society. The organization solutions are used in smartphones and wearable devices, enterprise infrastructure and servers, and are embedded technology in automotive, industrial applications and the "Internet of Things."
The company's technology is used in almost every smartphone on the market. As a result, in 2013, 10 billion ARM-based chips shipped. ARM forecasts smartphone shipments to reach 1.3 billion in 2014 with growth being driven by entry-level and mid-range smartphones. Although the organization generates less revenue from entry-level and mid-range smartphones, royalty revenue from smartphones is expected to grow at a CAGR of 15-25% through 2018. Also, ARM had an estimated 5% share of the enterprise networking market, and revenue from servers should be accretive during 2014. Additionally, the company's embedded offerings are expected to be included in wearable technology, which is forecasted to grow from 10 million units in 2013 to more than 200 million units in 2018; but ARM reported more than 3 billion shipments of its embedded solutions during 2013, which means wearables would be a small fraction of the market for embedded solutions.
The forecast is for revenue growth of 20% this year followed by 15% revenue growth in 2015 and 2016. There is the risk that revenue growth slows during the forecasted period. ARM typically grows in the mid-to-high single digits. That said, ARM is forecasted to cross the 1B pounds mark in 2016, which is $1.67B at the current exchange rate. Additionally, ARM should be able to continue to earn more than its cost of capital.
The organization's liquidity is ample. Liquidity improved at the end of 2013 relative to the end of 2012. The firm had 628.5 days worth of liquidity with the current ratio being 2.76. ARM isn't carrying any debt; thus, the financial leverage ratio was 1.25 at the end of 2013. So, ARM has plenty of liquidity and ample room to increase leverage, which could lower the firm's cost of capital.
ARM is an IP-based firm; consequently, the inventory levels are minimal and of limited use when analyzing the asset utilization of the firm. So, in this case, it makes more sense to analyze ARM using the receivables turnover as measure of asset utilization. There was a decline in the turnover ratio in 2013 relative to 2012, which points to less efficient operations or less restrictive credit standards. But given ARM's growth rate, it shouldn't be surprising that the firm became relatively less efficient.
Risks
The share price is likely to remain volatile, and investors could lose a portion or all of their investment.
Investors should judge the suitability of an investment in ARM in light of their own unique circumstances.
A decline in the global economic growth rate and/or a decline in the pace of economic growth in the United States could adversely impact the results of operations and the share price.
The technology industry is characterized by rapid technological change, which could materially adversely impact the results of operations.
Competition in product development and pricing could adversely impact performance.
Incorrect forecasts of customer demand could adversely impact the results of operations.
Higher interest rates may reduce demand for ARM's offerings and negatively impact the results of operations and the share price.
This section does not discuss all risks related to an investment in ARM.
Technicals & Valuation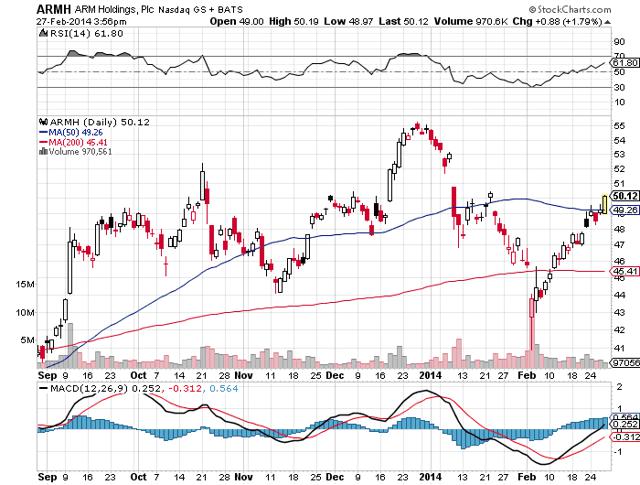 Click to enlarge
ARM is in a bull market of intermediate degree, which appears to possibly be part of a bear market of primary degree. The rally off of the lower 40s is retesting the high of $55 per share. The underlying technical weakness suggests that if the high is broken, it will probably be by an insubstantial amount. The market for ARM appears to be a trader's market.
Right now, ARM is fairly valued. The estimated intrinsic value is $50 per share. The pessimistic value is $25 per share, and the optimistic value is $75 per share. The model is sensitive to changes in the exchange rate. Given the fundamentals of the company and the growth rate, the almost 30% premium to the market on a P/B basis is fair.
Disclosure: I have no positions in any stocks mentioned, and no plans to initiate any positions within the next 72 hours. I wrote this article myself, and it expresses my own opinions. I am not receiving compensation for it (other than from Seeking Alpha). I have no business relationship with any company whose stock is mentioned in this article.