Retail Heavy Hitters Swing, and Hit Doubles
By Brian Sozzi

This morning, Home Depot (HD) announced its 1Q10 results. In the build up to the report, the market received numerous less than inspiring guidance ranges for 2010 and comments by retail management teams regarding business conditions, which has served as a one two punch for consumer discretionary equities. On May 17, Home Depot's arch nemesis, Lowe's (LOW), reported $0.03 of earnings upside but investors were not impressed, sending the shares lower in the session as guidance, specific business trends, and management commentary raised angst rather than confidence.

We are reiterating our Buy recommendation and $62.00 price target on Wal-Mart Inc. (WMT) shares. Applying a P/E multiple of 14.0x (which we feel is conservative as the multiple is near the low-end of the five-year range and below the broader market) our maintained FY12 EPS projection of $4.45 arrives to a potential appreciation for the stock of about 15.0% in the ensuing 12-18 months.

Please visit www.wstreet.com to read the remainder of the articles on Wal-Mart and Home Depot.

Housing...Starts

By David Urani, Research Analyst

Housing starts in April showed a 5.8% increase month to month annually adjusted to a rate of 672,000 homes, which was above the 650,000 consensus estimate. Once again, we have to bring up the affect of the tax credit deadline of April 30, which will have pulled forward home sales and caused a temporary boost to building activity. In that sense, we are not seeing a "true" view of home demand, while seasonal adjustments can be considered somewhat void. Buyers had until April 30 to get their homes ordered, and they have until June 30 to have the home sale completed, giving homebuilders time to finish construction on new homes. Nevertheless, non-adjusted housing starts increased to 60,900 from 54,400 month to month.

The bad news was that new permits decreased by an adjusted rate of 11.5% month to month (10.1% unadjusted). It seems clear that although a final batch of homes is being constructed by homebuilders to satisfy the tax credit demand, they are tentative to commit to new construction beyond that. It is likely that demand will sink, but it is unknown how much so it makes sense for builders to be cautious. Not to mention an ongoing foreclosure crisis and potential banking shadow inventory that are still adding to home supply anyway. On a non-adjusted basis, single-family permits increased in the Northeast and Midwest and fell in the South and West.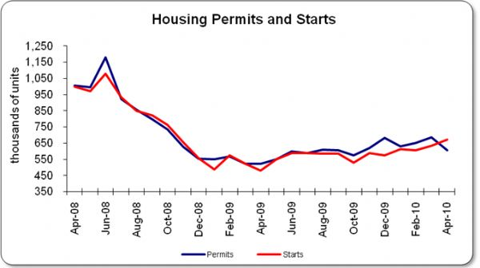 Producer Price Index

The producer price index, a measure of wholesale inflation, slipped 0.1% in April (consensus: +0.1%), reported the U.S. Labor Department, after rising 0.7% in March. Core PPI, which strips out volatile food and energy prices, rose 0.2% in April (consensus: +0.1%), after increasing 0.1% the previous month. Since a year ago, producer prices rose by a non-seasonally adjusted 5.5%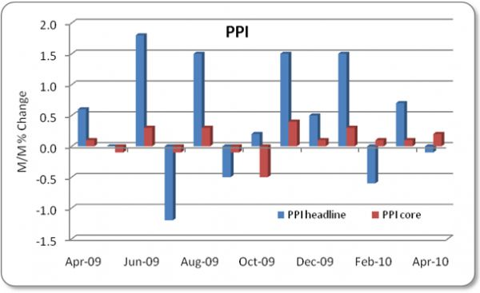 Final Note:
As impressed as I was with yesterday's session I'm disappointed with today's. Watching the market tick by tick is like a form of water torture.