Today, we are initiating new coverage on a very intriguing company in Prospect Capital (NASDAQ:PSEC). What initially attracted us to the company was its very strong 12%+ dividend yield. We wanted to understand more about this yield as well as assess its viability. In our research, we have found a company that is discounted compared to its industry with strong leadership and many positives moving forward. In this first section, we will cover the more general aspects of the business. In the second section, we will cover the price target estimates for the company as well as discuss more deeply the company's dividend potential.
Business Overview
Prospect Capital is a middle-market business development and financial lending company that works with private equity control, buyouts, structured credit, real estate, and direct control operations. It's a closed-end investment company that has filed an election to be treated as a business development company (BDC). Generally, BDCs are not subject to corporate level tax as long as 90%+ of net income are distributed to investors.
Prospect currently has six origination strategies in which it makes investments. The key information for the six strategies is summarized below:
| | | |
| --- | --- | --- |
| Control Type | Percentage of Business | Target Return |
| Private Equity Control | 50%-60% | 10-15% |
| Direct Control | 10%-15% | 12-17% |
| Buyout | 20%-30% | 20-30% |
| Structured Credit | 10%-20% | 15-25% |
| Real Estate | 5% | 15-20% |
| Syndicated debt Investing | 5%-10% | 10-15% |
Leadership Analysis
PSEC is in a leading role in BDCs not only because it has the third largest market cap but it was the first BDC to buy another BDC, first BDC to complete At-The-Market program, and first BDC to issue Convertible Notes. The performance of portfolio size and net investment income are shown below, indicating a great achievement of PSEC's management team.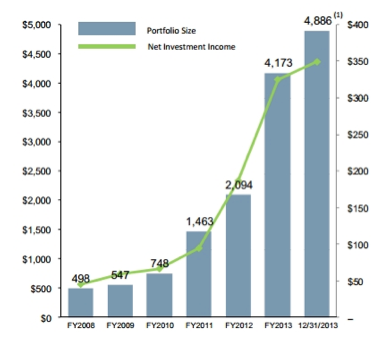 (FY as of 6/30, $ in millions, 1Q & 2Q 2014 net investment annualized)
Source: PSEC Company Filings
Also, PSEC has an amazing investment diversification strategy.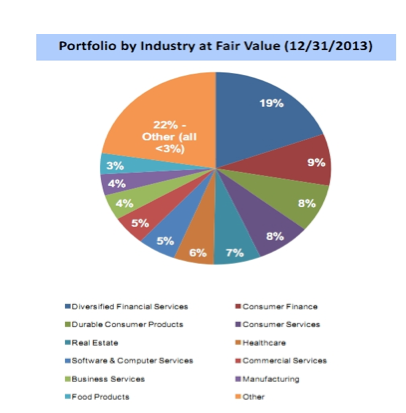 Source: PSEC Management
The rich industry experiences of PSEC's executives have a significant influence on its performance with half of the key executives having over 20-year industry experience.
| | | |
| --- | --- | --- |
| Years in Industry | Number of Key Executives | Percentage |
| 1-10 | 2 | 14% |
| 10-20 | 5 | 36% |
| 20-30 | 5 | 36% |
| 30-40 | 2 | 14% |
Source: Management
Credit Performance
PSEC has had a very solid credit performance. It's the first BDC to achieve an Investment Grade Rating post-Credit Dislocation. A perfect example is its performance during the 2008-2009's financial crisis. At a time when it seemed another Great Depression might be imminent, PSEC's non-accrual rate, or loans that were being defaulted on, peaked at 5.8%. That compares to some of their competitors who had default rates of 50%+ along with many other lenders that went under. According to Grier Eliasek, president and COO, today its non-accrual rate is just 0.3%, and since 2008, not a single one of its loans has failed to have been paid on time. This kind of tight loan discipline by management is why we believe PSEC is best-of-breed in the BDC segment.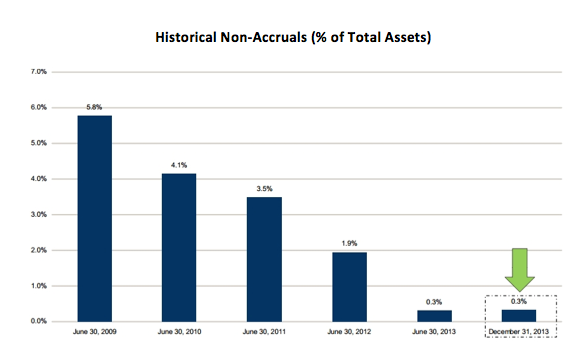 Source: PSEC Management
The graph below shows performance of PSEC, Well Fargo BDC Index and S&P 500 index during financial crisis. PSEC underperformed S&P 500 index slightly but strongly outperformed the BDC industry.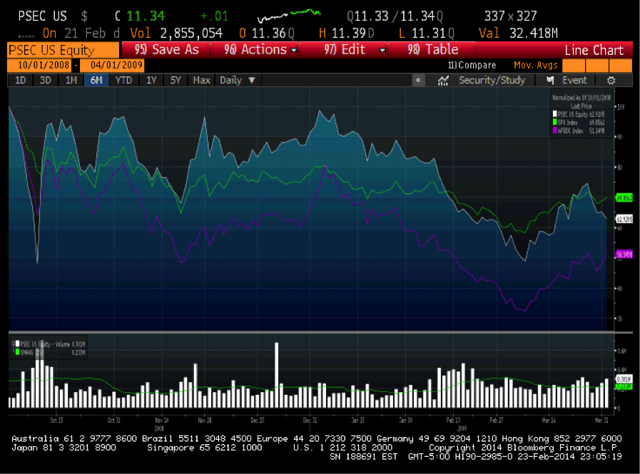 Source: Bloomberg Terminal
Growth Opportunities
It is estimated by PSEC's management that an increase in interest rates by 5.00% would increase its net investment income by $0.09 per share or $26.2 million for the remaining six months in FYE 2014 and by $0.25 per share or $86.1 million in FYE 2015. Conerly Consulting's interest rate forecast shows that 10-year Treasury and 30-year mortgage yield will go through an upward trend in middle 2014. The actual trend of 10-year Treasury yield and Bloomberg's forecast is consistent with Conerly's view, which is definitely a good signal for PSEC because of its positive exposure to rising interest rates.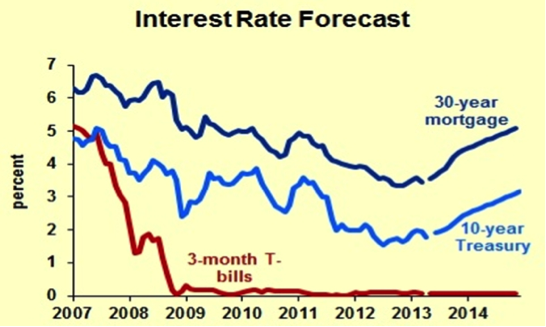 Source: Conerly Consulting LLC

Source: Bloomberg Terminal
Fundamental Analysis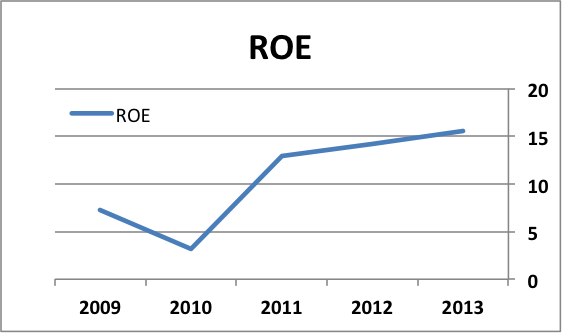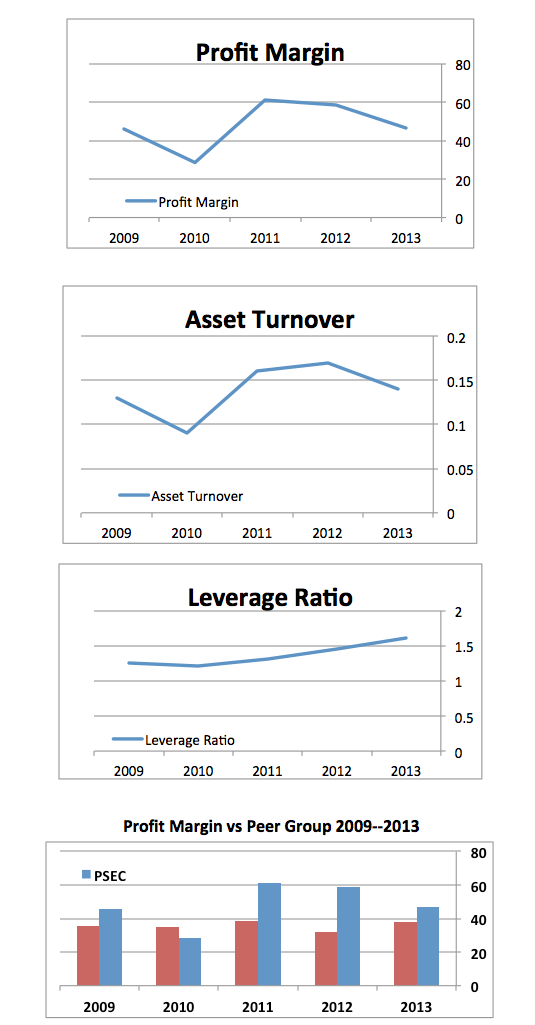 The continuous increase of ROE mainly results from the increasing leverage ratio (the asset turnover and profit margin are both on a downward trend), indicating that the growth of the company may not be sustainable because for BDCs, the upside limit for debt/equity ratio is 1:1. From the comparison of profit margin between PSEC and the BDC mean, PSEC's profit margin has been higher than the BDC mean for most of the past 5 years. Yet, the gap has narrowed in recent years. Both Dupont Analysis and the Peer Group comparison reflect that PSEC might go through some operating problems in the next two years, thus, closer attention should be paid to any latest disclosure of PSEC's operating issues.
Valuations
| | | |
| --- | --- | --- |
| As of 02/23/2014 | P/FY 2014 NII | Dividend Yield |
| PSEC | 8.7x | 12.3% |
| BDC Sector Median | 10.6x | 9.3% |
(NII refers to the Net Investment Income)
Source: Bloomberg Terminal
From the chart above, we can see PSEC is now trading at a significant discount compared with its BDC peer group.
Also, if we compare PSEC with the Asset Industry average, the discount is even more significant. Thus, we believe PSEC is attractively valued at current level.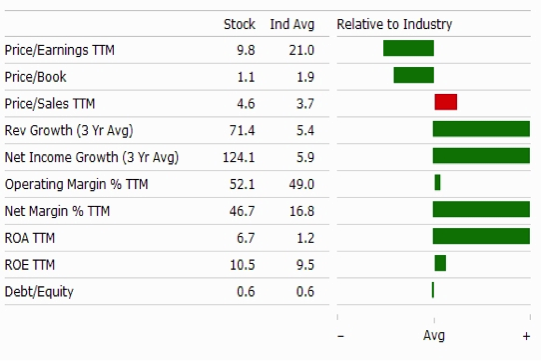 Source: Morningstar
Risks
PSEC Growing Distributions to Shareholders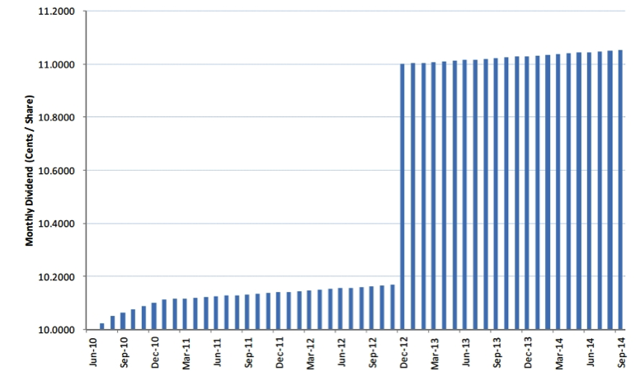 Source: PSEC Company Filings
PSEC has announced 74 Consecutive Cash Distributions to Shareholders and an 8.2% Dividend Increase in Dec. 2012. Undoubtedly, PSEC has done an amazing job on cash distributions. However, the biggest concern for high dividend yield investor is whether the dividend yield is sustainable. We think PSEC will not cut its dividend based on two points.
First the company's debt/equity is still below its target range level of 0.7-0.75.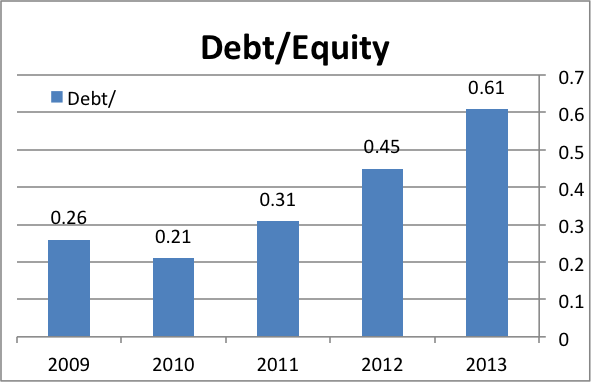 Source: Bloomberg Terminal
PSEC's Diversified Funding Source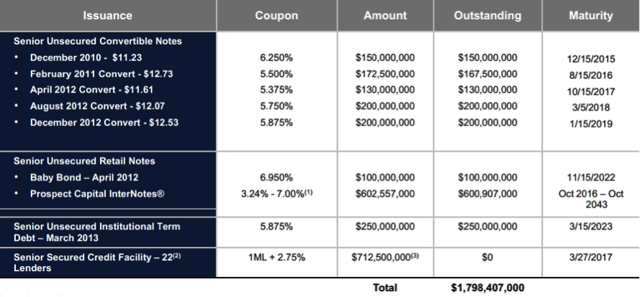 Source: PSEC Company Filings
If PSEC decided to use its credit facility to push up its leverage, the 1ML Libor +2.75% cost will significantly lower PSEC's current borrowing cost, leading to an increase of net investment income.
Second, for the time being, PSEC has an Undistributed Net Investment of $68 million sitting on its balance sheet, which can also be used to cover its dividend.
Conclusion
So far, our analysis of PSEC has uncovered what is a great BDC that we believe is something investors should definitely watch. In our next article, coming later this week, we will add a price target to our analysis as well as investigate the dividend. We hope this first article has intrigued you to the potential for PSEC.
Disclosure: I have no positions in any stocks mentioned, and no plans to initiate any positions within the next 72 hours.
Business relationship disclosure: I have no business relationship with any company whose stock is mentioned in this article. The Oxen Group is a team of analysts. This article was written by David Ristau, one of our writers. We did not receive compensation for this article (other than from Seeking Alpha), and we have no business relationship with any company whose stock is mentioned in this article.