There is considerable anecdotal evidence that Apple (NASDAQ:AAPL) is preparing to invade the mobile payments space. A quick perusal of the company's recent patent filings leads me to conclude that Apple's engineers are indeed converging on a large scale mobile payments solution to rival PayPal (NASDAQ:EBAY).
For instance, there's "Effecting payments using optical coupling"
(Patent Pub#: US 20130317835 A1) that describes -
an infrastructure of network-based clearinghouses for maintaining the anonymity of a plurality of customers and protecting their private and financial data.
The kind of anonymity you might feel a need for when your prescription filled at your local pharmacy, for example.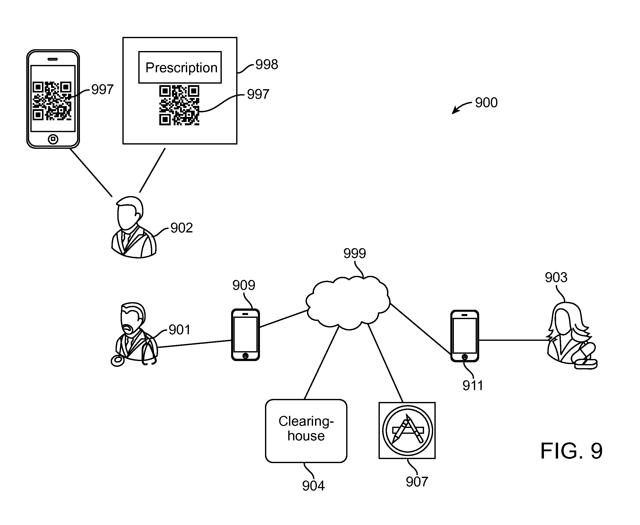 (Source: USPO)
Such a system would make little sense taken in isolation, especially given the burden of HIPAA compliance. But Apple appears to be shooting for the moon.
Death of the Credit Card
It's been 65 years since a New York City businessman named Frank McNamara accidentally left his wallet at home, a social faux pas that led to the creation of the Diner's Club Card and ultimately the creation of the $2.5 trillion credit card industry we know today.
But credit cards were never designed with the Web in mind. The combination of Multi-Factor Authentication, QR scanning, mobile phones, public ledgers and biometrics offers both a more frictionless experience than plastic and are thus more suited to today's Web saturated world. The air interfaces of Apple's Patent Pub#US20130262309 A1 will be more than a little familiar to Bitcoin users, but with Apple playing the role of PayPal/Big Brother.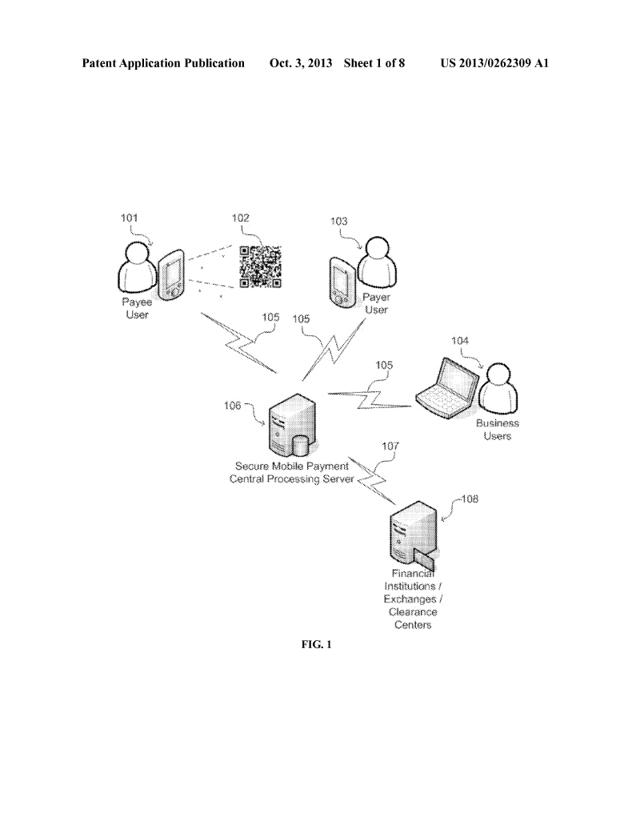 (Source: USPO)
The FIDO Mafia
Both eBay and Samsung (OTC:SSNLF) are well aware of the implications of these patents with regards to Apple's intentions, hence the collaboration between Samsung and PayPal on the Galaxy S5's FIDO (Fast IDentity Online) compliant biometric authentication key. Google (NASDAQ:GOOG), Microsoft (NASDAQ:MSFT) and Lenovo (OTCPK:LNVGY) are also on board, though Apple is conspicuously absent from the FIDO roster.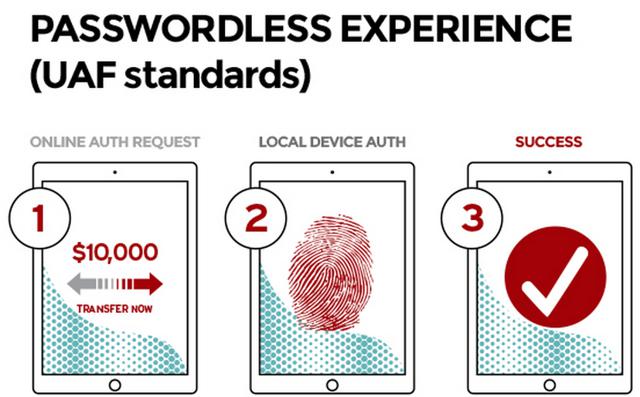 (Source: fidoalliance.org)
Payment Controls
Parental and employee controls can apply just as easily to payments as they do to networks, as Apple's Patent Pub#US20130018792 A1 illustrates.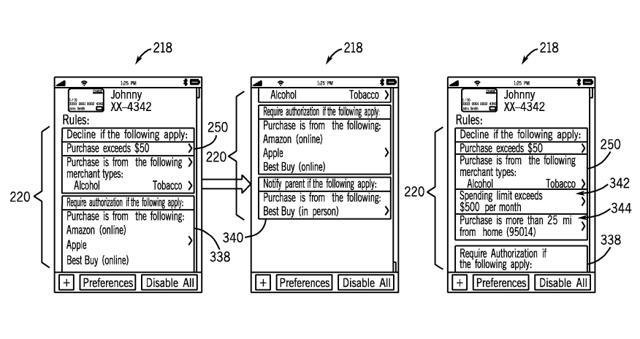 (Source: USPO)
Stores Without Checkout Counters
Not even checkout clerks are safe. In Apple's new payment universe, Black Friday shoppers will be fighting one another tooth and nail...to take a picture.
The abstract for Patent Pub#US20130325718 A1 claims that:
The user can take a picture of a product being purchased or can take a picture of a bar code for the product. The picture can be taken with the user's mobile device and can be used to identify the product. A payment provider can provide a unique PIN code for the transaction. The user can enter the PIN code into a keypad of the merchant and/or can swipe a card with a card reader of the merchant to complete the transaction. Thus, the user can avoid the inconvenience of waiting in line at a checkout counter and the merchant can reduce the store's overhead by eliminating at least some checkout counters and checkout clerks.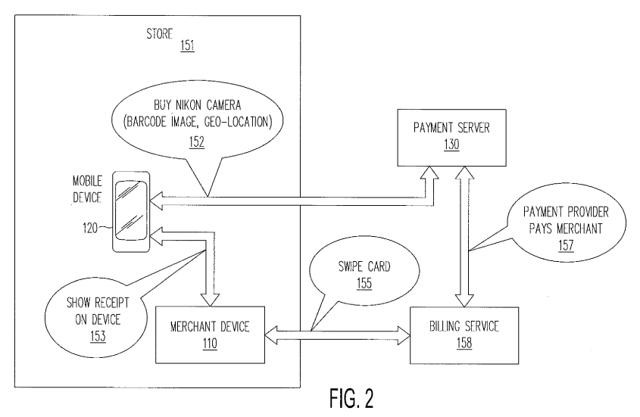 (Source: USPO)
Conclusion
Silicon Valley as a group is rapid prototyping infrastructure that will make existing financial structures obsolete. There is a fundamental difference of opinion, however, about the nature of these protocols; whether they will be decentralized or centralized, or both; open source or proprietary. Google, Microsoft, Samsung and eBay have backed FIDO. Verizon (NYSE:VZ), AT&T (NYSE:T) and Sprint (NYSE:S) have banded together to back ISIS. Nothing in either Apple's patent arsenal or professional affiliations indicates that Apple intends to back anything but itself, or share a dime of the projected $1 trillion mobile payments space with anyone but Visa (NYSE:V) and MasterCard (NYSE:MA).
Apple's stock is currently in a holding pattern until new products exit the pipeline in 2014, and I expect a relatively tight trading range of $500-$550 to reflect that fact going into the next two quarters. The burning question of the hour is whether or not the iWallet will be one of those products. I expect that the answer will be yes.
Disclosure: I have no positions in any stocks mentioned, and no plans to initiate any positions within the next 72 hours. I wrote this article myself, and it expresses my own opinions. I am not receiving compensation for it (other than from Seeking Alpha). I have no business relationship with any company whose stock is mentioned in this article.