Liquefied Natural Gas (often abbreviated as LNG) is modified natural gas, cooled down to negative 161 degrees Celsius, and transformed to a liquid from vapor. This transformation allows for the volume of the gas to be reduced by about 1/600th, thereby making it more easily transferable. The liquefaction process also removes impurities, making it a cleaner energy source. It's basically pure methane. Tougher emission standards by the EPA are going to make LNG more economically attractive in comparison to other energy sources, such as coal.
The North American shale gas explosion has changed the area from what was historically an LNG importer, into being what is looking to be a major exporter of LNG. North American prices have dropped as the supply in the market surged. There has been a wide discrepancy in the costs of LNG worldwide.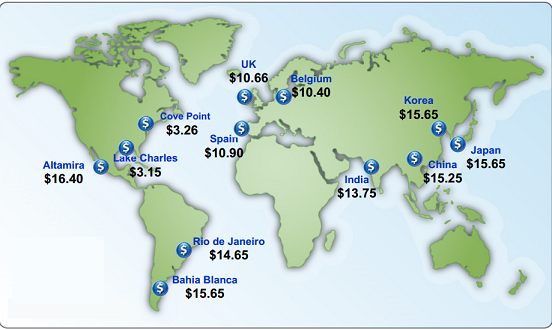 Source: Federal Energy Regulatory Commission.
Exactly how much of the product will be exported is an area of contention. Proponents point to creating American jobs in addition to helping out our allies with energy needs. Opponents say we will squander the advantages of the cheap fuel-which are better placed in areas other than exportation, in their opinion. Manufacturing capital investments have been strong because of the cheap gas, for example.
Dow Chemical (NYSE:DOW) is one company which has been vocal about trying to limit LNG exports. They even resigned from the National Association of Manufacturers over the issue about a year ago. Dow and its allies warn that prices will rise as a result of exportation. Reports commissioned by the DOE seem to side with the supporters of exportation. They see potential price impacts as not being substantial, while 5 million jobs and $125 billion could be created by exportation. It's a complex issue, and politicized. Due to Federal laws, any exportation to countries without free trade agreements with the U.S. (the vast majority of countries) can only be done with the Department of Energy's approval.
Cheniere Energy (NYSEMKT:LNG) was given the first project approval by the DOE in May of 2011. The Sabine Pass Liquefaction project is located in Texas, and is so far approved to export up to 2.2 billion cubic feet per day of LNG.
It wasn't until May of 2013 that the Obama administration granted its next approval. Since then, 4 more have been given. That makes around 8.5 billion cubic feet per day of LNG approved, with a threshold of 12 billion being recommended by the DOE commissioned reports. This is leading some to believe there could be a pause in approvals soon, as the DOE further reviews the situation.
So not only does Cheniere have one of the coveted DOE approvals, it looks like they will have a window of about 2 years where it will be alone in exporting LNG from the U.S. In light of this, shares prices have increased greatly.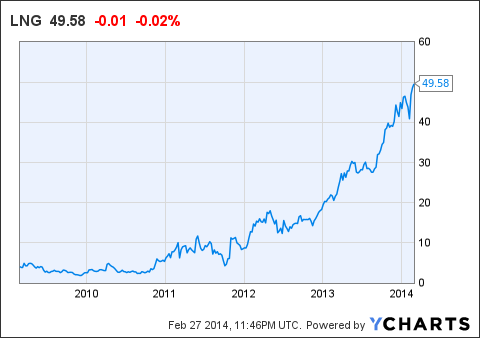 This is despite earnings numbers of the most recent years not being good. The last quarter wasn't attractive, either. Q4 EPS missed by $.08 and was again negative, coming in at -$.046.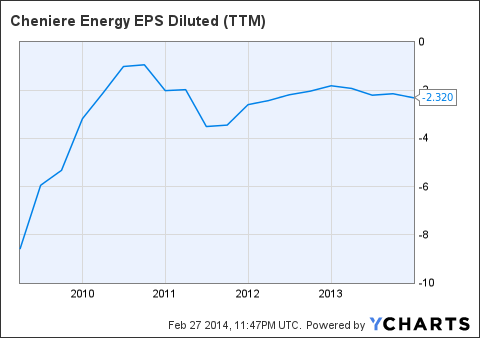 Normally I have a hard time getting behind a company with negative earnings. On the flip side, the company is essentially "under construction" right now, with a very clear light at the end of the tunnel-2015, when the first train from Sabine is ready for export. All 6 trains are scheduled for completion by 2019 (Cheniere still needs approval for the last 2 trains). They have more plans on the LNG front in addition to Sabine as well. Corpus Christi is the site of a proposed 2.6 Bcfgd project.
Still, the shares have gone up over 140% in the last year, and over 1000% since 2011. Cheniere has made people a lot of money in recent years, but it is hard justifying buying in at these levels for two important reasons:
Due to the nature of their business in LNG exportation, there is a lack of additional projects on the horizon. Future revenue streams outside of what has already been announced aren't on the horizon.
Insiders have been selling shares like crazy. With a mid-cap company like this, which hasn't even seen the completion of their planned projects, that's not a good sign that fair value is believed to be higher than is already priced in.
There are still avenues available to play the U.S. natural gas boom, though. I think investors are better served looking at some construction and engineering firms involved in the building and maintenance these export terminals. Chicago Bridge & Iron (NYSE:CBI) is a favorite of mine, which I recently wrote about.
Disclosure: I am long CBI. I wrote this article myself, and it expresses my own opinions. I am not receiving compensation for it (other than from Seeking Alpha). I have no business relationship with any company whose stock is mentioned in this article.